Rabun County, Georgia's top-ranked Class AA team, proved Friday night at Bowers and Painter Field that it's far from a one-man show.
The Wildcats came into Rossville with one of the nation's top quarterbacks for the 2022 signing class, five-star recruit Gunner Stockton, and while the South Carolina-committed standout lived up to his billing with three touchdown passes and one rushing score, there was plenty of other talent on display in a 35-0 win over Ridgeland.
Stockton threw touchdown passes of 2, 5 and 13 yards - two of them to Tate Ramey - but it was tailback Lang Windham who hurt the Panthers when the game was tight. Windham had 150 rushing yards and a touchdown and added 40 receiving yards.
Ridgeland, though, trailed just 7-0 late in the half and had possessions end at the Rabun 11- and 26-yard lines. The visitors, however, scored three touchdowns in the final two minutes to take control. It was 14-0 when Stockton scored on a keeper with 12 seconds to play in the half.
Photo Gallery
Ridgeland vs. Rabun County football on Sept. 4, 2020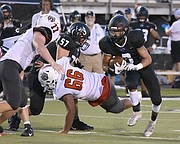 The Panthers failed to cover the ensuing squib kick, with Rabun recovering at the Ridgeland 5. Stockton then hit Turner Grimmett for a touchdown on the next play.
"We told our kids that to play with teams like Rabun you can't make the small mistakes," Ridgeland coach Kip Klein said. "They will make you pay, and we learned a lot about ourselves tonight. We did some good things and some things we need to fix."
* Calhoun 41, Dalton 14: Jerrian Hames rushed for 122 yards and scored three touchdowns (one receiving), as the Yellow Jackets recorded their most lopsided win over the Catamounts since a 32-0 win in 1932.
Calhoun, which has moved up to Class AAAAA, also got a big game from Jake Prather, who passed for a touchdown to Will Seamons on a trick play to make it 14-0 and was in on a pair of fourth-down defensive stops in defeating the Class AAAAAA Catamounts.
Quarterback Christian Lewis passed for 288 yards and a pair of touchdowns, 37 yards to Hames on a short catch-and-run and 18 yards to tight end Carson Griffin for a 34-7 lead just before halftime. Cole Speers added seven catches for 122 yards.
"We asked them to come out and play with energy on every play," Calhoun coach Clay Stephenson said. "The seniors showed great leadership and maturity tonight. Hopefully, this gives us a starting point and we can continue to improve and be ready for next week."
Calhoun will play McCallie next week at Finley Stadium in a game that was finalized Friday afternoon.
Murray County 47, Southeast Whitfield 20: The Indians used 241 yards and two touchdowns (one receiving) from Davis Redwine, while quarterback Kaleb Jones passed for 133 yards and four scores.
Gordon Lee 50, Dade County 28: Cade Peterson scored on touchdown runs of 20, 17 and 8 yards, and Cody Thomas, Bo Rhudy, Penn Askew and Conner Whitman added scoring rushes for the Trojans.
"The kids played hard and we played well offensively," Gordon Lee coach Josh Groce said. "The line blocked well and the backs ran hard. Defensively, we had to make a lot of adjustments throughout the game, and I am proud of how well our kids handled that."
Sonoraville 20, Model 14 (OT): Brady Lackey won it with a 1-yard touchdown run in overtime for the Phoenix. The senior quarterback also threw a 7-yard touchdown pass to Zach Lyles, who earlier started the scoring for Sonoraville with a touchdown run.
Fellowship Christian 43, Christian Heritage 21: In a battle of top-10-ranked Class A private schools, the Lions led 14-2 at halftime, but Fellowship star running back Murphy Reeves went off in the second half.
"They have a terrific back and we just ran out of gas in the second half," Christian Heritage coach Jay Poag said. "We left points on the board in the first half. and that usually comes back to bit you."
In other games involving northwest Georgia teams, Chattooga lost 35-28 to Adairsville and Northwest Whitfield beat Coahulla Creek 27-6.
Contact Lindsey Young at lyoung@timesfreepress.com. Follow him on Twitter @youngsports22.