Dalton High School's offense is just fine it seems.
The Catamounts, after being held to 41 rushing yards in a lopsided loss to Calhoun one week earlier to open this football season, busted out the ol' run game Friday in a 52-7 whipping of host Ridgeland at Bowers & Painter Field. Maurice Howard rushed for 230 yards and three touchdowns on just 12 carries as Dalton put up 365 yards on the ground to even its record.
"We had so many mistakes last week, so step one for us tonight was to clean those mistakes up, and if we did that, we knew we would play better," said Dalton coach Matt Land, who began the season with five new offensive line starters. "We needed to see if we could establish the run, and at the end of the day I'm very, very pleased in how we played."
Dalton led 14-7 after Ridgeland quarterback Chase Watkins, after a 46-yard completion to Henry Ellis (four catches, 79 yards), scored on a 1-yard sneak midway through the second quarter. Any momentum for the Panthers (0-2) was quickly erased as Howard, understudy to Georgia's leading rusher a year ago, Jahmyr Gibbs, broke off a 75-yard touchdown run in which he spun away from a possible tackle in the backfield and outraced defenders the rest of the way.
Photo Gallery
Dalton at Ridgeland football on Sept. 11, 2020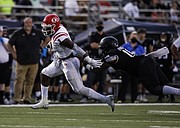 READ MORE: Final scores and photos from Friday night's Chattanooga-area high school football games
The Dalton defense was equally impressive, holding Ridgeland to 224 total yards and intercepting three passes. The second of those, by free safety Parker Adams, led to a Luke Blanchard 2-yard run and a 28-7 halftime lead.
"We had to make the most of our opportunities, and I felt we did in the first half," Land said. "It was big to take advantage of that turnover right before the half. Momentum is an important factor for us."
The second half was all Dalton, including a 48-yard Howard touchdown run and a highlight-reel 41-yard touchdown run by sophomore Tyson Greenwade (95 yards on eight carries).
Gordon Lee 29, Lakeview-Fort Oglethorpe 15: The Trojans improved to 2-0 after rallying from an early 15-0 deficit. Blake Groce passed for a touchdown and ran for another to tie the game at 15 at halftime. Cade Paterson (87 rushing yards) and Cody Thomas added second-half rushing scores for Gordon Lee, while Bo Rhudy led the Trojans with 106 yards on the ground. Malachi Powell and Benji Valdes reached the end zone for the Warriors (0-2).
Northwest Whitfield 34, Gordon Central 13: Sophomore quarterback Owen Brooker passed for 247 yards and five touchdowns as the Bruins improved to 2-0. Matthew Redmond and Ray Morrison each had two touchdown catches for Northwest. Jordan Boone had a pair of touchdown runs for the Warriors.
Christian Heritage 45, Landmark Christian 0: The Lions (1-1) got 100-yard rushing games from Gage Leonard and Solomon Locke, with Leonard scoring three touchdowns. Junior quarterback Christian Thomas completed all four of his passes for 165 yards and two touchdowns, both to Evan Lester, who had 120 of the yards on three receptions.
Chattooga 28, Pickens 14: Leshaun Lester had touchdown runs of 6 and 3 yards, and quarterback Cash Allen connected with Nic Hester for touchdown passes of 28 and 8 yards as the Indians (1-1) gave first-year coach Shawn Peek his first win.
Coahulla Creek 35, Southeast Whitfield 14: Tyler Locklear rushed for 278 yards and three touchdowns as the Colts (1-1) broke open a game that was tied at halftime. Manny Dominguez helped hold the lead with a pair of interceptions, returning one for a touchdown.
Other area scores: Coosa 51, Trion 45 (4OT); Model 21, LaFayette 20.
Contact Lindsey Young at lyoung@timesfreepress.com. Follow him on Twitter @youngsports22.