Each of the 2021 mayoral candidates wants to improve affordability and accessibility to housing for all Chattanoogans, though their approaches vary from increasing wages to converting City Hall into a homeless shelter.
Chattanooga has made some progress in addressing homelessness and housing concerns in recent years, but still struggles to create a path to affordable housing, leaving many of its citizens housing-cost-burdened or homeless.
A 2019 study by ApartmentList showed more than 40% of Chattanooga's renters were housing-cost-burdened, meaning they paid more than 30% of their income to housing.
Recently, the city tied for second on a national ranking of cities with the fastest growing rent costs, reflecting a 5.6% month-over-month median rent increase and a 15.9% increase year-over-year, highlighting a continued uptick in rental costs.
Meanwhile, many other Chattanoogans experience homelessness each year.
In March, the city will elect a new mayor to follow two-term Mayor Andy Berke, who has run his administration with an emphasis on improving housing availability and homelessness in the city.
This week, the Times Free Press asked the seven mayoral candidates to share their views on providing affordable housing in the city.
(READ MORE: How Chattanooga's 2021 mayoral candidates plan to address police reform)
Photo Gallery
2021 Chattanooga mayor candidates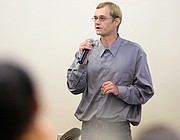 Bruell believes solving affordable housing in Chattanooga requires higher wages, voucher acceptance and neighborhood stabilization.
"We don't have so much an affordability problem as we have a wage and income problem," Bruell said. "Across the board, Chattanoogans just don't make enough money. And when you look at the very low part of that spectrum, we really don't make enough money."
To start, Bruell says he will increase the minimum wage of city employees to $15 to benefit underpaid employees and drive up other wages in the city.
But even if more of Chattanooga's workforce can afford renting, Bruell says the city must revisit housing assistance for those who need it.
"It used to be that we had all of these public housing developments across the city and if you were a low income person and you needed housing, you went to the housing authority and they found a spot for you," Bruell said. "Now we have moved away from that to more of a free market system, where vouchers are issued and then people take those vouchers to landlords in the private sector."
The problem, Bruell says, is in the high number of vacant housing units and the lack of private landlords willing to accept vouchers.
"There's a disconnect in that market and that disconnect has been exacerbated by the fact that market rents have been rising in Chattanooga," Bruell said. "The rents are going up for sure, but there's also a high vacancy rate inside the developments so we're caught in this bad spot between these artificially inflated rental rates that people really aren't getting and the fact that there aren't enough people willing to accept vouchers to provide affordable housing."
Meanwhile, Bruell says the city will also have to aid in neighborhood stabilization to maintain existing affordable housing.
"We're going to have to not only look at ways to provide affordable housing in Chattanooga, we're going to have to look at housing and neighborhood stabilization, to help, in particular, senior citizens stay in the homes that they've lived in for 30 years," he said. "And that's the problem no one is talking about. And that is a big problem that's going to sneak up on us if we don't have a plan in place."
If elected, Dahl says he would focus on maintaining existing public and private housing, but implement higher development standards to maintain livable and accessible units.
"I have watched the rental rates skyrocket here since I was a kid," Dahl said. "We have to decide as a city and with the help of organizations we partner with what affordable housing looks like and whether it's to make housing accessible for people who have been here or appealing for people who are moving here.
"Right now, it seems like the city has resources and has development coming in, but it's not being used to benefit people who need housing," he added.
As a starting point, Dahl said that the city's own housing authority needs to set a better example for other developers, by taking care of existing housing stock rather than seeking "constant" development.
"We need to reevaluate the housing authority. They're leading the way as the biggest slum lord in the city," Dahl said, citing his concerns with the condition of city housing like East Lake Courts.
"The roads, the buildings, the lack of maintenance, it's ridiculous," Dahl said. "We have to take care of housing stock and we have to make sure that developers create livable housing."
To help with housing conditions and longevity of developments, Dahl said he would bolster the city's code enforcement strategies to hold developers accountable.
"The city should have been a better steward of all of this development in recent years and used some of the money from this growth to repair existing housing stock," Dahl said. "But now if you go through all of these housing developments with a code book, it makes you wonder what's really going on."
Dahl says that it's up to the city to prevent "cheap but expensive" housing by ensuring quality developments, rather than adding low-rate, high rent stock to the market.
"So we will have to strengthen code enforcement to take care of what we have in order to make it accessible and livable," he said. "We have to mix affordability with quality."
Gilbert did not respond to multiple interview requests for this article.
Kelly says that the city must meet people struggling with housing "where they are."
The first piece, Kelly says, is better coordination of available resources from the city and local organizations like Family Promise and the FUSE program to provide temporary or transitional housing for individuals experiencing homelessness.
"For the transitional piece, we've got some great non-profits here now," Kelly said, suggesting that preventing redundancies among partners could free up resources to serve more individuals.
"It's kind of an orchestra without a conductor."
Then, Kelly explains, the city needs to work on ways to create affordable permanent housing options for those burdened by current housing costs or ready to leave transitional housing.
"Chattanooga has got a lot of potential with existing neighborhoods. I keep hearing stories from folks in disadvantaged communities who've been renting for 50, 60 years when they could have bought a house," Kelly said. "So my big thing is we got to figure out a way to discourage absentee landlordism and encourage home ownership."
By helping more disadvantaged and diverse populations of Chattanooga own rather than rent, Kelly believes the city could chip away at the broader wealth disparities.
"Encouraging local home ownership instead of renting sounds simple, but that is a really great starting place to a complicated issue because that's going to help build wealth in communities of color," he said. "The disparities in net worth between white Americans and Black Americans, for example, is huge. And a significant part is most of that is tied up in homes."
Finally, Kelly says the city needs to make developing and renting affordable housing easier through zoning and regulatory reforms.
"I would like to encourage developers to develop basic, affordable housing in our neighborhoods, not the fancy downtown developments," he said. "Clearly we've got a glut of the fancy developments that are 1,300 bucks a month downtown, we don't need anymore."
"We do need to make it more affordable and easier to develop the right kinds of housing in Chattanooga."
Oglesby says housing can become more accessible by holistically approaching those in immediate need and encouraging economically diverse neighborhoods.
On the front end, Oglesby wants to provide strategic temporary housing to those experiencing homelessness or significant housing cost burden.
"There are all kinds of people - whether they're getting out of prison, aging out of foster care, struggling with health issues or addiction or just down on their luck - who need temporary housing, but temporary housing or subsidized housing really only works if the end goal is to get them into something permanent," Oglesby said. "So we've got to look at creating a path to get someone into affordable, permanent housing."
To do so, Oglesby says the city needs to continue and broaden services provided to those in temporary housing.
"I believe in looking at the whole person, so when we're helping folks with housing, we need to be helping them get help to get into a more long-term situation," he said. "I want to make sure that we have programs that actually prevent homelessness. So we're going to get you back on your feet with a place to stay, but then we're going to provide services and case managers and whatever you need to help you work toward a permanent situation."
Then, to create more accessible housing at a permanent level, Oglesby wants to distribute wealth between poorer and more affluent communities through mixed-income neighborhood planning.
"We need to start having more mixed-income housing developments in our area because a neighborhood doesn't need to have all of one income level or another," Oglesby said. "Whatever your income level is, you should be able to stay in more than just one particular neighborhood.
"If you're a person who makes a couple hundred thousand annually, somebody that's making $30,000, $40,000 or $50,000 will have the same opportunity to live in that neighborhood if we do development right."
To get there, Oglesby says he will focus on planning and coordination with developers.
"I'm committed to working with developers to let them know that if you want to continue to grow in Chattanooga, you have to be willing to help grow mixed-income neighborhoods," he said.
To relieve housing stress, McLaren wants to provide more robust transitional housing and give citizens a voice in development.
First, McLaren says he will turn City Hall and other city-owned buildings into temporary shelters for those in immediate need of transitional housing.
"In my first 100 days, I want to turn City Hall and all available city buildings into homeless shelters," McLaren said, citing Tupac Shakur's "Ghetto Gospel." "And we've got these buildings as a resource so if we're going to talk about giving people a place to stay, we need to do it it's like when Tupac let homeless people live with him rent free."
McLaren says supervision of the city will help those in need get on a long-term path to success by eliminating addiction and other outside factors.
"I don't want to enable people to continue to do drugs or drink, and I know that not all homeless people have this issue and I think that's a harmful stereotype, but a lot of the homeless people I know, they do have substance abuse problems or mental health problems that are hindering them from moving forward," McLaren said. "So I think that we need to set these guys up for success while we're finding the place by helping them out of these situations in the interim."
Then, McLaren says he will create an advisory board of citizens and developers to help guide planning and provide representation.
"Everyone needs an equal voice. Someone with a lot of money, someone who's broke and a developer should all have a voice in how their city is growing," McLaren said. "So giving everyone equal representation and bringing more people with different interests to the conversation to find solutions that work for everyone."
"Right now the wealthy are getting represented more, the landlords are getting represented more than tenants or those without means, and that's how we wind up with so many people unable to afford housing," he said. "But at the same time we want to work with the developers who are doing it right, because, hey, I'm a capitalist. We just need to have an equal conversation of both sides."
White, who entered the race Thursday and says she will release a more detailed plan later in her campaign, believes in addressing housing through partnerships and neighborhood input.
"The complex issues of affordable housing and homelessness are two issues not unique to Chattanooga, but very important to our city," White said Saturday. "And the pressures and concerns about these two issues are growing."
White says she will foster collaboration between the city and other organizations "with different tools" to tackle the different fronts of the city's housing struggle.
"The city can't solve these issues alone but right now we have multiple organizations working in silos instead of a unified comprehensive plan," White said, promising to help unify housing efforts if elected.
"I believe my experience in solving complex problems, working with many organizations and private sector partners to bring needed leadership and structure to solve problems and execute strategy in our city makes me uniquely qualified," she said. "We will bring the neighborhoods to the table to talk about their specific needs and concerns as well as look at data on where neighborhood investment needs to occur."
"We need and I will offer a comprehensive strategy and framework for success."
There are, however, a few things the city can directly control to promote affordable developments, according to White.
"What the city can do is streamline our policies, rules and regulations, because anytime that we put something out that is more onerous on a developer, those costs get passed along to homeowners," White said. "So that's looking at how do we streamline policies for developers, how do we look at things like what type of density is allowed in certain neighborhoods, and seeing what all we can actually do policy wise."
Then, she says, the city can leverage its own assets to gain affordable housing options.
"There's a lot of property that needs to be put back on the tax rolls, whether it's derelict property or I know the city has put together a land bank but the city owns a lot of property," White said. "And when you do, you can actually control what is built there and put an affordability component into that process."
Contact Sarah Grace Taylor at staylor@timesfreepress.com or 423-757-6416. Follow her on Twitter @_sarahgtaylor.