Debbie Irwin met her husband, Richard, on the square in Dalton, Georgia, 27 years ago.
"We dated about two weeks," Irwin said. "Then we got married."
Richard was good to her. He was never mean, he was nice to her kids and always treated her with respect. He showed her unconditional love from day one.
"They were best friends," said Brandy Moorehead, Irwin's daughter. "Some families argue and maybe hit hard spots. They never did. They could just sit in a room together and be happy. The honeymoon stage never really left."
One year ago, almost to the day, Debbie and Richard remember talking to their neighbors about a tornado warning being lifted as they huddled around the front yards of their mobile homes in northern Murray County.
"You know how after a storm, you go to bed and the next morning everything is bright and dandy?" Irwin said. "We went to bed and I said, 'Richard, something just don't seem right.' We both got out of bed, and then it was like a freight train. That was the end of it."
An EF3 tornado had come through the Irwins' bedroom.
"It was right on top of us," Irwin said. "We were right in the eye of it."
Miraculously, Debbie was able to get out to yell and scream for help and came away with a black eye and a cut on her leg. Richard died in the storm, one of eight people who lost their lives in the Murray County tornado in the early hours after Easter Sunday.
Photo Gallery
Chattanooga Easter 2020 tornado damage
PATH OF DESTRUCTION
As Easter Sunday 2020 services came to an end, the skies overhead gave little warning of the death and destruction that awaited as night gave the cover of darkness to a deadly storm system that would claim at least 10 lives in the Chattanooga region.
Between 8 p.m. and midnight, no fewer than seven tornadoes raked the Tennessee Valley on Easter Sunday, April 12, 2020, leaving seven dead in Murray County, Georgia, and three dead in Hamilton County, Tennessee, along with many others who sustained injuries. Another Murray County tornado victim would die in the days afterward, bringing the death toll there to eight.
The powerful storm system that fueled the outbreak across the South had its beginnings in the Arkansas, Louisiana and Texas region and spread eastward throughout the day.
More than 140 tornadoes were spawned by storms on April 12-13, 2020, that left a path of destruction from Texas to Maryland, killing more than 30 people, according to the National Weather Service. It was the deadliest tornado outbreak since April 2014, weather service data shows.
(READ MORE: When night terrors are real: Tennessee leads nation for twisters in the dark)
According to Gregory Helms, of the Hamilton County Emergency Management Agency, the 1,500-yard wide, EF3 tornado was on the ground for 18 minutes and covered 18.37 miles, leaving devastation and damage that night that tallied $225 million.
In the Chattanooga metropolitan area, 2,718 properties sustained damage, of which 254 were destroyed and 259 had major damage. As the storm moved through Collegedale and rural areas of Hamilton County, the tornado weakened to an EF1, until the storm moved into Bradley County, where it spawned three more tornadoes and more widespread damage and at least half a dozen injuries.
According to the Tennessee Department of Commerce and Insurance, residents of eight Tennessee counties - Bradley, Campbell, Hamilton, Marion, Monroe, Polk, Scott and Washington - filed 15,223 insurance claims with insurance companies, with more than $444 million in losses or claims made. Additionally, consumers filed 37 complaints related to the Easter tornadoes that resulted in over $4.5 million being returned to consumers via the agency's mediation process.
"In the wake of last Easter's tornadoes, Tennesseans began working together to help their neighbors rebuild and recover," commerce and insurance Commissioner Carter Lawrence said in a statement. "On this somber anniversary, I offer my condolences to the families and friends of those who lost loved ones during the storms. I commend the heroism of residents and first responders who provided aid to those in need."
HOMEOWNER INSURANCE TIPS
Volatile and potentially dangerous weather can occur any time throughout the year in Tennessee. To prepare for consumers are urged to evaluate their insurance policies immediately to ensure they have the adequate coverage necessary to rebuild in case of a devastating storm. According to the Tennessee Department of Commerce and Insurance, consumers should remember:*Homeowners insurance financially protects consumers from disastrous events such as a fire, tornado, high winds, burst pipes, burglary and more. To help raise awareness of the importance of homeowners insurance, the state has created a new video that can be seen at bit.ly/TN-insurance.*Review your policy annually with your licensed Tennessee insurance agent to ensure your coverage adequately meets your needs. Your coverage should equal the full replacement cost of your home.*Don't just look at the premium price. Make sure the deductible is attainable in case you need to file a claim.*Remember that replacement cost and market value are not the same. The market value, which includes the price of your land, depends on the real estate market.*Replacement cost policies will pay consumers the full cost for what was damaged or destroyed. Your policy should cover everything you want covered. If it covers extraneous things you won't need, you can adjust that, too.*Make an inventory of items in your home in case you ever need to make an insurance claim following a disaster. Take photos or video of your belongings and keep it in a safe place such as online to provide to a claims adjuster in the event of a disaster.*Aside from homeowners insurance, commerce and insurance officials remind consumers of the importance of flood insurance. While flood insurance cannot stop a flood, it can save homeowners from a financial catastrophe. Just one inch of water in a home can cause upwards of $25,000 in damages. For more information about flood insurance, visit floodsmart.gov. The National Flood Insurance Program can be reached at 800-427-4661.*Keeping an emergency go-bag packed with crucial supplies such as bottled water, a flashlight, medicine, cash, copies of important papers, clothing and other items can make the difference after a disaster strikes.Questions about your insurance policy or need to file a complaint? Contact the Tennessee Department of Commerce and Insurance at 800-342-4029 or 615-741-2218, or file a complaint at bit.ly/TDCI-complaint.
'IT WAS HORRIFYING'
Now, a year later, some of the people whose lives were uprooted on Easter 2020 are still rebuilding, still hoping.
Irwin was taken to the hospital once first responders finally got to the scene of some of the worst damage. She remembers the moment when it sunk in that Richard was gone.
"When I went to the hospital to get those stitches, I kept looking around like I was going to find him," she said. "Then they told me he was gone."
The county coroner contacted her the next day to confirm it was Richard. She couldn't bear to go, so she sent her kids instead.
Moorehead said her mom still finds it strange around dinner time to not have to be ready at home to cook him a meal. For all other things, Richard was Debbie's caretaker. Now with him gone, she's slowly starting to learn to take care of herself with the help from her children.
"It's been an adjustment," Moorehead said. "They were together every single day for 26 years."
Still, the hardest part has been having to start all over again. She lives closer to her family now in Rossville and hopes to rent her property in Murray County to someone else.
"It took a while," Irwin said. "I still ain't settled really. I'm just trying to put it all behind me. I know I'm not the only one."
On Friday afternoon, Moorehead went to pick up flowers to place at Richard's grave. The family had planned to go visit on the one-year anniversary.
For Ruth Braz, she'd lived 51 years at her home in the hard-hit Holly Hills area of Chattanooga's East Brainerd when the storms came a year ago. She had just completed some long-needed updates.
"I had just remodeled the kitchen and the roof was just put on in March," Braz, 84, said as she washed her red Jeep Thursday in the driveway as a contractor's crew worked on repairs.
The night of the tornado, Braz was at home alone with a new puppy from her granddaughter when flashing light awakened her moments before the storm struck.
"I was in bed. What woke me up was the lightning, it kept lighting up the room," Braz said. "It was dead silence and blue light.
"I started to go downstairs to check on the puppy and that's when it slammed me to the floor and all the stuff started falling on me, the glass and everything," she said. "It was horrifying."
Time stopped.
"You could feel your heart beating through your arms like your arms were going to burst," Braz said. She made her way to her basement garage where the damage was less severe.
"When we got up in the morning, it looked like the place had been bombed," she said.
Braz and her puppy spent that night in her Jeep parked in the basement garage.
Braz now is waiting for all the repairs to be complete, and she's miffed at a company that stopped by the day after the tornado and told her they were sent by the insurance company. That company, she said, started packing up her things to put in storage for a whopping $65,000 bill. When she called her insurance agent later he told her no such work had been requested.
She's worried others might have had the same experience but she's glad to see her home nearly rebuilt.
25 YEARS OF TORNADOES IN HAMILTON COUNTY
April 21, 1995A tornado touched down over parts of suburban Chattanooga. The tornado caused most of its damage in a 16-block area. Eighty 80 buildings were damaged. Fifty of them were homes, and 30 were businesses. Several apartments suffered roof damage and 43 people were evacuated.Feb. 29, 1997An EF3 tornado first touched down in the Tiftonia area just west of downtown Chattanooga. As the tornado moved due east across the southern part of Hamilton County, 50 homes were destroyed. Another 600 homes and one business were heavily damaged. Forty-four people were injured and property damage was estimated at $45 million. Most of the damaged area was concentrated in the East Brainerd area. Approximately 200,000 homes were without power after the storm.Oct. 26, 2010A tornado hit near south Chickamauga dam with damage to a cement plant, homes and multiple vehicles. Numerous trees and power lines were down.Feb. 28, 2011Two tornadoes struck Hamilton County, one cutting a path through Signal Mountain while the second crossed through North Chattanooga and Red Bank. No fatalities were recorded but there was widespread damage with numerous trees and power lines down.April 27, 2011Ten tornadoes devastated Hamilton County on April 27, 2011. An EF2 tornado struck Lookout Valley at 7:55 a.m. and caused extensive damage. Tornadoes continued to track through the county throughout the day. The last tornado was an EF4 that struck the Apison community in the southeastern part of the county causing eight fatalities. Emergency management officials estimated almost $30 million in residential property damage throughout the county. The cost to local governments and utilities totaled more than $27 million.March 2, 2012On March 2, 2012, an EF3 tornado hit near Harrison injuring 30 people and causing an estimated $28 million in property damage.April 12, 2020On April 12, 2020, a tornado tracked from Fort Oglethorpe, Georgia, reaching EF3 intensity as it moved the East Brainerd area of Chattanooga. The tornado weakened to EF1 intensity as it moved through Collegedale and unincorporated parts of Hamilton County. The tornado was on the ground for 18 minutes, traveled 18.37 miles, was 1,500 yards wide and was rated an EF3. Throughout the Chattanooga metropolitan area, 2,718 properties sustained damage, of which 254 were destroyed and 259 had major damage. Total damages were reported as reaching $225 million and two people were killed in the initial storm, while an additional 18 were injured.Source: Hamilton County Emergency Management Agency
LETTING IN THE SUN
Not far away and just up a ridge in Holly Hills, resident Steve Oney sat outside his year-old camper recalling how his luck played out at the home where he and his wife, Tonya, have lived for last 11 years.
"For us, it happened kind of quick," Oney said of the tornado. Tonya "happened to be staying with her mom that evening, and I had a friend over who was helping me paint and he was staying the night. I'd gone to sleep."
Drowsing in bed, Oney said the wind blew the door open, bumping his foot, and he kicked it shut. Then it blew the door open against his foot again and he kicked it shut once more.
"The third time it went, FOOM! And then I'd say five seconds later I heard [overnight painting friend] Theo yell, 'Steve!' coming down the hall and I grabbed a pillow and a sheet and ran down the stairs to a hallway and this door," Oney said, pointing toward the basement of the house. "Then it hit."
The tornado imploded the garage doors, breaking an entry door that hit him, Oney said. But it was all over in 90 seconds.
Not badly injured, Oney went upstairs and looked outside and saw nothing but green leaves and in the back of the house were even more, he said. The south end of the house and roof was blasted apart and now it remains covered in white plastic shrink-wrap to keep out the elements until repairs are made.
The painting work was being done in preparation for putting the house on the market, and now that work is delayed but still coming, he said. Meantime, the Oneys have a place to stay - their almost-new camper.
"I bought the camper, actually, the day before the tornado, and it was still at Northgate RV," he said. "It was spared."
At first, Oney said, he and wife stayed in the camper at a campground because of the trauma for his wife of seeing her destroyed neighborhood.
"When I drove her into the neighborhood the day after, she couldn't recognize where anything was. We were a couple of hundred feet from the house and she said, 'Where are we?'" he recalled. "It's that one."
The emotional impact lingered for months, but now they're parked back home, in the backyard.
The house, when repairs are complete, will probably go back on the market, but Oney said he's in no big hurry. He's gotten the three estimates he's allowed under state law, he said, and he wants the results to be high quality.
"I think in the end it'll all work out fine," he said.
"If we did stay here, we always talked about wanting to have a garden, but we had too much shade," he said with an ironic smile. "Now we've got full sun."
Photo Gallery
Rebuilding and recovery after Easter 2020 tornadoes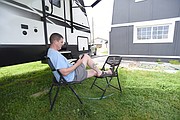 'WE'RE THOSE PEOPLE'
Tornado victim Kristen Otto ended up selling her tornado-damaged house in East Brainerd and now is building a new house in Collegedale, but not without trials that left her exasperated in trying to rebuild what the family lost.
On the night of the storm, Otto's husband was in the hospital recovering from surgery, and Otto was in her basement with a worker from an emergency water removal company she had called when she discovered flooding. The storm hit her house directly, and she spent the weeks and months following that harrowing night handling clean-up and the insurance payout, and trying to find a place she and her husband could live.
Otto said she was disturbed by the scope of damage from the storms.
"That is the one thing that was mind-blowing to me was just the widespread damage to everyone," she said.
Now, a year later, Otto says she and her husband are waiting to move on. Otto said last week that the coronavirus pandemic and rising materials costs combined to slow estimates and the overall process, but she and her husband will get to move into their new home before long.
Outside her Holly Hills home on Thursday, Braz turned her thoughts to her past perceptions of tornado victims.
"I'm originally from Massachusetts and I'm used to hurricanes but this was a monster," the 84-year-old said. "This was a thing that you look at on TV and you feel so bad for those people. All the things they lost.
"And now all of sudden, we're those people."
ALWAYS A SMILE
If the Easter Sunday tornadoes were a disaster for the hundreds involved, it was a true nightmare for Lisa Blackstock.
Blackstock lost all four blood relatives she had. Her father, Wilber Brookshire; her mother, Myrtle Brookshire; and her brother, Wilber Brookshire Jr., all died that night.
Her husband Harlan Blackstock, 57, died three weeks and three days later after being hospitalized. Blackstock was able to see her husband for only four minutes while in the hospital because of COVID-19 safety protocols. He was 57.
"I got to see him, I told him I loved him," Blackstock said. "He blinked his eyes a few times so I felt like he understood."
Sharon Blackstock Wilson, Harlan's sister, said Harlan always had a smile and that everyone around him loved him.
"No matter what was going on he would sit there and grin," Wilson said. "We had people coming out of the woodwork to help us. When Lisa got out of the hospital, she had a fully furnished apartment. They truly, truly showed up and showed out."
The night of the storm, Blackstock said her parents knew they wouldn't make it. They were at peace with going together, as was Wilber Jr. The family talked one last time on the phone before the tornado hit.
"My daddy told me, 'Lisa, I've always taught you to be strong. I don't think I'm going to be here in the morning,'" Blackstock said. "We told them we loved them."
A year later, Blackstock and so many others are still rebuilding a new life. And still hoping.
Contact Patrick Filbin at pfilbin@timesfreepress.com or 423-757-6476. Follow him on Twitter @PatrickFilbin.
Contact Ben Benton at bbenton@timesfreepress.com or 423-757-6569. Follow him on Twitter @BenBenton.