A year after a series of tornadoes ripped through Chattanooga and cut off power to East Brainerd and Ooltewah, Chattanooga is preparing to build a new microgrid to ensure that power and communications remain at the city's police and fire department headquarters in the event of more such storms.
The city and its municipal utility EPB are teaming up to install diesel and natural gas generators, storage batteries and solar panels atop the police services building on Amnicola Highway to supply greener and more reliable power for local emergency management operations. Chattanooga Mayor Andy Berke said the $1.8 million power system to be built over the next six months reflects his commitment to build a cleaner and more resilient city to handle a growing number of natural disasters.
"It's painfully obvious to everyone across our globe that extreme weather events are more and more common," Berke said Thursday during one of his final acts as mayor before he leaves his City Hall office on Monday. "Whether it's storms in Texas, tornadoes here or rising sea levels on the coast, all these events cause disruptions to our communities and in the future our city is going to have to deal with more of these events."
In his State of the City address two years ago, Berke launched a regional resiliency council to help local governments be better prepared for more natural disasters due to climate change. In response, EPB President David Wade offered to join with the city to help build a more resilient power grid for key city services by erecting a microgrid for police, fire and 911 emergency operations on Amnicola Highway.
The microgrid will use solar panels on the roof of the police services building to generate up to 430 kilowatts of solar generation. EPB also plans to install a 175-kilovolt diesel generator, a 100-kilowatt natural gas generator and up to 1,100 kilowatts of battery storage to backup the solar units, as needed. The system should ensure that the police and fire headquarters are never without power in nearly any emergency.
Photo Gallery
New microgrid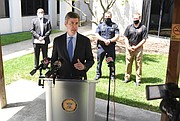 Billed as the "Power to Protect," the microgrid will be paid for with more than $1.1 million of city taxpayer funds and $732,000 from EPB ratepayers.
"Our sun is a great energy source and we've coupled that with our technology, storage and emergency generation to provide something that benefits our community on a daily basis with an environmentally sound source of power and also provides resilient power delivery in the worst of times," EPB President David Wade said.
The microgrid will be one of the first of its kind anywhere in the country to ensure reliable power for a police and fire agency, Berke said. It will be smaller, but similar to the microgrid at Chattanooga's airport that is powered by 2.73-megawatt solar farm that has 7,676 solar panels.
"When disaster strikes and leaves entire communities in the dark without power, it provides such peace of mind to know that Chattanooga will have reliable energy for emergency response services," Chattanooga Fire Department Chief Phil Hyman said. "When the power goes out, communications systems fail and that can leave lives on the line. With public safety in the microgrid's footprint, we can help keep regional infrastructure, such as responder operations, functioning.
The additional solar power also will help lower the city of Chattanooga's carbon output, which has already dropped by about 30% since the city in 2013 joined the national Better Building initiative to cut energy use.
Chattanooga Public Works Director Bill Payne said the contracts for the microgrid should be awarded next week and the project is slated to be finished by the end of October.
Contact Dave Flessner at dflessner@timesfreepress.com or at 757-6340