Since opening in 2014, the Bitter Alibi on Houston Street has been a popular place for folks looking for a craft beer or cocktail and delicious food. What it has not been is a place for large groups of friends or family to gather at one table.
Owner Jason Bowers hopes he has found a solution and he didn't have to go far to find it.
Bowers plans to spend the next several months renovating the former The Coin-Op Arcade on ML King Boulevard in downtown Chattanooga. While the two spaces have different street addresses, they are just around the corner from each other and essentially share the same spaces behind each building and Bowers has already made use of the 32-seat patio space, and when the city opens restaurants up to customers, he hopes to use the inside space for groups, as well as live music and events.
"We are reworking the bar and cleaning up the tables and chairs and plan to have open mic stuffs and music," he said. "It's something I've wanted to do all along, but it never made sense in Bitter.
"It's exciting to me because it's something I've always wanted to do."
Photo Gallery
Bitter Alibi expansion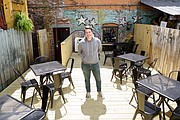 He also has plans to use the space as an incubator of sorts, allowing guest bartenders and chefs to try out their skills on a temporary basis. He has not finalized what he will call it.
"We will also offer items from our menu at Bitter."
That menu includes a variety of Americanized foods from around the world such as edemame, Asian-influenced Pad Fries, Wonton Nachos, noodles and a dish called Seoul Train featuring slow cooked pork, potatoes, kale, Sambal pickles, sesame seeds and a soft-boiled egg.
Bitter Alibi has two bars, two front porches, and a patio as part of its 3,000-square-feet spread over three floors. The new space gives him another patio and bar in addition to the 1,500 square-feet of space.
The Coin-Op space inside the Chattanooga Choo Choo complex is still operating.
Last week, founders of Slim & Husky Pizzeria announced they would open a store at 401 E. M.L. King Blvd two blocks east of Bitter Alibi as part of a new project along the historic street. Bowers said he hopes the area, which also includes several breweries such as Odd Story and Hutton & Smith and restaurants such as Champy's, Chatt's Smokehouse and Memo's Grill will see even more growth in the coming months and years.
Contact Barry Courter at bcourter@timesfreepress.com or 423-757-6354.