We all know someone who seems to have a special touch with thrifting, whether it's scooping up chic vintage clothing items or unique home décor.
There's something exciting about the treasure hunt of a thrift store – the shopping experience is always different and the thrill of getting an excellent deal keeps customers coming back. In addition to snagging good deals and neat stuff, thrifters also support the community with their spending at local thrift stores.
We're all familiar with Goodwill, which operates thrift stores as part of the organization's mission to connect people with jobs. Founded over 100 years ago, the Goodwill concept began with low income community members refurbishing household goods and clothing to keep and reuse or sell. Today independent Goodwill organizations operate thrift stores around the U.S. and in several other countries.
Our local Chattanooga Goodwill Industries runs 17 stores in the Chattanooga region and proceeds support the community. Goodwill serves our community through case management, employment and training, clothing assistance, resources for those who are homeless, and other community partnerships. More than 700 people participated in Goodwill's local job training programs in 2020.
Goodwill isn't alone in using thrift stores to fund helping people, though it's perhaps the most well-known organization for that business model.
Photo Gallery
How thrifting supports our nonprofit community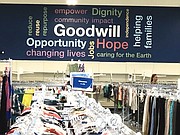 Several other Chattanooga nonprofits receive significant funding from operating local thrift stores, giving thrifty shoppers many options around our area.
Cause Cloth supports the Partnership for Families, Children and Adults. Some Cause Cloth inventory is new, donated by local boutiques. Some donated clothing goes to women's shelter clients and River City Youth Collective Program clients, and anything sold funds the Partnership's programs for families and individuals.
Cause Cloth offers great fashion finds as well as housewares.
"We sell gently used handbags and have come across a Louis Vuitton bag," says Gloria Stewart, Cause Cloth Store Manager. "We usually have in stock handbags by Coach, Kate Spade, Michael Kors and Dooney & Bourke. On hand right now we have a vintage 1940s wedding gown."
Northside Neighborhood House's three stores also strike a balance of great finds and giving back. The stores provide nearly half of the agency's funding, and support the organization's "hand up, not a hand out" mission through clothing vouchers for people who are job hunting. But the inventory is more than clothes.
"Recently a deluxe sewing machine that has the capacity to do monogramming and many other functions came in," says Rachel Gammon, Northside Neighborhood House CEO. "We have a little bit of everything and that's one of the joys of shopping. You never know what you'll find."
Chambliss Center for Children's two local thrift stores generate revenue that helps serve the agency's families and more than 750 children. The 150-year-old organization opened the thrift stores 15 years ago. The staff have seen some fascinating items in that time.
"Someone donated a few old ship logs from the 1800s and we have a lot of mid-century things. I still have the ship logs because they're in French," says Cheryl Hooks, Manager of the Chambliss store in East Brainerd. "I'd love to find someone who can translate them. We don't want to sell them until we know where they're from and what they say."
Working for the Community
Cause Cloth* Located at 301 E. Martin Luther King Blvd.* Open Tuesday through Saturday 11 a.m. to 4 p.m.* Tips for Deals: Various items are 50% off daily. Customers can fill a bag of clothing from designated bins for $5.Chambliss Center for Children* Located at 3723 Brainerd Rd. and 1936 Dayton Blvd.* Open Monday through Saturday 10 a.m. to 6 p.m.; Sundays 1 to 6 p.m.* Tips for deals: Monday is Senior and Military Discount day. Check Facebook page for updates.Goodwill* 17 locations in the region – check goodwillchatt.org.* Open Monday through Saturday 9 a.m. to 7 p.m.; Sundays 10 a.m. to 6 p.m.* Tips for deals: Shop Goodwill's Color of the Week and save an extra 50%.* Shop for treasures from Goodwill stores across the country at ShopGoodwill.com.Humane Educational Society* Located at 4784 Highway 58.* Open Tuesday through Saturday 10 a.m. to 6 p.m.* Tips for deals: All clothing is 50% off the last Saturday of the month. Visit the store frequently.* Want to volunteer? Call for info.Northside Neighborhood House* Located at 209 Minor St., 3605 Dayton Blvd. and 10161 Dayton Pike.* Open Monday through Saturday 10 a.m. to 6 p.m.* Tips for Deals: Sign up for text alerts to know when items are going on sale. Check social media for updates.* Want to volunteer? Call for info.
At the Humane Educational Society's thrift store, the best find might be a furry addition to your family. The store typically has a cat from the shelter available for adoption.
"When they go home with their forever family, it is the greatest feeling and the best find in the store," says Alexis Hoover, HES store manager. "Most of the time the cats we house here are also FIV (feline immunodeficiency virus) positive, and so we give them a chance to live a normal life with a family. It's all about the animals here with us; that is our goal."
Besides a new pet, Hoover says there are other treasures waiting to be found.
"Come in every day, you never know what we might get. One woman told us she wanted a dog stroller and we had just gotten one in no more than an hour prior."
The HES thrift store's proceeds support the Humane Society and any donation items useful for the animals go to the shelter. The store also offers a program to help the community feed pets and partners with Orange Grove Center to offer job experience for individuals with special needs.
Volunteers make up a portion of the staff at many nonprofit thrift stores, which is helpful for handling the immense time and effort required to sift through large donations.
"A little-known fact about running a thrift store is that, if you do not know what an item is, we most likely do not either," Hoover says. "We get many items in and ask one another what it is or what it is used for. Sometimes one of us will come to the correct conclusion, other times a customer will tell us, it's a fun game sometimes."
Cause Cloth's Stewart says the extensive process of sorting and stocking also involves steaming clothing and checking for holes or stains.
Visit your favorite thrift stores frequently to keep up with changing inventory. No matter your taste or the causes you like to support, there's a local thrift store for you to help nonprofits continue important work for our community.