Matt McPeak is candid about what No Hard Feelings, a new place on Broad Street across from the Read House, is all about.
"It's a bar first and foremost," he said. "It's a cocktail bar and we'd like it to be no fuss and no frills. It's pretty thought through and very intentional and inviting, but it is a nice intimate place where we like our music loud and our drinks strong. It's a place we hope people will want to come back to."
Open from 5 p.m. to 1 a.m. Sunday-Thursday and until 2 a.m. on Friday and Saturday, it's located at 806 Broad St. in a 2,000-square-foot space that has been empty for quite some time, and it needed quite a bit of work.
When McPeak and his partners - Freddie Schwenk, Matthew Buttel and Scott Baird - from Nashville came to Chattanooga looking for a location, however, it fit the bill. McPeak is the manager partner in the group.
"We had a very specific list and we probably only looked at three places to be honest," McPeak said.
The partners all have experience in the food service industry in Atlanta, Nashville and Franklin, Tennessee, and they ran No Hard Feelings as a pop-up bar in Nashville for three years before deciding to open a permanent location.
"Nashville is over bloated and Chattanooga is pretty and the people are nice," he said. "We were pretty specific on what sort of space we wanted and we liked the vibe."
Photo Gallery
No Hard Feelings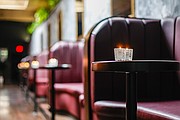 McPeak said the name comes from several conversations the partners have had over the years that started usually started with a heated conversation begun by someone who thought they knew all the answers. It's a Southern thing, sort of like "Bless your heart," or, "Don't take this the wrong way, but..."
McPeak said the bar has about 11 or 12 signature cocktails and it leans towards the tropical or rum-based libations, but it can make just about anything.
The Pleasure Point, for example, features Wodka vodka, St. Germain, Aperol, cinnamon and pineapple and the '69 Ford is made with gin, strawberry campari, PX sherry and NHF vermouth. Cocktails run between $11 and $13.
"We also have packaged beer and wine," he said.
Food items include empanadas from Belen de la Cruz out of Marietta, Georgia and snack items such as nuts and fancy baked cheese items from Poppytons Pattiserie on M.L. King are also on the menu.
Contact Barry Courter at bcourter@timesfreepress.com or 423-757-6354.