Sharon Mills, the late daughter of the founder of the Olan Mills portrait studio, built a picture-perfect house atop Elder Mountain overlooking the Tennessee River Gorge just 20 minutes from downtown Chattanooga.
The 11,347-square-foot residence, which was completed in 1998, was designed by architect Hugh Newell Jacobsen, the modern American architect who designed Jacqueline Kennedy Onassis' home in Martha's Vineyard during the 1980s and restored part of the U.S. Embassy in Paris in 2010. The Mills mansion was erected on 26.5 acres of mountaintop woodlands next to a protected land trust and overlooking the Prentice Cooper State Forest across the river.
Sharon Mills, who died last year at the age of 73, was known for finding "the best of everything," her nephew Kincaid Mills told Bloomberg news.
"Sharon's house sits on a precipice overlooking all this conserved land that will never be developed.," he said.
The Elder Mountain home went on the market in June with a $7 million asking price. Previously, the highest residential property sold in the Chattanooga area was just over $4 million for houses in Riverview and on the Chickamauga Lake.
But within the first few weeks of its listing, there was already an offer for the Mills mansion and interest among a handful of buyers.
"The house is structurally fabulous but ultimately it is a piece of art and it has attracted attention from all over the country," says Jay Robinson, the Keller-Williams Realtor who listed the property.
Photo Gallery
Million-dollar home sales rise in the Chattanooga area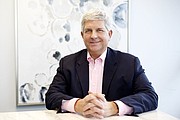 The Mills mansion may be unique, but Chattanooga's appreciating housing market is drawing attention to homes across the region from many buyers, including in the luxury market. With historically low interest rates and record high stock market prices, home prices continue to rise and the number of million-dollar home listings and sales also are on the increase.
Seven-figure home sales, once rare in the Chattanooga market, now occur about every four days, on average. Last year, a record 95 single-family homes sold for $1 million or more by Chattanooga Realtors, nearly double the previous year's total. In the 12 months ended June 30, 97 homes were sold in the Chattanooga market with seven-figure prices.
In July, there were another 92 single-family houses on the market in the Chattanooga area priced at $1 million or more, including 18 priced above $2 million.
A riverfront mansion on Browns Ferry Road owned by David Duplissey tops even Sharon Mills' $7 million list price. Last year, Duplissey listed his 17,772-square-foot house on 26 acres for $9 million, and the property was still for sale in July.
Chattanooga home prices are still 20% less than the U.S. average, and single-family home sales above $2 million are quite limited in Southeast Tennessee and North Georgia. The median home price in Chattanooga rose in May 2021 to a record high of $260,000, according to the Greater Chattanooga Realtors association. But data compiled by the National Association of Realtors shows Chattanooga home prices still average about $70,000 below the U.S. median price.
"We're so spoiled in Chattanooga compared with some markets that when you get above $2 million people think they are getting the Taj Mahal," says Henry Glascock, a real estate appraiser and auctioneer who has worked in the local real estate market for more than four decades. "But we're certainly seeing more homes selling above $1 million than ever before."
Robinson, whose real estate team was the top-selling residential team in Chattanooga last year, says homes priced above $2 million in Chattanooga often reflect the differing tastes of buyers.
"The number of resales of homes above $2 million falls off dramatically in Chattanooga because when someone is going to spend that amount of money they want to build their own dream home, not somebody else's dream," he says. "But right now, with material costs so high and the lack of labor in Chattanooga, even if somebody wants to build their own dream, they may not be able to do it."
Chattanooga's seven-figure home listings are scattered across the region and reflect the unique topography of the region, which offers both mountaintop brow lots, lakefront homes, downtown properties and rural farmland estates. Historically, most of the top-priced luxury homes have been on Lookout Mountain, in Riverview or on Chickamauga Lake. But other areas, including Signal Mountain, Ooltewah, downtown and rural parts of the region also have seven-figure home listings.
Growth in million-dollar home sales
The number of homes sold that were priced $1 million or more nearly doubled last year in the Chattanooga market.* 2020 - 95* 2019 - 49* 2018 - 47* 2017 - 42* 2016 - 22* 2015 - 19* 2014 -16* 2013 - 18* 2012 - 18* 2011 - 18* 2010 - 142009 - 17Source: Multiple listing service, Greater Chattanooga Realtors. Numbers reflect sales of single-family homes, town homes and residential condominiums.
"There are more than a half a dozen areas in our region where a million-dollar listing can come from," says Todd Henon, who leads a real estate team at Keller Williams Realty listing several million-dollar-plus properties. "Chattanooga is unique in that you can have 200-plus acres within 30 minutes of downtown. You can also live on a mountain or on a lake. There are not many cities our size that can offer such a variety of options."
Robinson says most luxury home buyers still come from the local area. However, as the pandemic has encouraged more remote work, and baby boomers continue to retire and relocate, a growing share of buyers are coming from outside the Chattanooga market.
"People are choosing to come to Chattanooga," says Linda Brock of Linda Brock Homes, one of the top-selling Realtors of luxury homes in Chattanooga. "People want to escape densely populated areas and they want to be in an area where they can actualize outdoor recreation and elevate their entertainment and improve their quality of life."
Henon says EPB's high-speed internet services, which it uses to promote Chattanooga as "Gig city," also make Chattanooga attractive to remote workers, who are growing in number since the coronavirus pandemic sent many workers home to do their jobs.
"After COVID, we're seeing more buyers showing up and seeing our million-dollar listings as low-lying fruit compared to where they are coming from," he says.
READ MORE
* Whisper listings: Homes in the Chattanooga area sell quickly and for a premium
* Through the roof: Skyrocketing lumber costs and a tight labor market challenge Chattanooga area builders and buyers
* Taxing process: Residential property values rise a record amount in Hamilton County, and commercial reappraisals are up, too