Tyner's pass-rushing duo of Latavious Conyers and Anthony Sims woke up feeling dangerous Friday morning.
The two seniors got after the quarterback Friday night, collecting five sacks and a forced fumble to help lead a 28-13 rivalry victory at Howard in the season opener for both teams.
"We had the mindset all day to be dogs. We came out here and were physical," said Conyers, who had three sacks to lead a first-string defense that did not allow a point all night and came back in the game late to shut down the Hustlin' Tigers' comeback hopes.
"The thing that stands out about our defense is we have speed and strength at all three levels. We have worked hard in practice, and the results paid off tonight for us."
Tyner senior running back Deonta Talor had touchdown runs of 7 and 11 yards to help build a 28-0 lead five minutes into the third quarter. Talor also had a diving interception over the middle to set up a scoring drive on which ZaShun Hubbard hooked up with Josh Jackson down the right sideline for a key 22-yard reception on fourth-and-11.
Photo Gallery
Tyner at Howard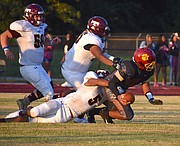 "We came out and dominated defensively, and we still have room to grow offensively," Hubbard said. "We put Howard in hard spots early and capitalized. This defense we have is tough, and I am confident to say we have the best defense in Class 2A."
Tyner's Ben Blackburn was solid all around as he made two highlight-reel tackles on special teams and also had a pair of 2-point conversions on which he flashed his speed. The senior safety and running back also showed his sharp instincts on a tipped pass as he sprinted to the ball and made a diving interception.
(READ MORE: Scores and photos from Friday night's Chattanooga-area high school football games)
The first points of the season were set up by Tyner senior Jersey Chubb, who broke through the middle of the line to block a punt in the end zone that Hubbard scooped up for the score. Senior Javell Woodruff's 2-yard plunge off left tackle built a 12-0 lead by the end of the first quarter.
Scott Chandler won in his first game as head coach of the Rams.
"I thought all camp based on our scrimmages we were going to be pretty good defensively," Chandler said. "We have playmakers on all three levels and big guys up front. When the ball was in the air, I was really pleased with how we went after it. Anthony and Latavious were huge factors for us getting pressure all night."
Howard's Daveon Dupree did not give up on his team. The Hustlin' Tigers quarterback fought while in the game and was rewarded as he threw 8- and 28-yard touchdown passes to Christian Holland. Tragonte Lewis also had some nice runs, and Eric McLemore had a fumble recovery and an interception for the home team.
Contact Patrick MacCoon at pmaccoon@timesfreepress.com. Follow him on Twitter @PMacCoon.