Kennedy Ball has been an integral part of the GPS Bruisers' soccer success in recent seasons.
Patrick Winecoff's team has been extremely hard to beat since Ball first started as an eighth grader for the 2018 team, which went 15-1-3 and won the TSSAA Division II-AA state championship by beating Nashville program Father Ryan 3-2.
"Kennedy came into the starting lineup right away and showed no fear," Coach Winecoff said. "In the state semifinals her eighth grade year against Brentwood Academy, we were up 1-0 and had a PK (penalty kick), and one of the seniors stepped up and missed it.
"A couple minutes later, we get another PK and everybody is looking around. Kennedy just walks up and puts the ball in and slots it in. She didn't think twice. The pressure never fazed her."
Ball has already shown she is a sensational talent. The scary part for the Bruisers' opponents is that because she is only a junior, they have the better part of two more seasons of facing her.
Over her first three seasons, GPS had a record of 47-5-3 and two state finals appearances. The Bruisers have been able to generate a ferocious attack sparked by the versatile midfielder/forward, who has 39 goals and 44 assists in her prep career. She has recorded at least 14 assists in every season and once had four in one match.
"My style of play starting out as a young player in the program was really to connect with my teammates and to get good balls into them," Ball said. "I am always looking, turning my head and trying to know where my spaces and defenders are. I love breaking down a defense.
"Now I am transitioning from relying on Sydney (Morris) and Ashley (Grant) for assists. I am focused more on going to the hole as my first option. Sasha (Carbone) is a really talented player I like to combine with and attack in the final third."
Photo Gallery
GPS soccer standout Kennedy Ball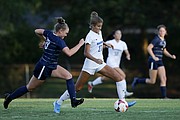 Winecoff has stressed the importance of Ball making the extra dribbles to get behind the defense even farther to create damage with her shot, when in the past she would slide the ball to a crashing Grant or Morris, who were all-state standouts during their time with the Bruisers.
With an incredible first step, long strides and great ball movement skills, Ball is a nightmare for anyone in her path.
"I have been coaching club soccer in Chattanooga since 1998, and I can easily say she is one of the top two to three players to come out of this area in that time frame," Winecoff said. "She is a great athlete and has remarkable vision. She consistently threatens the defense from any position she plays on the field. She is always so consistent and fun to coach and watch play.
"She is still adding to her game and can get stronger, which is pretty scary."
Ball also plays for Knoxville's FC Alliance, which is part of the top club high school league in the country, and her name is already well known among Division I prospects. Arkansas, Georgia, Florida, Florida State and Louisville have already offered her a spot or shown heavy interest in the 5-foot-10 playmaker.
"The recruitment attention makes me want to train even harder to have success and help this team achieve all our goals," Ball said. "Every girl's soccer dream school is UNC (University of North Carolina). That's top of the line. They have won 21 national championships. However, it's still early in the process, recruiting wise.
"I am focused on being the best leader I can be and enjoying every moment."
Contact Patrick MacCoon at pmaccoon@timesfreepress.com. Follow him on Twitter @PMacCoon.