When Charlie and Courtnay McGinness married in 2005, they had an agreement. He desperately wanted to own a business and she really wanted to have babies.
Deal.
Sixteen years later, the McGinnesses are co-owners of the Chattanooga Shoe Company, a trend-setting boutique on the North Shore. Meanwhile, the couple welcomed their third child earlier this summer.
So far, so good.
Along the way, Courtnay learned she, too, had an entrepreneurial streak. Working in retail since she was a teenager, Courtnay says she gets satisfaction from getting to know (and serve) her Chattanooga Shoe Company customers.
"I fell in love with helping customers," she says. "Now, being a business owner is a big passion of mine, too."
Photo Gallery
Rising Stars: Charlie and Courtnay McGinness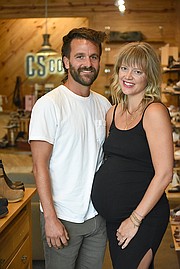 The Chattanooga Shoe Company at 2 North Shore has become a hot shopping destination for hundreds who appreciate a shoe store curated for both style and comfort.