In a 7-2 vote, the Hamilton County Schools board on Thursday night chose Justin Robertson, a 13-year district veteran serving as interim deputy superintendent, as its permanent superintendent.
School board members Marco Perez, Tiffanie Robinson, Joe Smith, Rhonda Thurman, James Walker, Joe Wingate and Tucker McClendon voted for Robertson. Board members Jenny Hill and Karitsa Jones voted no.
Smith made a motion to hire Robertson immediately after the board meeting began, and Jones objected to taking a vote on hiring one of the three finalists without any discussion.
"The last time we hired a superintendent we had a discussion about it before it got to [a vote], to be transparent to the community," said Jones, who then made a motion to discuss the candidates.
A majority of the board members voted in favor of discussing the candidates, aside from Smith, Thurman and Walker.
Walker said he understood that this was a time to nominate a candidate and the process had been open to the public.
"I think the public deserves insight into the minds of the people that have been elected to speak for them," Hill said.
She expressed her confidence that Robertson had the votes to get hired, and that she'd sleep well knowing he could do the job.
Jones said she planned to vote for Dawson, and she appreciated his ease in engaging with the community. She said she was concerned that Robertson's status as a "hometown hero" might get in the way of him doing his job.
Photo Gallery
Justin Robertson chosen to lead Hamilton County Schools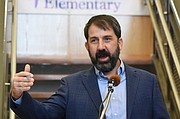 "I don't ultimately see this as being the most fair process for all three candidates," Jones said, pointing out that different questions were asked of different candidates during their interviews. "I'm really actually embarrassed to have been a part of this process."
Wingate said he's comfortable with Robertson as an internal candidate, and he thinks the risk outweighs the reward of hiring an unknown candidate.
The board also considered Jermaine Dawson, chief academic and accountability officer of Birmingham City Schools in Birmingham, Alabama, and Christopher Bernier, chief of staff of the Clark County school district in Las Vegas.
Perez said he was concerned that Bernier had spent his career working in Florida and Nevada school systems "that are much better funded than we are used to in Tennessee" and felt he would "hit a brick wall" when faced with the financial obstacles of running Hamilton County Schools.
Dawson was also a strong candidate, Perez said, but added he was hesitant to hire someone who moved jobs as often as Dawson because he feels the district needs the stability of a leader who will stay for more than a couple of years.
Thurman said she always likes to hire from within the system if possible.
"I think if there's nobody in Hamilton County who can move up and be a superintendent, shame on us," she said. "We have spent millions of dollars in our county training our principals, training our staff. ... What are we training them for if it's not to be able to move up?"
Robertson began his career in 2000 as a teacher and coach at Chattanooga private school Boyd Buchanan, and spent a short time as an educator and administrator in Shelby County Schools in Memphis before returning to the Chattanooga area to work for Hamilton County Schools in 2008, according to his resume. Since then he has worked for the district in various administrative roles, most recently as chief operations officer before being named interim deputy superintendent.
Robertson will replace Bryan Johnson, who left Hamilton County Schools in August to take a leadership role at trucking and logistics business U.S. Xpress.
Contact Emily Crisman at ecrisman@timesfreepress.com or 423-757-6508.