Construction of a replacement facility for the storm-damaged Grace Baptist Academy and Grace Baptist Church was halted last week due to delays in what officials had hoped would be millions of dollars of federal assistance needed to rebuild the East Brainerd complex destroyed by tornadoes in April 2020.
Church and school officials broke ground for a new church and school complex more than a year ago and held a topping out ceremony a month ago to celebrate the final steel beam being installed for a new 750-seat worship center. But construction crews working on the rebuilding project for Tyson & Associates Construction Co. suspended work last Monday when funds the church had anticipated receiving from the Federal Emergency Management Agency had not been awarded.
"We are still in the process of working with FEMA trying to collect the monies that they are looking at providing us to help us become whole and complete our campus again to get us back to where we want to be," said Adam Love, senior pastor at Grace Baptist Church. "That is what has caused us to suffer a work suspension."
The delay is likely to push back the expected spring return of Grace Baptist Church to its Shallowford Road site and could delay plans to move at least some students into the rebuilt school site by the fall of 2022.
"The recent suspension of work on-site as we wait for FEMA to complete its work on providing the funding we are due does appear to threaten our original timeline," said Matthew J. Pollock, the head of school for Grace Baptist Academy. "It causes us some concern that the academy's occupancy of the new facilities will be delayed."
Photo Gallery
Rebuilding work suspended at Grace Baptist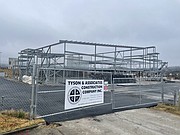 After a series of EF3 tornadoes ripped through East Brainerd on Easter night in 2020, the federal government declared the tornado-ravaged parts of Chattanooga a disaster area, qualifying many damaged sites for FEMA aid and low-interest loans. But 20 months after the storm, some of those who suffered the most monetary damages from the tornadoes and had hoped to get some federal aid are yet to get any FEMA money.
EPB also waits
EPB, which estimates it spent $37.1 million to repair damaged power lines and equipment from the 2020 tornadoes, is seeking to recover 75% of those expenses, or $27.8 million, from FEMA. But EPB spokesperson Scottie Summerlin said so far EPB has yet to be paid by FEMA for any of its claims.
The Easter night tornadoes caused up to $300 million of property damage in Hamilton County. Most of the damaged property has been or is being rebuilt with private insurance, and the U.S. Small Business Administration granted more than $5 million in disaster loans last year to those damaged in the April 2020 tornadoes in Southeast Tennessee and Northwest Georgia.
The Grace Baptist Church campus suffered the biggest single hit from the tornadoes, and the church's insurance proved to be inadequate to pay most of the cleanup and rebuilding expenses, which are projected to total $40 million to $60 million.
"Both our church facility and Grace Academy, which as a school is considered a 'critical function,' were truly devastated by the tornadoes back in April 2020," Love said. "It became pretty clear early on that our insurance had undervalued our campus, and that was probably going to cover only a third to a half of our costs to rebuild."
In evaluating its options, Grace found it could qualify as a house of worship and a private school for some storm-rebuilding assistance from FEMA to supplement its insurance and its own church and school fundraising for a new building. Love said the church had expected to receive FEMA funding by late October but when the funds didn't come through, leaders decided to suspend construction rather than risk not being able to pay contractors for their work.
Love said Grace had to spend nearly $2 million in mitigation costs to protect the properties and staff and avoid further damages while assessing the condition of the structures. Ultimately, building inspectors determined 15 of the 17 buildings on the 17-acre complex would have to be demolished, removed and replaced with new facilities.
Reshaping the future
"We are on a journey to get work back in action, and we're hoping that this suspension is very temporary," Love said. "We're confident that ultimately we'll get the funds that we need to finish the project. It's not a matter of if, it's a matter of when and how much."
The new church and school campus will include five interconnected buildings and room to expand both the upper and lower school at Grace Baptist Academy while still leaving 27% more green space than in the previous campus.
When finished, the new facility will include a worship center with a 750-seat auditorium, a field house and athletic building with a 1,000-seat tournament gym, a fitness center and new buildings for both the lower and upper schools with the capability of being expanded for enrollment of up to 750 students. The campus is also getting a new football and soccer stadium, a softball and baseball field and an amphitheater.
While the campus is rebuilt, Grace Baptist Academy has temporarily relocated to the Morris Hill Baptist Church at 1804 Morris Hill Road while Grace Baptist Church is temporarily meeting at the Chattanooga First Seventh Day Adventist church at 7450 Standifer Gap Road.
Despite the challenges of the dislocation, Love said Grace Baptist Church has remained strong and Grace Baptist Academy has actually grown its enrollment by 18% since the fall of 2020. Founded by Grace Baptist Church in 1985, Grace Academy has grown to more than 500 students from kindergarten through 12th grade.
"Due to the generosity of Morris Hill Baptist Church and their excellent facilities, we have adapted effectively during this time of displacement from our campus," Pollock said. "Our students are thriving and excelling in this temporary setting but we are anxious to return to our full capacity and potential on the new campus being constructed for us."
Both Love and Pollock said through the storms and subsequent funding challenges, they have learned to rely upon God's blessing.
"Our church has been true to our name," Love said.
Contact Dave Flessner at dflessner@timesfreepress.com or at 423-757-6340.