PIKEVILLE, Tenn. - Credit Lola Sells for the bright idea.
The business owner and longtime resident of Pikeville envisioned her town as a Christmas destination, like the fictional town of Evergreen from Hallmark movies. This year her wish came true.
With a $10,000 check from the city and considerable cooperation from other residents and businesses, Pikeville's downtown has been transformed into a wonderland of lights that locals hope will drive tourism to the Bledsoe County seat.
"She said, 'I want it to be like a Hallmark picture,'" said Pikeville Mayor Philip Cagle. "She succeeded in her goal."
Bledsoe County is among a handful of Tennessee counties listed as economically distressed by the Appalachian Regional Commission, but there have been developments on the big-picture business front. In July 2020, global poultry breeding company Aviagen announced a $35.3 million expansion for a new feed mill in Pikeville. Last month, Virnig, a Minnesota-based manufacturer of skid steer attachments, announced an $11.6 million investment to open a production facility.
Photo Gallery
Pikeville gets lit up for Christmas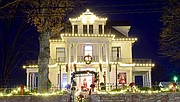 Sells' vision of the future is a little more nostalgic.
"It's going to be so beautiful," she said early on, describing how adding lights and other ornamentation on every available structure would launch Pikeville's reputation as a "Christmas town" and give travelers a reason to detour onto Main Street from the Highway 127 bypass.
National media outlets from Oprah Daily to Country Living to Reader's Digest offer annual rankings of festive destinations for travelers to soak in seasonal sights and sounds. Sells, who owns an antiques store - It's Lola's - on Main Street, said she'd be content, at least this first year, if Pikeville could just draw visitors from surrounding counties "to see how great our little town is."
Jeff Henry, who helped spearhead the effort with Sells, said increasing tourism was always top of mind for the "Light Up the Town" group of volunteers.
"We certainly talked about the economic development opportunities early on," said Henry, who retired to Pikeville in 2018. "We see this drawing from Dunlap, Dayton, Crossville, maybe from Soddy-Daisy or Chattanooga. Once they get here, maybe you've got somebody buying gas to get home [or] going to restaurants."
Weekend events in Pikeville, Tenn.
Note: Events are on the Main Street Stage, weather permitting; all times are Central.— Friday, Dec. 17: Music, 4-7 p.m.— Saturday, Dec. 18: Ugly sweater contest, 3 p.m.; horse-drawn carriage rides, 4-7 p.m.; live Nativity, 6 p.m.
The grassroots effort was made easier when the city agreed to pick up the $10,000 tab for professional installation of lights atop the storefronts on Main Street, the first item on the group's wish list.
"It's the least the city could do," Cagle said. "They shouldn't have to get out and bum money to buy lights [to illuminate the city]. If they're willing to work hard for it, we can foot the bill."
John Haustein, owner of Chattanooga-based NoogaLights, which handled the installation, said leaving the difficult labor to the professionals offered several advantages.
"If we can do the hard stuff, the community does the rest," he said. "We've got the lifts and ladders to do that part of the job, and then the community comes in and adds the garlands on trees and bushes and light poles. We give them a canvas to work on."
Pikeville has a Main Street Committee that sponsors year-round events downtown, but the adjunct project by the Light Up the Town group has tapped into a renewed spirit of cooperation, perhaps partly due to last year's pandemic isolation.
"We got support everywhere we turned," Henry said.
Cagle said he knew something was different this year when he and Bledsoe County Mayor Gregg Ridley rode through Pikeville among the dignitaries in the Bledsoe County Christmas parade on Nov. 27. The town of about 2,250 residents put together a parade that lasted an hour and a half and drew a crowd that Cagle estimated around 3,000.
"For a small town and a short distance, that's quite a parade," he said. "I've lived here my whole life, and that's the largest crowd I've ever seen in our downtown at one time in my lifetime. There were gobs of people. Mayor Ridley looked at me and said, 'Oh my gosh.' We were overwhelmed."
With NoogaLights stringing the skyline lights on the buildings, the town's residents, business owners, garden club and others took charge of the peripherals. Their efforts range from a Grinch story sequence painted on the windows of Scotties diner to a handpainted, larger-than-life Nativity scene in front of the First Southern Baptist Church. Lights twinkle from all corners.
"We already have one of the prettiest downtowns you're going to see anywhere," said Cagle. "It's the perfect town to do the Hallmark look."
Contact Lisa Denton at ldenton@timesfreepress.com or 423-757-6281.