Nehemiah Bloodsaw has the ability to simultaneously cause trouble for opponents and entertain Tyner basketball fans whenever he takes the floor.
Or whenever he leaves it, for that matter.
The 6-foot-3, 205-pound guard is the Rams' best on-ball defender, and his skills on the other end of the court can send crowds into a frenzy. With a vertical leap that has been measured at more than 40 inches, he can go high into the air for rim-rocking slam dunks.
"There is not a lot of people in this world who can dunk, and Nehemiah dunked in a game when he was in ninth grade," Tyner coach E'Jay Ward said. "Any time you have an opportunity to do something like that, you need to try to bring the house down. When he gets away on a fast break, there's a great chance you are going to be out of your seat because he is going to fly to the rim and slam the ball."
Bloodsaw has truly taken off during a junior season in which he has made a half-dozen dunks, most of them one-handed slams - including a few over defenders. He's trying to add more variety to his repertoire, and he has made a windmill dunk in practice.
Photo Gallery
Tyner basketball standout Nehemiah Bloodsaw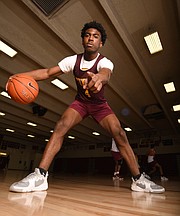 Even when he's not flying toward the rim, he is affecting games in positive ways for the Rams (8-4, 3-0 District 4-2A).
He scored a career-high 30 points in a three-overtime victory on Dec. 17 at Cleveland, a TSSAA Class AAA state tournament qualifier last season. With the Rams trying to make up for the loss of five guards who were seniors last season, Bloodsaw has made his presence felt in the starting lineup while averaging 22 points per game this month.
He is regarded by his coach and his teammates to be comparable to Miami Heat guard Jimmy Butler, a strong defender who can finish at the rim on offense and is also a good mid-range shooter who can hit from long range when needed.
Bloodsaw is among the players whose talent will be on display during the annual Times Free Press Best of Preps tournament for boys' and girls' teams Monday through Wednesday at East Hamilton.
Why is basketball so special to Bloodsaw, and what drives him to make the most of every game?
"My mom (Maggie Bloodsaw) passed away in 2014, and it meant the world to her to watch me play basketball," Bloodsaw said. "She wanted me to keep pushing and be the best basketball player ever. She never missed a game. Every time I go out on the court, I play for her, my school and teammates.
"I play with a lot of energy and motivation. I want to be a beast on the court. My dream is to play in college and be the best teammate and man I can be to make her proud."
Even on days when his team isn't practicing, Bloodsaw is in the gym getting in extra weight training and putting up shots before the first school bell rings.
"I love my coaches to death," he said. "They wake up every day to coach us to get us to that next level - not only as basketball players, but to better us as men and teach us things that we can hold on to and build on throughout life.
"I also have great teammates. Big Ant (Anthony Sims) pushes me to be the best. He is a great senior leader, and so is our point guard, X (Xavier Fisher). He is always the first one to pick me up and will help me bounce back. I wouldn't trade this team for the world."
Bloodsaw is focused on trying to help Tyner not only win the Best of Preps title but reach other goals this season. One of those is advancing to the Class AA state tournament - as well as winning it for the first time in program history. Tyner had a state runner-up finish in 1990, and 2018 marked the program's most recent state berth.
"No struggle, no story" is the team's motto, and Bloodsaw has personally embraced it.
"His actions speak volumes of the player and young man he is," Ward said. "His teammates will watch the effort and intensity he plays with, and it motivates them. He is well respected throughout this whole team and entire school. All of our kids have a unique story to tell, and he is certainly one of them. I am proud of him and want to see him and everyone thrive."
Contact Patrick MacCoon at pmaccoon@timesfreepress.com. Follow him on Twitter @PMacCoon.