In almost a microcosm of the University of Tennessee at Chattanooga women's basketball team this season, it has taken a while for junior Brooke Hampel to figure out where she was most needed for the Mocs to be successful.
UTC's roster was supposed to look vastly different than it does right now - much older, for one thing. Three juniors who were on the preseason roster - guard Morgan Hill and forwards Ruona Uwusiaba and Eboni Williams - are no longer playing for the Mocs. Eight of 12 current Mocs are listed as underclassmen, including six freshmen, and no player is classified as a senior.
The shift toward youth meant returning players such as Hampel were going to have to do even more than they might have expected heading into the fall.
It's been a challenge. UTC (2-11) ended a nine-game losing streak with a 62-51 home win over UNC Asheville on Dec. 20, and the Mocs will return to competition by visiting seventh-ranked Tennessee (10-1) at 6:30 p.m. Monday at Thompson-Boling Arena.
In the win over the Bulldogs, Hampel made all six of her shots, finishing with 13 points in just 15 minutes to continue a steady uptick in her offensive contributions.
She had started the season off well, scoring 16 points in the Mocs' loss to Belmont on Nov. 9, but that remains her season high and she failed to top double figures in her next six games after the opener. That has changed of late, with Hampel scoring 10 points against Eastern Kentucky and 11 against North Alabama before her perfect night from the floor against UNC Asheville.
Photo Gallery
UTC guard Brooke Hampel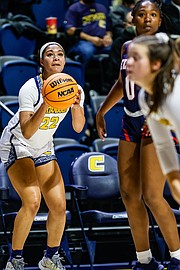 "She is finding her offensive swag," UTC coach Katie Burrows said last week. "We talked about it after the Vanderbilt game and I challenged her. She just wasn't doing a very good job prior to that point of catching the ball and actually looking to score, and I got really frustrated with her. Since that game, she's got better progressively every game, and it's showing these last two games.
"What she's doing is finding herself."
That's the part that has taken time.
Hampel averaged at least 16 points per game in her final two seasons at Hazel Green High School in nearby Huntsville, Alabama, and she averaged 9.3 points per game as a freshman at the University of Missouri-Kansas City before transferring to UTC and redshirting in the 2019-20 season.
When the 5-foot-10 Hampel arrived in Chattanooga, the Mocs seemed to have so many options on the wing - where she so often operates - including Lakelyn Bouldin and Bria Dial, so her opportunities to really make an impact had not been as attainable. Bouldin and Dial have both since graduated, though, and this year's roster attrition has made those moments more than simply available.
Now those moments are vital.
"In high school, scoring was what was expected of me," Hampel, a Miss Basketball finalist in Alabama during her senior prep season, said last week. "Here, I have had to adjust to getting different shots, like what shots are good for me to take out of the offense? That was really a struggle for me, but my coaches have been really good helping me look for opportunities. It's been an adjustment, but I feel like each game I'm getting more and more comfortable finding places where I can pick this apart or the spaces I'm looking to get into."
After taking on Tennessee, UTC will finish its nonconference schedule with a trip to Jacksonville State on Thursday. The Mocs will then continue a five-game road swing with three Southern Conference opponents: Samford on Jan. 6, Mercer two days after that and East Tennessee State on Jan. 15.
The SoCon schedule will offer the Mocs a chance to rewrite the narrative of this season that, while having occasional promising moments, has mainly been filled with disappointment to this point, evidenced by the record. Hampel isn't counting out adding another SoCon title to the stack the program already owns.
"The sky is still the limit with this team," Hampel said. "I know we have the talent; I see it every day in practice. I see what these girls can do, and I believe wholeheartedly we can absolutely win it for real.
"We just have to keep pushing, like we've been pushing the whole time. I think if we just keep pushing and getting better and bettering everybody on the team, it's going to be special."
Contact Gene Henley at ghenley@timesfreepress.com. Follow him on Twitter @genehenley3.