Holiday tournament basketball games are a mixed bag.
Some teams are eager to measure themselves against stiff competition. Others aim to tighten rotations in advance of the stretch run of region play. Some, like the Signal Mountain High School girls, just want to shake off the rust.
It took the Lady Eagles three quarters to do just that in Monday afternoon's 36-28 win over Rhea County in the opening round of the Best of Preps Tournament at East Hamilton High School.
Signal Mountain will face Meigs County in today's semifinal round, with East Hamilton and Lakeview-Fort Oglethorpe battling in the other semifinal.
The defending tournament champions trailed Rhea County 23-21 entering the final eight minutes after scoring only 10 points in the opening half and being out-rebounded handily early. An aggressive full-court press and more attention to the glass turned the game around and sparked a 16-0 run to start the last quarter.
(READ MORE: Final scores and photos from Monday's Best of Preps basketball tournament)
Photo Gallery
Signal Mountain girls vs. Rhea County on Dec. 27, 2021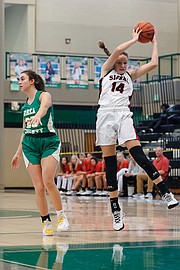 "We put in our full-court press and it turned things around," Signal Mountain coach Kendra Bell said of her 7-7 team. "We couldn't buy a bucket early and I told them at halftime we had to get on the offensive boards. Our three post players did a good job of getting some boards in the second half and we turned enough of them into points.
"We've had a few different starting lineups and quite a few kids in and out as most teams have had to deal with and I thought tonight we came out a little rusty."
Cassidy Pawson had six of her nine points in the big run, including back-to-back drives that pushed the lead into double digits. Half of the points in the run came after offensive rebounds, including four from Ashlyn Rock.
Carlee Lowery tied Pawson for scoring honors with nine and also had nine rebounds. Hayla Patton led Rhea County with 10 points and Ava Travis had a team-high nine rebounds.
> East Hamilton 49, Boyd Buchanan 42: The host Lady Hurricanes opened the tournament with a strong start led by Appalachain State commit McKenna Hayes, who had eight first quarter points and a pair of 3-pointers. East Hamilton junior Morgan Bone was strong in the paint and also made three 3-pointers to finish with a game-high 18 points. Christal Collins had a key coast-to-coast layup off a steal late. Boyd Buchanan guards Jalisa Sanders and Dani Reeves each scored 12 points and made tough shots near the basket.
> Lakeview Fort-Oglethorpe 90, Silverdale Baptist 42: Angel Simmons' lights-out long-distance shooting sparked a 16-0 run that carried into a 35-point second quarter for the undefeated Lady Warriors. Simmons made five of LFO's nine first half 3-pointers on her way to a game-high 25 points. Freshman Christen Collins scored 19 of her 21 points in the first half while her sister Christina Collins starred in the third quarter in which the talented junior scored 11 of her 19 points. Tori Gibson finished with 10 points for Silverdale.
> Meigs County 53, Notre Dame 43: Lawson Talley scored nine of her team's first 13 points as the Lady Tigers (7-5) led 15-7 after the first period and never trailed. The Lady Irish (6-6) got back-to-back baskets from Kenzie Campbell to cut the lead to 41-34 starting the final quarter before Meigs went on an 8-4 run to silence the rally. Cayden Hennessee and Julia Howard added 11 points each for the winners, with Dayonna Perryman leading Notre Dame with 18 and Campbell adding 10.
Monday results
Girls' scores
East Hamilton 49, Boyd Buchanan 42
Lakeview-Fort Oglethorpe 90, Silverdale Baptist 42
Meigs County 53, Notre Dame 43
Signal Mountain 36, Rhea County 28
Boys' scores
Notre Dame 60, Signal Mountain 43
McCallie 74, Ooltewah 38
Tyner 65, Silverdale Baptist 59
Howard 65, Red Bank 64
Tuesday's schedule
Boyd Buchanan girls vs. Silverdale Baptist, 10
Signal Mountain vs. Ooltewah, 11:30
Notre Dame girls vs. Rhea County, 1
Silverdale Baptist vs. Red Bank/Howard, 2:30
East Hamilton girls vs. Lakeview-FO, 4
Notre Dame vs. McCallie, 5:30
Meigs County girls vs. Signal Mountain, 7
Tyner vs. Howard, 8:30