The start was just enough to overcome the finish.
Meigs County's girls' basketball team opened Tuesday's Best of Preps tournament semifinal with a flurry, building as much as a 13-point first-half lead, but had to hold off a furious late rally by Signal Mountain before claiming a 52-46 win.
The Lady Tigers advance to Wednesday's championship to face Lakeview-Fort Oglethorpe at 7 p.m. at East Hamilton. LFO cruised past East Hamilton in the other semifinal, 73-39. The Lady Warriors have rebounded from a winless 2020 season to open this season with 12 straight wins and advance to their first Best of Preps tournament title game.
(READ MORE: Final scores and photos from Tuesday's Best of Preps basketball tournament)
Meigs County (8-5) began the game on a 7-0 run, pushed its lead to double figures on Julia Howard's layup with 2:10 to go in the opening quarter, ended the period up by 13 when Sara Swafford converted a steal into a layup just before the buzzer sounded.
"The found a way to finish and I guess that's what matters," said Lady Tigers coach Derika Jenkins, whose roster consists of four sophomores, three freshmen and just two seniors. "We're still a very young team that's learning how to play the way we should for four quarters. We have to learn to shoot free throws and layups and turnovers are our biggest weakness right now.
Photo Gallery
Meigs County vs. Signal Mountain on Dec. 28, 2021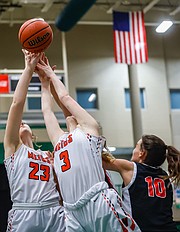 "I think a lot of that might be because of the way I want us to play - up and down the floor quick."
Meigs County's 13-point halftime lead was cut to four when Lady Eagles post Aubryn McKendrick connected on back-to-back short jumpers with less than a minute left in the third quarter.
But Signal Mountain, the 2020 Best of Preps tournament champ, didn't score again until 4:30 remained in the game, which allowed the Lady Tigers to extend their lead back to eight.
"I thought I might have a heart attack in that fourth quarter," Jenkins said with a laugh. "I was screaming and losing my mind, losing my voice and I didn't know if they could hear me.
"I saw enough of LFO to know they're going to be a really tough matchup for us. They're really good so it'll be a big challenge."
Cayden Hennessee led all scorers with 15 points, including four 3-pointers, for Meigs County and Talley Lawson added 10. McKendrick led the Lady Eagles with 10 points.
Contact Stephen Hargis at shargis@timesfreepress.com or 423-757-6293. Follow him on Twitter @StephenHargis