Melissa Carvalho still owes $45,000 from the days when she used to frequent the emergency room between two and four times a year - not because she wanted to, but because she thought it was her only option.
Carvalho developed heart problems in 2014 and doesn't receive health insurance through her serving job at a small mom-and-pop restaurant. She's 62 years old but not disabled, meaning she doesn't qualify for TennCare or Medicare, and she can't afford to buy an individual insurance plan. So, like many working adults in Tennessee without regular access to preventive medical care, Carvalho's health began to slide.
During her last trip to the ER in 2017, Carvalho was diagnosed with angina - a type of chest pain caused by reduced blood flow to the heart. The doctor at the hospital told her she needed to stop smoking, which she did, but she also needed follow-up care.
Following her sister's advice, Carvalho decided to try Volunteers in Medicine - a nationwide program with a Chattanooga-based medical clinic for uninsured residents of Hamilton County, Tennessee, and other surrounding counties. To become a patient, individuals must live in the area for at least 90 days, be between 19 and 64 years old and show that their household income is at or below 200% of the federal poverty level.
The clinic is fully funded through donations and staffed by local volunteer nurses and physicians.
Photo Gallery
Chattanooga medical clinic treats uninsured residents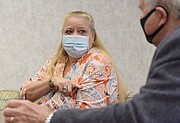 After becoming a Volunteers in Medicine patient, blood work revealed that Carvalho had developed Type 2 diabetes, hypertension and high cholesterol in addition to her heart condition.
"I had no idea I had diabetes and high blood pressure and cholesterol and all this stuff," she said.
Holly Gadd, dean and professor of nursing at Southern Adventist University, leads the volunteer efforts of Volunteers in Medicine's nurse practitioners. Having been involved with the program since the Chattanooga clinic was founded in 2004, Gadd said Carvalho's story mirrors that of many new patients during their initial visits.
"I have seen patients who came in, and it's like, 'Oh, my word, which of their major problems are we going to work on first? Are we going to deal with their melanoma, or the fact that they are in severe heart failure, or that their blood pressure is over 200?'" Gadd said.
Uncontrolled diabetes is one of the most common, serious problems found in new patients, because treatment is so costly, Gadd said.
"Diabetes medicines are all very expensive, and some of the older cheap ones don't work for certain diabetics, and so they are so out of control that they will die. Their kidneys are failing, because they aren't getting treatment," she said.
That's one of the many reasons why Gadd and others at Volunteers in Medicine want more people to know, including local providers, that the clinic exists.
"Many, many of the patients we see in the emergency department are there because they don't know where else to go," she said. "If we can have our health care providers, our families and communities aware of these resources, they can direct patients to Volunteers in Medicine so that they don't necessarily have to go to an emergency department, and our emergency departments are overburdened."
Since its inception, the clinic has logged more than 75,000 patient visits valued at more than $25 million at average clinic rates, which a conservative estimate puts at about $109 million worth of care based on emergency room rates, according to data from Volunteers in Medicine.
During 2020, Volunteers in Medicine Chattanooga delivered medical care to 436 patients with 2,586 patient visits, according to data from the organization. The clinic spent $304,451, which equates to $117.73 per patient visit, during 2020.
The clinic also has some new faces. Dr. Mitchell Mutter, a cardiologist who previously served as a VIM volunteer, took over as medical director in 2020. Mutter replaced the clinic's longtime medical director and founder, Dr. Robert Bowers, who stepped down last year due to his health.
New challenges
Joel Henderson, who joined Volunteers in Medicine as its new executive director in November, said the pandemic has created new challenges for the clinic, including a need for volunteers and funding as well as increased demand for services.
"The patients that come in who had a job, they had health care coverage - now they're finding themselves in a situation where now they're unemployed. They had maybe some health coverage, but even that now - that gap of time - is gone, because they're still not working," Henderson said.
Volunteers in Medicine's patient mix is 70% white, 30% minorities and 62% female, he said. Many patients are in their mid 50s to early 60s and have worked their entire adult lives.
The clinic typically activates more than 100 volunteers on a quarterly basis, which posed another challenge during the pandemic, Henderson said. Many volunteers are retirement age and feared risking COVID-19 exposure. Volunteers are returning to more regular schedules now that they all have been vaccinated, but there always remains a needs for volunteers, he said.
Volunteers in Medicine is located on Marlin Road near Eastgate with easy access to a bus stop served by CARTA Bus No. 4 for patients who lack transportation. There is no charge for visits to the clinic and insurance is not accepted, but voluntary donations can be made to help offset costs.
Because Volunteers in Medicine is faith-based - an important part of its mission - funding has historically relied heavily on donations from local churches, but many of those have seen their resources dwindle as a result of COVID-19. Henderson said the clinic was blessed that several people from the community gave sizable contributions during the holidays.
Those funds are used to buy needed supplies for the clinic, which operates like a "normal doctor's office," Henderson said. Services include preventive and acute care, including the ability to conduct X-rays, manage some chronic diseases, provide specialty referrals, health education, dietary counseling, physical therapy and prescription drug assistance.
Volunteers in Medicine now operates three days a week - Monday through Wednesday from 9 a.m. to 4 p.m.
Carvalho said that without the clinic's help, she would have probably "worried herself sicker." She receives insulin and several other prescription drugs through Volunteers in Medicine. She also hasn't been to the emergency department since she became a patient.
"It's a great, great situation for me," she said. "I wish that more people knew about it, because there's so many people that are struggling."
Contact Elizabeth Fite at efite@timesfreepress.com or follow her on Twitter @ecfite.