A few Republicans in the House broke ranks Thursday to support removal of U.S. Rep. Marjorie Taylor Greene from her two committee assignments, but none from Tennessee or Georgia.
The House vote was 230-199, with 11 Republicans voting with Democrats to strip Greene of her committees over controversial comments on social media.
But Georgia and Tennessee representatives split along party lines, with Greene herself voting against being stripped of her membership on the House Education Committee and the Budget Committee.
Tennessee's seven Republicans - Reps. Chuck Fleischmann of Ooltewah, Scott DesJarlais of Sherwood, Tim Burchett of Knoxville, Mark Green of Portland, Diana Harshbarger of Kingsport, David Kustoff of Memphis and John Rose of Cookeville - all voted against removing Greene from the committees.
(READ MORE: Marjorie Taylor Greene claims the media 'is just as guilty as QAnon' in defiant speech before committee removal vote)
Photo Gallery
Marjorie Taylor Greene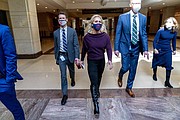 The state's two Democratic congressmen, Jim Cooper of Nashville and Steve Cohen of Memphis, voted for removal.
Besides Greene, R-Rome, all the other Georgia Republican representatives voted against stripping her of her committee assignments: Reps. Rick Allen of Augusta, Buddy Carter of Pooler, Andrew Clyde of Athens, Drew Ferguson of West Point, Jody Hice of Greensboro, Barry Loudermilk of Cassville and Austin Scott of Tifton.
Georgia's six Democratic representatives all voted for Greene's removal: Reps. Sanford Bishop of Albany, Carolyn Bourdeaux of Suwanee, Hank Johnson of Lithonia, Lucy McBath of Marietta, David Scott of Atlanta and Nikema Williams of Atlanta.
Georgia Democrat Williams said in a floor speech that Greene's actions "brought dangerous and deadly QAnon conspiracy theories, certain national conspiracy theories and put the lives of every person in this room at risk. On Jan. 6, we witnessed what can happen when our leaders engage in baseless conspiracy theories."
She denounced language that "echoes the shameless calls to violence that resulted in the domestic terrorist attack on the U.S. Capitol" when supporters of then-President Donald Trump rioted in opposition to his election loss.
(READ MORE: Billboard in Dalton, Georgia, urges Rep. Marjorie Taylor Greene to resign)
McBath, whose 17-year-old son was shot and killed in 2012 following an argument at a Florida gas station over loud music, also spoke on the floor, recalling watching televised images of terrified students fleeing a gunman at Marjory Stoneman Douglas High School in Parkland, Florida, in 2018, who killed 17 students and adults.
"I watched parents read texts from their kids that said 'Mom, if I don't make it back, thank you for everything that you've done for me.' I watched as 17 families realized that their lives will never be the same. Throughout history, words have shown and have had the power to unite this nation with unity and hope. Or the power to divide with bigotry and hate.
"Words have an impact on everything we do here in this chamber," McBath added.
Loudermilk said in a statement that "while I disagree with many comments made by Rep. Marjorie Taylor Greene, especially those she made before she was an elected member of Congress, this motion by Democrats for the House to remove her from her assigned committees is unprecedented, and sets a very dangerous precedent.
"Just as Nancy Pelosi has twice used impeachment as a tool against a political rival, she is further abusing her power as speaker to remove a Republican from committees because she does not like some of the things Rep. Greene has said," Loudermilk added.
Fleischmann tweeted that the vote "sets a dangerous precedent by blocking a member in the minority from being able to properly serve their constituents. We are still in the midst of a deadly pandemic and Congress should be focused on doing our job to help the American people and provide relief."
DesJarlais stated that "the 'Washington elite' do not get to decide who represents the people of Georgia Congressional Distrrict 14. The idea that an opposing party can strip a member of their committee assignments sets an extremely dangerous precedent."
(READ MORE: Here's a closer look at the Marjorie Taylor Greene social media activity that caused controversy this week)
Cohen tweeted prior to the vote that "I'll vote to boot #MarjorieTaylorGreene from her committees and limit her opportunities to spread racist, anti-Semitic, false theories. Republican leadership should remove her like w/ Steve King, but they showed they're the party of QAnon not the GOP. The House must act."
Contact Andy Sher at asher@timesfreepress.com or 615-255-0550. Follow on Twitter @AndySher1.