A new apartment-style, extended-stay hotel brand entered the Chattanooga market Monday with a new 59-unit facility in Ooltewah.
Known as stayAPT Suites, the Ooltewah inn is only the third such facility opened since the brand was introduced last year. But company developers are now planning or building another 20 locations across the country as part of an ambitious business plan to open more than 200 stayAPT suites within the next five years.
Mandeep Singh, the company's chief operating officer who helped start the company after working with Extended Stay Hotels and other lodging companies, said stayAPT suites are designed to allow guests to enjoy a more home-like environment while traveling or on work assignments.
"We offer a residential-feeling suite with intentional spaces," he said. "Our business model is targeted for longer-term stays, but you can book any length of stay from one night to one week to one month or longer."
The suites average 500 square feet, or about 30% bigger than the typical hotel room, and include a sleeper sofa, a lounge chair, and a 55-inch television; a kitchen with a full-size stove, oven, dishwasher, microwave, and refrigerator; and a separate bedroom with a walk-in closet, separate TV, and workspace, Singh said.
"For too long, guests have gone to bed right next to a kitchenette when staying in a hotel," stayAPT Suites President and CEO Gary A. DeLapp said in an announcement of the new Ooltewah hotel. "With dedicated living, kitchen, and sleeping areas, we are proud to introduce suites that feel more like a residence than just another 'hotel room.'"
The new two-story hotel is located at 6046 Relocation Way, across the street from the Ooltewah Food City grocery, just off the Ooltewah exit along Interstate 75. The new facility is within three miles of the Volkswagen plant and touts its location as being near the VW facility where contractors, suppliers and VW workers often come and work or transact business over several weeks or months before moving on to other jobs.
"Volkswagen and the other businesses in that part of the Chattanooga area bringing in a lot of relocations and workers so we think this is a great location," Singh said. "We also are attractive for many families that are traveling and because of COVID want to prepare their meals within their own suite. It's very user friendly because it feels more like an apartment than a hotel room."
The suites are initially renting for $89 a night in Ooltewah, although rates will vary some depending upon the length of stay, the season, discount options and the specific room.
Photo Gallery
stayAPT Suites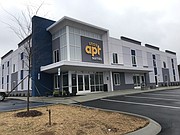 The new hotel is among more than a half dozen new hotels being added to Chattanooga's lodging market this year. Collectively, the new inns are adding more than 1,500 rooms to the market.
The American Hotel and Lodging Association (AHLA) said the pandemic hit the lodging industry last year nine times harder than 9/11, which produced the last major drop in the hotel business two decades ago.
"Hotels were one of the first industries affected by the pandemic after travel was forced to a virtual halt in early 2020 and it will be one of the last to recover," AHLA said in a new industry report.
Despite the industry slowdown, hotels offering apartment-like options for contractors and others on short-term work assignments are faring much better. Singh said the pandemic has slowed some construction activity but not the development plans for stayAPT Suites, which expects to grow with both company-owned and franchised locations.
Headquartered in the Charlotte, North Carolina suburb of Matthews, North Carolina, stayAPT Suites opened its first units in Goldsboro, North Carolina, and Alexandria, Virginia, and will open another unit this month in Morrisville, North Carolina.
Contact Dave Flessner at dflessner@timesfreepress.com or at 423-757-6340.