Representatives for Common House, a new social club concept taking over the former YMCA on Mitchell Avenue in downtown Chattanooga's Southside, have set a formal opening date for the space.
There is still a long way to go, but Director of Operations Honor Hostetler said she feels good about the May 6 scheduled opening. There is already a wedding booked at the end of April, she said.
"Our timing is really exciting because people are really anxious to get out and socialize in some capacity," said Membership Director Rob Praino.
He set a goal of having 1,000 members signed up by the time the club opens and said he's already close to that number.
"People are excited about it. It's a concept I think we didn't know we wanted here in town," Praino said.
Modeled after the two existing Common Houses in Virginia, the space will serve many purposes.
Members will have access to a variety of programs like wine tastings and educational seminars, and special events like concerts could welcome non-members as well.
While the locations in Charlottesville and Richmond have started readmitting guests following a brief shutdown as part of COVID-19 protocols, programs are being offered virtually and members from any location can access them, along with the buildings themselves if traveling - which will likely include more locations around the Southeast, said Praino.
An on-site restaurant, multiple bar areas and a billiard room also will serve the primary purpose of offering adults a new place to meet each other.
"Part of what we want to do here is try to create a community and create connections between people," Praino said.
Photo Gallery
Common House sneak peek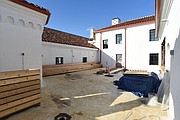 To facilitate that in a professional sense, there will be a floor dedicated to co-working spaces and reservable conference rooms where guests will have access to a printer, copier, even a podcast studio.
Members will also be able to use the common areas for telework. Servers will roam throughout the four-story, 36,000-square-foot building.
The largest of the soon-to-be three locations, Chattanooga's club will have several amenities the other two don't.
A fitness center will offer a steam room and workout machines, and they plan to partner with local providers for group classes, Hostetler said. Outside, a heated, regulation lap-size pool will be lined with cabanas and a bocce ball court.
There will also be a child care center so member parents can enjoy the 21-and-up facility without having to worry about a babysitter. Similar to the programs for adults, there will likely be some special events for children, such as yoga or art lessons, said Praino.
The fourth-floor hotel will be another new concept for the brand. Open to the general public age 21 and up, the hotel will hold six single queen- and king-size rooms and one suite. Members will receive a discount on stays.
The several private event spaces, ranging from an interior hall that can hold 35-70 people to a garden area big enough for 185 seated, will also be available to the general public. Rental rates will include all the necessary amenities like tables and chairs, Praino said.
In keeping with the Italian Renaissance character of the building, built in 1929, the interior decor and food menu will reflect that influence.
"On the first floor, we're trying to keep as many original details as we can," Hostetler said, motioning to the hand-painted coffered ceiling and decorative brick flooring.
They have partnered with local woodworker Cabeen Originals to restore details like the original door frames and reception desk from the building's former life as Chattanooga's original YMCA. And workers spent the summer carefully removing each of the terracotta tiles from the roof and relaying them after adding insulation, Praino said.
That purist mentality will extend to the food menu as well.
" If we can't source it locally or make it in-house, we just don't do it," Praino said, noting that the menu will focus on simple ingredients of the highest quality and will change with the seasons.
With restaurants around the country taking a hit amid the pandemic, Hostetler said there's been a lot of interest in the open positions, but "we're trying to pull as much local talent as we can."
Meanwhile, Common House's executive chef, Matt Greene, and sommelier, Erin Scala, will drive the related offerings, which will include a wine club.
Scala's virtual programs have already proven popular with new members, Praino said.
While the median age of Chattanooga's current membership pool is 37, Praino said the goal at Common House "is to be really diverse and really broad - lots of different ethnic backgrounds, lots of different age groups, people of different career backgrounds. And that's what we're seeing.
"It's outstanding to see a broad group of people excited about this. Social clubs have a long history of being a lot of one type of person."
The former Southside YMCA building was raised in 1929 and initially offered 58 dorm rooms, an indoor swimming pool and basketball gymnasium. The building is on the National Register of Historic Places and was bought in 2018 by Walk2Town for $2.75 million from Chattanooga businessman Jack Kruesi. The owners have partnered with Common House to develop the social club.
"Our development partners brought the project to us," said Common House co-founder and Chief Creative Officer Derek Sieg. "We actually didn't know a ton about Chattanooga, but the more we got to know it, the more it felt like a much bigger version of Charlottesville: a beautiful setting, adventurous and outdoorsy people, and a strong arts and culture scene. It felt like a place we'd want to live, so that seemed like as good an indicator as any.
"Plus, the building is epic and would have been impossible to say no to. In the end, we couldn't feel more fortunate to be moving into such a cool building in such a cool city."
In addition to a one-time initiation fee, monthly membership costs $150 per person or $225 per couple, with discounts for corporate members, those under age 30 and those who sign up early. To learn more, visit commonhouse.com/chattanooga.
Contact Jennifer Bardoner at jbardoner@timesfreepress.com.