Chattanoogans Normand Lavoie and Michael Ryan aim to make composting food waste as easy as taking out the trash for area businesses and residents with a new business known as NewTerra, which they say is the only local company that composts food scraps.
While spending 12 years working in the food industry, Ryan saw firsthand how much food waste restaurants were sending to landfills. When he came to the realization that food sent to landfills wasn't disintegrating - but wrapped in plastic and left to rot, producing methane gas and contributing to global warming - he wanted to help find a solution on a wider scale than just composting his household food waste.
He teamed up with business partner Normand Lavoie to launch NewTerra in December 2020, and they now serve around 100 residential customers and about a dozen local restaurants.
Their restaurant customers can typically fill a 65-gallon container with food waste within two days, and unlike homeowners, they don't have the option to just start a compost pile in the backyard.
And those with a backyard compost pile often find that it's more work than they thought to turn the compost and keep it at a temperature that's high enough to kill viruses and pathogens, Ryan said.
"So we wanted to make a solution that's easy for folks and takes the work out of it," Lavoie said.
Their restaurant customers - such as Southern Squeeze, Niedlov's and Daily Ration - are given lined 65-gallon containers to dispose of their food waste, and twice a week NewTerra picks up the filled containers and replaces them with fresh ones.
"Those are cleaner than their recycling and their garbage containers," Lavoie said, adding that many new customers are concerned that their containers will smell or attract rodents.
Photo Gallery
NewTerra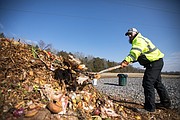 The company provides residential customers with 5-gallon buckets for their household food waste, which they can empty at one of NewTerra's compost kiosks.
Kiosks are located at Niedlov's Bakery & Cafe in downtown Chattanooga, Pruett's Market in Signal Mountain and Wildwood Depot in Wildwood, Georgia. The company is planning to add a kiosk in Red Bank soon, Lavoie said.
For residential customers, the cost is $15 per month or $145 per year. Commercial pricing varies, Lavoie said.
NewTerra brings customers' food waste to its property in Wildwood, Georgia, for composting. A layer of food mixed with wood chips is topped with another layer of wood chips about a foot tall, creating a pile that's kept at a temperature of at least 140F. The material takes about a month to compost and several more months to cure before it can be reused as fertilizer.
In the spring and fall, residential customers can get compost back from NewTerra to use in their gardens, or they can choose to donate it to local organizations that use it to grow food for people in need. NewTerra recently partnered with the Chattanooga Area Food Bank, where customers can donate compost for use in its garden.
"It just closes the loop," Lavoie said. "The food that was on your plate, or the residuals from prepping your dinner at the FEED, went into a 65-gallon bucket, came here, spent a few months composting, then a few months curing, and then it's going to go back into a garden that creates more food for people in Chattanooga. That's the full circle, that's what recycling needs to be."
They hope to educate people about composting through classes and demonstrations at farmers' markets and schools, though the COVID-19 pandemic prevents them from doing that at this time.
Ryan hopes to help get people to the point where, when they are eating at a friend's house and have food scraps left on their plate, they ask their host "Do you compost?" in the same way they ask "Do you recycle?" when they finish a beer at someone else's home.
"We've got to change that narrative and get that more into everybody's everyday life and stop sending all of this stuff to the landfill and start using it as a resource," Ryan said.
For more information, visit newterracompost.com.
Contact Emily Crisman at ecrisman@timesfreepress.com or 423-757-6508.