If Joyce Kilmer's ode to "Trees" is the playbook for your yard, you're in luck. Tennessee Tree Day, the chance to choose from among 10 native bare-root seedlings for $1.99 each, is coming up next month. You have about a week to reserve your selections (while they last). They'll be available for pickup the weekend of March 19-20.
March is at the tail end of tree-planting season, says Tom Stebbins, a University of Tennessee Extension agent for Hamilton County. But he understands the springtime urge to get outside and dig in the dirt. Because these specimens are seedlings, they should thrive as long as they don't get thirsty.
"People will just have to get out and water," he says.
These seedlings probably won't even need a lot of water, perhaps once a week in these early, cooler days of spring. He advises keeping a watchful eye when summer's heat sets in. If days are consistently hot and the soil is drying out, then more frequent watering would be wise.
As a general rule, Stebbins says, fall is the best time of year to plant trees: "The soil is cooler. The air is cooler. Trees love it when it's cool and moist."
Photo Gallery
Landscape, garden plant orders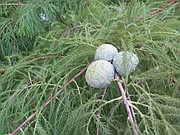 Tennessee Tree Day is a project of the Tennessee Environmental Council. The Nashville-based nonprofit was founded in 2007 with a goal of planting 1 million native trees across the state by 2025, an effort meant to increase Tennessee's biological diversity and to replace trees lost to development and other causes. To date, according to the council, more than 679,100 trees have been planted by Tennessee residents (based on the number of orders).
This year, another 50,000 seedlings are available, making the program the largest community tree-planting event of its kind in America.
"It takes a few minutes to plant a tree, and the benefits grow for generations," says Jeffrey Barrie, CEO of the council. "We seek participation from all 95 counties and have set up a statewide tree-distribution network that makes it convenient for participants."
To participate, you'll go to www.tectn.org to place your order. A donation of $1.99 per tree is requested to help fund the organization's work. Payment cannot be accepted at pickup, so trees must be reserved and paid for online.
You'll be expected to pick up your trees during designated hours on the designated days at a location of your choosing. Hamilton County has four distribution sites: the Hamilton County Extension office on Adamson Circle, ArtsBuild on East 11th Street, Reflection Riding on Garden Road and the Soddy-Daisy Community Library on Dayton Pike.
Surrounding counties have a single, central distribution site. Some specimens are already sold out.
OTHER OPTIONS
Don't despair if you miss out on the Tennessee Tree Day order. Reflection Riding Arboretum and Nature Center will open its native plant nursery on April 1 and is already accepting orders. Crabtree Farms has added an Early Spring Plant Sale, going on now, in addition to its regular Spring Plant Sale coming in April.
Melissa Astin, director of community outreach and engagement for Crabtree Farms, says the early sale recognizes that not all plants are suited for the "behemoth" April sale.
"It's just a little bitty, baby plant sale for those who want to extend their garden season," she explains.
"Some of the things we sell a little too late [in April], early varieties that are better planted in the cooler weather, like your kales and collards and broccoli," she says. "It's for folks who want to jump-start their garden and do cooler-weather plants versus the mid to late spring into summer planting."
Two dozen vegetables and herbs are available in the early sale, along with succulents and blackberry bushes.
A link to the sale can be found at crabtreefarms.org. Although it's set up as an online sale, with barnside pickup scheduled March 4-6, Astin says she can help with orders if questions arise or if potential customers don't have internet access. She can be reached at 423-493-9155.
The Reflection Riding nursery propagates a wide range of perennials, grasses and sedges, trees and shrubs, which will be available through late fall. Nursery and greenhouse manager Dylan Hackett and director of land conservation Scotty Smith are working in tandem to teach area residents about the importance of native species.
"We need to fundamentally rethink our personal relationship with nature and learn to support it rather than control it," Smith says. "A great place to start this journey is in our own gardens and yard.
"While ornamental plants are certainly appealing to the eye, they do not support our ecosystem in the way native plants do," he says. "Native plants are not only beautiful but they also support healthy soil biomes, pollinators, insects and other wildlife."
A sneak peek of what's available from the Reflection Riding nursery will be featured in a series of events presented by the Tennessee Valley Chapter of Wild Ones in March.
Plant Natives 2021 will start with a seminar, "Native Trees in a Time of Climate Change," on March 19 and continue with a virtual symposium March 19-21 that includes talks by seven speakers. Discounts for early registration for the three-day symposium are available through March 10.
The following weekend, March 27, will feature a new and expanded Outdoor Native Plant Marketplace in which 10 regional native plant nurseries will sell plants at First Horizon Pavilion.
Contact Lisa Denton at 423-757-6281 or ldenton@timesfreepress.com.
At a glance
› Tennessee Tree Day: Go to https://www.tectn.org. Click on Get Involved, and follow the dropdown menu to Tennessee Tree Program, then Tennessee Tree Day 2021. Click on your region to see the trees available and choose a pickup site. Sales end March 7. Trees available while supplies last.› Crabtree Farms' Early Spring Plant Sale: Go to crabtreefarms.org and click on the sale box on the home page. Online orders are being accepted now. Barnside pickup will be March 4-6. If you need help, contact Melissa Astin at 423-493-9155 or mastin@crabtreefarms.org. Another sale is scheduled for April.› Reflection Riding's Native Plant Nursery: Go to reflectionriding.org/plants to see the list of plants available. Advance orders may be placed now. On-site sales begin April 1 (nursery hours will be 9 a.m.-3 p.m. Tuesday-Saturday). If you need help, call Dylan Hackett at 423-497-6208 or email dylan@reflectionriding.org.› Tennessee Valley Chapter Wild Ones: Go to https://tnvalleywildones.org and click on Plant Natives 2021 for the list of fees and events, which include seminars and talks March 19-21. The following weekend, March 27, there will be an Outdoor Native Plant Marketplace at First Horizon Pavilion with 10 regional native plant nurseries represented. Admission to the marketplace is free.