NASHVILLE - FBI agents on Friday raided the homes and offices of state Rep. Robin Smith, R-Hixson, and three other Republican lawmakers as part of an ongoing federal probe into unknown matters.
The Hixson Republican told the Times Free Press as federal agents left her home at about 10 a.m. that she did not know why the agents came to her house and she was headed to a relative's home.
"Right now, I don't even really know," she said at the end of her driveway.
Asked if she would take questions later, Smith gestured to an apparently empty phone case and said "I really don't have a phone" before driving off.
Photo Gallery
NW Junior Cotillion 2/3/2007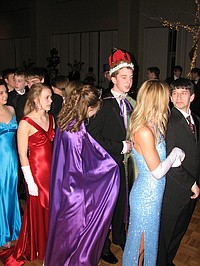 Agents were seen outside the office of former Tennessee House Speaker Glen Casada, who still represents Franklin, and outside of the office of Smith, a business and political consultant, and Rep. Kent Calfee, R-Kingston.
Another office searched belongs to freshman Rep. Todd Warner, R-Lewisburg. In last August's GOP primary, Warner ousted then-Rep. Rick Tillis, also of Lewisburg, in a contest in which Tillis was the target of dark money attacks.
David Boling, spokesperson for Don Cochran, U.S. Attorney for the Middle District of Tennessee, confirmed for the Times Free Press the agents' presence at the legislative offices and at Smith's home.
Agents at the state's Cordell Hull State Office Building had no comment but one confirmed they were from the FBI.
"Earlier today, a search warrant was served on Robin Smith related to an ongoing investigation," her attorney, Ben Rose, said in a statement late Friday. "She intends to cooperate fully with the investigation in all respects. While she would have preferred to do so voluntarily, Robin understands this may not have been possible.
"Robin is not the target of the investigation, and she has not done anything wrong. Please understand that due to the ongoing investigation, Robin will not be providing any further comment."
Casada served as speaker during the first part of 2019 but was forced out by fellow Republicans following a scandal involving sexually lewd and racially charged text messages he exchanged with his then-chief of staff, Cade Cothren, as well as a controversial vote on private school vouchers.
The bill passed amid allegations that Casada and Gov. Bill Lee pressured and offered enticements to push the education savings accounts across the finish line in the House. The bill had stalled in a dead tie for some 40 minutes on the House floor.
Some lawmakers charged pork barrel budget amendments agreed to by Lee amounted to "bribes." Both Lee and Casada have denied that. Cothren's home was among those searched, according to federal officials.
House Speaker Cameron Sexton, R-Crossville, who replaced Casada after the then-speaker was pressured to step down in an August 2019 GOP caucus no-confidence vote, said at a news conference Friday that after becoming speaker "I was contacted by federal authorities regarding an ongoing investigation related to the former speaker's office.
"I have been and will continue to be in full cooperation with the authorities as they continue their investigation," added Sexton, who announced that on advice of both legal and ethics counsel "I am placing everyone that was subject to the execution of today's search warrants on administrative leave until further notice."
Those on paid leave include Sexton's interim chief of staff, Holt Whitt, who had previously worked for Casada; legislative administrative assistant Nadine Korby, who works for Calfee; and Carol Simpson, Casada's administrative assistant.
The speaker said that Calfee is not a subject of investigation.
Sexton noted that "personally, these are our friends and colleagues of ours that we've worked with for many years. It's important to remember that this is just the start of the investigation and the process and not the end. Today does not necessarily imply guilt."
Nashville attorney Ty Howard, who is representing Whitt, said in a statement that as "publicly reported earlier today, Holt Whitt was one of several individuals contacted by agents with the Federal Bureau of Investigation regarding an ongoing investigation.
"Mr. Whitt is a well-respected legislative aide with an impeccable reputation, and he has not been charged with any wrongdoing," Howard said. "He is cooperating fully with the investigation. Out of respect for the legal process, Mr. Whitt will have no further public comment regarding this matter."
Sexton said he has spoken to Lee and Lt. Gov. Randy McNally, the Republican Senate speaker from Oak Ridge.
Lee in late 2020 hired three ex-lawmakers who supported the voucher bill: former House Speaker Pro Tem Bill Dunn of Knoxville; former Rep. John DeBerry, a Democrat kicked out of the party for voting for the voucher bill; and former Rep. Andy Holt, R-Dresden. All three had been long-time voucher proponents.
Lee told reporters Friday morning, "I've spoken with Speaker Sexton this morning and I'm aware of the FBI raids. It's certainly very concerning. I know very little about that. There's been no FBI outreach to us, but I have confidence that speaker Sexton is on top of the situation and we'll learn more as this unfolds."
At his news conference, Sexton said, "This day is a sad day for Tennessee and the General Assembly."
Staff writers Rosana Hughes and Elizabeth Fite contributed to this report.