CLEVELAND, Tenn. - Cleveland High School wrestler Cody Chittum's first match against intracounty rival Bradley Central will be one he'll never forget.
After competing on the undercard Wednesday in a match between American amateur stars Jordan Burroughs and David Taylor that was organized by FloWrestling.org in Lincoln, Nebraska, Chittum flew back to Tennessee to help the Blue Raiders to a 51-9 victory over the visiting Bears inside the Allan Jones Wrestling Center on Thursday night.
Chittum flexed his star power both days.
Ranked No. 1 in the country at 145 pounds by FloWrestling, Chittum secured a technical fall over Jordan Williams of Oklahoma - the No. 2 wrestler in the weight class - in Nebraska. Chittum then racked up 17 points before pinning his 160-pound opponent in the second period for a Cleveland, which has a No. 1 state ranking and is chasing a fourth straight sweep of the Class AAA traditional and duals state titles this year.
"I have known the guys on this team my whole life it feels like," said Chittum, who finished second at prep nationals as a freshman last year with Blair Academy, a New Jersey national powerhouse. "I started wrestling in the Cleveland kids' club in third grade, and to be a part of the team now means a lot. I went up to New Jersey to compete on the national level, but this will always be my hometown and I love it here. I wanted to be back tonight and wrestle in this rivalry match."
Photo Gallery
Cleveland vs. Bradley Central wrestling on Jan. 14, 2021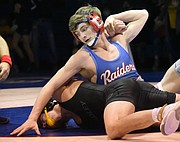 Chittum will provide an extra boost to the Blue Raiders' lineup, which now has six of the top 14 ranked wrestlers in TSSAA Class AAA.
Cleveland looked every bit the part of a state championship team even though the Blue Raiders received a hard fight early from third-ranked Bradley Central.
The Bears took a 9-6 lead after the first six matches in which top-ranked 106-pounder Bryson Terrell picked up an 8-5 decision, followed by by hard-fought decisions by brothers Ethan Lipsey (113) and Easton Lipsey (126). Ethan had a last-second takedown in the third period to take down first-ranked Bentley Ellison.
Coach Joey Knox's team responded with authority from there as the Blue Raiders (7-0) went on to win the last nine matches of the night. Senior Jackson Bradford dominated his match at 132 and was able to pin his way to victory, along with Trae McDaniel (138), Cael Laxton (152), Ben Grey (195) and Ashton Davis (220).
Cleveland was also given a lift by Nick Nicodemous (285), who began the match with a 4-2 overtime victory against a ranked opponent. Other victors for the home team were Arlo Laxton (120), who won 10-6, Hagen Cooper (145), 7-2, Desmond Prigmore (170), 7-3, and Tetoe Boyd (182), 10-2.
"I was looking for some fight tonight and found some," Knox said. "I have been preaching to them all the time to stay focused. Focused on our goals and the situation we are in. We still need to be better conditioned and have some work to do in a short amount of time."
Contact Patrick MacCoon at pmaccoon@timesfreepress.com. Follow him on Twitter @PMacCoon.