Kevin Wallace was crying. He asked God for forgiveness.
The lead pastor of Redemption to the Nations megachurch in Highland Park was overcome with emotion on Jan. 10. His wife, Deven, was leading a prayer session for young people at the church when she started washing feet. Wallace joined and was drawn to a Black man in his early 20s he knew well. The pastor began the washing ritual.
"I just began to weep," Wallace said. "The Lord began to speak to me and he told me, 'I want you to go read the story of the Good Samaritan.' I felt the leading of God."
The pastor found a corner of the room to open his Bible to the story in the Book of Luke. He felt God giving him new insight about the story of the man left for dead on the side of the road who was ignored by a priest and Levite. A Samaritan stopped to help the man despite deep cultural divisions.
"Before the man who had been wounded and beaten and stripped, before he moved along to the inn and got to his next stop, the Samaritan had to pour oil and wine into the wounds," Wallace said. "We're so passionate about moving the needle and moving the nation forward and moving the church forward and sometimes we haven't stopped to pour oil and wine into those who are hurting in our communities."
Wallace was thinking specifically about the trauma Black and Latino communities experience. He felt he needed to ask God for forgiveness. The pastor had seen the images of the deadly protest at the nation's Capitol four days earlier, a riot that featured scripture passages on signs and wooden crosses.
"When I think about what is going on in our nation, I think about what responsibility does the church bear in all this?" Wallace said. "And, as a leader in the kingdom of God and in the church in Chattanooga, I just have to say, personally, what responsibility do I bear for getting here? And what responsibility do I have for getting us out of this?"
That night, Wallace took to Facebook. His 503-word statement received more than 470 comments and was shared more than 600 times.
"To all of my African American brothers and sisters, to all of my Hispanic brothers and sisters, to anyone who has been hurt, wounded, marginalized by words, actions, and the malice inflicted by any leaders in any realm (including ME THE MOST), PLEASE FORGIVE ME!" Wallace wrote.
What separated Wallace's words from the reactions and statements of hundreds of other pastors like him was he did not focus on condemning the wrongdoing of others. His focus was inward.
'FOR JUSTICE AND TRUTH'
Wallace, in his years as a high profile pastor, has faced both praise and criticism for his decisions.
He walked away from the Church of God denomination and his fast-growing Redemption Point Church in Ooltewah. His current church, the independent Redemption to the Nations, is among the largest multiracial congregations in the city.
Through his ministry, he has organized community events, offered Christmas gifts to the public and allowed COVID-19 testing in the parking lot. The pastor led a devotional for the Los Angeles Rams before the 2019 Super Bowl. In 2018, he offered to house migrant children in his church during the national controversy about family separation at the U.S.-Mexico border.
In July 2019, Wallace toured the U.S. Customs and Border Protection detention center in Clint, Texas, after the facility was the center of a national uproar about maltreatment of detained migrant children. While he said the nation must deal with illegal immigration, he said the children there were "obtaining incredible care." Wallace later shared his thoughts on Fox News in its New York City studio.
In June 2020, Wallace was among a group of a dozen local faith leaders criticized for attending a protest in downtown Chattanooga in response to the death of an African American man, George Floyd, under the knee of a white Minneapolis police officer. The group - which had come to the protest after a live-streamed, multifaith prayer service - was accused of posing for a photo opportunity at the protest rather than being committed to the cause.
When Wallace had his revelation last weekend, he said he was not going to make it public. People can exploit someone's transparency or call it virtue signaling, he said. He changed his mind and posted it.
"Here's the bottom line: I felt like some of what I had done was public, and I felt like what I had to do to make it right had to be public as well," Wallace said. "I felt that the Lord wanted me to do that."
A single moment or action from his past does not stand out, Wallace said, but he admits as a church leader he often focused on moving forward and building up his church, rather than attending to those who have been hurt. He wonders in his ministry if he has been compassionate enough, he said.
"I just wanted people, who sometimes see me as a bold, outspoken leader for justice and truth, to know," Wallace said. "I should also be able to say my heart's not always been right, and I want it to be more right."
Photo Gallery
From riot to reckoning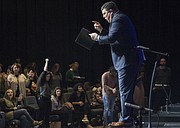 THE ROLE OF FAITH
For all the attention and scrutiny white evangelicalism faced in the aftermath of the 2016 presidential election, the faith faced even greater pressure in the past year.
After months of protests for racial justice over the death of Floyd, the Southern Baptist Convention said in November that critical race theory - a belief that racism can exist within and be perpetuated by systems or organizations - was "incompatible with the Baptist Faith & Message."
Several Black pastors left the denomination in response to the statement. Officials from the denomination later said they should have spoken with Black clergy before the SBC leaders, who are all white men, put out the statement, according to Religion News Service.
Then, on Jan. 6, the deadly Pro-Trump protest in Washington D.C. featured chants of "Hang Mike Pence" alongside signs reading "Jesus Saves." There was a gallows constructed outside the U.S. Capital and Confederate flag in the same gathering as a man carrying a large wooden cross or people blowing shofars, the horns used in Jewish rituals. Signs, shirts and hats read "God Guns Trump."
Condemnation from some of America's conservative Christian leaders was swift. Russell Moore, president of the SBC's Ethics & Religious Liberty Commission, wrote of Trump's actions and the riot, "If you can defend this, you can defend anything." Albert Mohler, the president of the Southern Baptist Theological Seminary who voted for Trump, told The Atlantic that evangelicals are embarrassed by Trump's recent behavior.
But the ever-widening fissure in American society grew in America's churches, too. Many faith leaders remained quiet about the president or condemned the violence but said little about their faith's possible role in it.
White evangelicalism is at a kind of fracturing point, said Kristin Kobes Du Mez, professor of history at Calvin University and author of "Jesus and John Wayne: How White Evangelicals Corrupted a Faith and Fractured a Nation."
Differences theologically or politically were always present among the religious right but they were papered over. Those differences became increasingly clear in the past four years and especially in the past year, Du Mez said.
"For folks who are dissenting from Christian nationalism, from the Trump administration, from the politics of the religious right, for them there's a lot of shock right now, a lot of soul searching, a lot of confusion: Is this who we always were?" she said. " Not just, this is not me, this is not what I believe, but how have I been complicit in the faith that has brought us to where we are now?"
Trump's rise as a political figure and the four years of his administration brought new attention to Christian nationalism, an ideology privileging Christianity in regulating social life and believing in the superiority of the nation. The movement draws on Old Testament appeals of defending the religion and is typically expressed in aggressive or hypermasculine ways.
The Trump administration supported the faith movement. Du Mez said that while those who gathered at the Capitol last week were the most extreme examples of the belief system, it was a reflection of the decades-long alignment of conservative Christians with the GOP.
White evangelicals may say their pastor never preaches politics or their church is apolitical, but the values and viewpoints expressed from the pulpit, or written about in Christian publishing, or discussed on Christian radio, is white-centered and very political, Du Mez said.
"They are blind to the extent that their Christianity, their version of Christianity, is just that, a version that is in fact deeply enmeshed with these conservative political and cultural values. So the distinction is not quite as stark as some might want to suggest," she said.
Experts who study American evangelicalism are skeptical the events of the past week or four years will cause much widespread change in the faith. For the handful of people leaving the faith, many more are doubling down on their viewpoints.
Even for the pastors who are seeking change, their paths forward can be derailed by the interests of parishioners, donors and other faith leaders.
'RECONCILIATION, NOT JUSTICE'
Wallace admits he can write anything on Facebook. What comes next is what matters. And what comes next is not as clear.
He said his church will learn how he feels and he wants his members to have similar encounters.
"Beyond the spiritual and church thing, what I've committed my heart to, out of all this, is to listen," Wallace said. "And to be a part of the people who want to heal and heal by listening and heal by doing all that we can to make sure that injustice of every type is rooted out in my own personal life, in my church, in my city and as far as the Lord would give us influence to impact."
Michelle Oyakawa, assistant professor of sociology at Muskingum University, said white evangelicals in these moments often focus on racial reconciliation rather than racial justice.
Oyakawa, who studied evangelical pastors' approaches to conversations around race after the 2014 protests and riots in Ferguson, Missouri, said framing the issue around reconciliation allows the cause of racial division - specifically whiteness - to remain unaddressed. Framing the conversation about unity often leads to reaffirming the dominant perspective, which is often the view of white congregants, she said.
"The evangelical pastors we talked to who had a racial justice perspective faced criticism from their peers for their stance," Oyakawa said. "There's really a kind of strong belief that the important thing is to unite as Christians and that race is divisive."
White evangelicals focus on individual relationships with Jesus and therefore see racism as an individual problem, rather than a larger issue the church and white Christians are complicit in, she said. Often, a white pastor may admit to saying or doing something racist, ask for forgiveness but then, because of this individualistic narrative, the pastor moves on thinking it is solved.
"The biggest thing often that people can do is really just listen to the people of color that they know and that they're in contact with," Oyakawa said.
Some of that work is already happening in Chattanooga. A few dozen area pastors have met for years through Kingdom Partners to build relationships across race and increase compassion among congregations. In June, the group led a public service for around 200 people to point out white America's silence and complicity in racism throughout the nation's history. Other local faith leaders have created an anti-racism framework for local faith communities.
Wallace is in a better position than most pastors since he already leads a multiracial church. His church is not connected to a denomination, which could censure or otherwise ostracize him. The charismatic style of Redemption to the Nations is growing in popularity in America and globally, said Damon Berry, assistant professor of religious studies at St. Lawrence University and author of "Blood and Faith: Christianity in American White Nationalism."
The demographics of Christianity are shifting, which changes the Christian perspective, Berry said. With that come conversations about current or past positions on social issues such as race, he said.
Yet it remains relatively uncommon for white evangelical leaders to work on changing systemic social issues, Oyakawa said. There is often pushback from white congregants or other church leaders. People threaten to leave the church or pull donations.
"Is this pastor going to turn his church into a church that openly addresses and discusses racial issues? If he does that, he will lose some people. People will leave his church. There will be consequences," Oyakawa said. "It's often the path of least resistance to prioritize your white parishioners's feelings and not make them mad."
Wallace said he is committed to seeing this change through to real action in Chattanooga.
"It's easy to tweet that stuff out," he said. "I want to be sure I am more vocal not just in condemning it after it happens but standing with our community as an ambassador of the kingdom of God before it happens and saying we're going to fight for everyone's future and we're going to see the quality of life be better for everyone in our city."
Looking ahead, he said he may worry at times about what people think but, in the end, he should be more concerned with how God will judge him.
"It's an atrocity to me that showing love and demonstrating compassion could be considered somehow spineless or weak leadership when it is the only thing, it is the only thing that Jesus said to his disciples: 'By this they will know that you are mine,'" Wallace said.
Contact Wyatt Massey at wmassey@timesfreepress.com or 423-757-6249. Follow him on Twitter @news4mass.