Photo Gallery
Old State House 5/10/07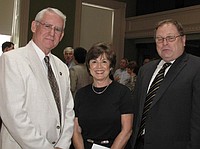 Food Truck Alley opened in downtown Chattanooga on Saturday, Jan. 30, 2021.
The lot at the corner of 5th and Market streets holds a half dozen food trucks offering a variety of foods.
Initially, the food trucks are expected to operate Thursday through Sunday, offering a variety of takeout foods. The business plan is to allow for short-term rentals for the food trucks with both hourly and weekly rates.