Over the past five years, Chattanooga homebuilder Ethan Collier has successfully redeveloped the site of the former Scholze Tannery into more than 60 new townhomes in the One Hundred South Broad development.
With the completion of that industrial site redevelopment on Chattanooga's Southside, Collier has set his sights on a far more ambitious vision.
Over the next five to six years, Collier plans to convert some of Chattanooga's oldest and biggest textile mills and nearby properties into a $160 million residential and commercial development in East Chattanooga. The 37-acre complex is branded Mill Town and will be developed in and around the century-old Thatcher mill built by the former Standard-Coosa-Thatcher or S-C-T, a yarn and thread maker that began in 1892 and ultimately shut down in the 1980s.
On the site where more than 1,000 S-C-T workers once made yarns and threads at the Standard and Thatcher mills, Collier plans to build more than 350 new single-family homes and apartment units and convert 300,000 square feet of an abandoned, 105-year-old factory into office, retail and residential use.
Sprawling over nearly 10 city blocks, the project is one of the largest residential developments in Chattanooga's urban core and is among more than 1,000 additional residences being planned or built along and around Main Street stretching from near downtown to Missionary Ridge.
"We've seen a lot of energy moving east down Main Street, and there is a definite demand and need for more lots for builders to add more housing as Chattanooga continues to grow," Collier said. "There's a real lack of available land from the river to the ridge, and this is probably the largest site to be redeveloped in this way in our city. We have a huge piece of land just three miles from downtown, and it is just sitting here ready to become Chattanooga's next great neighborhood."
Photo Gallery
Arts Center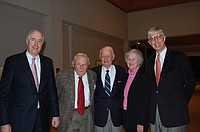 To help create a diverse housing mix in Mill Town, Collier is not going it alone. He has partnered with Chattanooga Neighborhood Enterprises and the Benwood Foundation to help ensure that at least 20% of the housing in Mill Town is available to low- and moderate-income homebuyers or renters. CNE will build units in the area targeted at those with incomes of 50% to 80% of the median income in the city.
Collier bought the former mill in late 2019 from a St. Louis company, City Property Co., which proposed converting the abandoned factory into apartments and condominiums but ultimately gave up on that project after several years of planning.
To create the hoped-for neighborhood on the former industrial site, Collier said the project needs to begin with new homes and apartments built around the former mill to create enough of a community to help support the commercial and residential reuse of the former mill.
Construction of the first 70 houses being built just across Watkins Street from the former Thatcher mill should begin later this month and will include two-bedroom townhomes, starting around $250,000 each, and three-bedroom townhomes, priced around $300,000 and up. There will also be single-family detached homes priced even higher when the new houses are completed and on the market by the end of the year or in early 2022.
A site near Watkins and Main Street is being targeted for affordable housing apartments and also should break ground within the next year.
Collier said the Mill Town project will be his biggest endeavor and to help keep his eyes on the project last year he even bought and moved into the former P&C Construction Co. office and warehouse, which was redeveloped from the former research and development headquarters of S-C-T.
Like many former industrial sites, the S-C-T mill contained asbestos, lead paint and some other toxic chemicals that have largely been removed. Collier said his work with the Tennessee Department of Environment and Conservation cleaning up and redeveloping the brownfield site at One Hundred South Broad gave his firm the experience to undertake the redevelopment of the S-C-T site.
Before Collier bought the property a year and a half ago, the former owner got the city to apply for money for an Environmental Protection Agency loan fund and last month EPA awarded the city of Chattanooga $500,000 to clean up contaminated brownfield sites, possibly including the S-C-T site.
Collier said he has not decided yet whether he will apply for a loan through the EPA program.
Contact Dave Flessner at [email protected] or at 423-757-6340.