NASHVILLE - The bust of Confederate Gen. Nathan Bedford Forrest, a 43-year fixture in Tennessee's Capitol that has spurred anger and protests since its 1978 arrival, is leaving the building.
In a historic decision, State Building Commission members voted 5-2 on Thursday to remove the 44-inch-tall bronze bust of Forrest, a pre-Civil War slave trader and the first grand wizard of the Ku Klux Klan, from its perch of honor outside the Senate and House chambers on the Capitol's second floor.
The bust will be relocated to the Tennessee State Museum with preparations beginning Thursday and removal as early as Friday.
Also leaving the Capitol will be busts of Union Adm. David Farragut and U.S. Adm. Albert Gleaves. They were added to the removal plans as part of a political deal, and all three will become part of an exhibit that seeks to place their lives and careers in historical context.
Photo Gallery
Nathan Bedford Forrest bust to be removed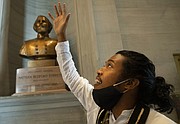 The Forrest bust was placed in the Capitol in 1978 with then-Senate Finance Committee Chairman Douglas Henry, D-Nashville, a prime mover in the effort. Ever since, the bust has drawn demonstrations and sometimes arrests of protesters over several decades.
While previous efforts to remove it failed, it succeeded this time with Gov. Bill Lee taking up the cause, clashing at times with a number of fellow Republicans in the legislature, including Lt. Gov. Randy McNally, the Senate speaker, and House Speaker Cameron Sexton, both of whom serve on the building commission.
Lee, who is chairman of the building commission but like his predecessors rarely attends the meetings, made a rare appearance. The item came up on the agenda. There were no speeches in favor or against. And then came the 5-2 vote, with McNally and Sexton voting no.
Lee then quickly exited the meeting.
Earlier, the governor told reporters that "it's been a yearlong journey, and this is an appropriate step in that process. It's most important to me that we followed the process. We talked about that from the very beginning."
McNally said in a statement that his position on the bust has "been clear and consistent over a number of years. I believe that context is needed, but not removal."
"No one is arguing that Forrest is not a problematic figure. He is. But there is more to his story. His life eventually followed a redemptive arc, which I hope is outlined in great detail in our state museum."
McNally said few figures in American history can withstand modern scrutiny without blemish. He predicted "the left-wing activists who are pushing an anti-American, anti-history agenda here in Tennessee and across the nation will not stop with Nathan Bedford Forrest.
"The woke mob means ultimately to uproot and discard not just Southern symbols, but American heroes and history, as well," the speaker added.
Sexton said trying to judge past generations' actions "based on today's values and the evolution of societies is not an exercise I am willing to do because I think it's counterproductive." The speaker called "any attempt to erase the past only aligns society with the teaching of communism, which believes the present dominates the past."
Sexton said the legislature "has tried to follow the process and procedure in a respectful manner," then added, "Moving forward, the legislature will be working on revising current law to include a more significant voice of those elected."
The bust controversy accelerated over the past year amid the COVID-19 pandemic and social upheaval over the shootings by police of unarmed Black men.
Nashville social activist Justin Jones, who has for years protested against the Forrest bust - once being arrested during a demonstration - said "the key word that comes to mind is 'finally.' It's long overdue. We went through three votes like this and even more under Gov. Bill Haslam."
Jones said that while "this is a step forward, we know the work continues. What that statue represents, ultimately, needs to come down as well."
While his predecessor Haslam was stymied in his efforts to remove the bust by the State Capitol Commission and Tennessee Historical Society, Lee plowed forward last year. He had help from then-Comptroller Justin Wilson, a building commission member, who said Henry's family didn't want the Forrest bust to overshadow their father's legacy.
Wilson offered the compromise to move the busts of Farragut and Gleaves to the museum as part of a package deal, which the commission accepted.
Lee then appointed a raft of new members to the Tennessee Historical Commission, which in a 25-1 vote earlier this year approved removal.
McNally and Sexton later said they believed the building commission had a legal role. State Attorney General Herbert Slatery said there was legal justification for that and thus the issue went before the panel.
Lee himself had been less supportive of removal when he ran for governor in 2018. But that began to change after The Tennessean in 2019 ran a story with a yearbook photo of Lee as an Auburn University student wearing a Confederate uniform with other students in period costumes.
There was also a controversy over a law mandating the governor to sign a state proclamation every year declaring July 13 "Nathan Bedford Forrest Day." Lee managed to persuade lawmakers to remove the requirement that he sign the proclamation, allowing the day to take effect annually with no signature.
Considered a brilliant military tactician whose military exploits remain studied even today, Forrest has long been controversial. Under his command of Confederate troops, a massacre of federal troops, many of them Black, occurred at Fort Pillow in West Tennessee.
Forrest was blamed for the massacre, although some argue he wasn't responsible and others that Black Union soldiers were continuing to fight.
Forrest became the Ku Klux Klan's grand wizard not long after the group was founded in Pulaski, Tennessee, in 1866. He reportedly abandoned the KKK a year or so later and sought to disband it.
According to a July 6, 1875, account in The Memphis Appeal newspaper, Forrest addressed what was described as a July 4-related "peace gathering" of Black people in Memphis. Noting some white people had been critical of his coming to the event, Forrest was quoted saying, "it has always been my motto to elevate every man - to depress none. I want to elevate you to take positions in law offices, in stores, on farms, wherever you are capable of going."
Contact Andy Sher at asher@timesfreepress.com or 615-255-0550. Follow him on Twitter @AndySher1.