After a tumultuous 18 months marked by school closures, quick shifts to virtual and hybrid learning models and changing safety protocols due to the coronavirus pandemic, Chattanooga-area schools and school districts will largely return to in-person learning this month.
What initially appeared to be a return to normal shifted in the past few weeks of summer as the delta variant of the coronavirus spread across the U.S. and in Hamilton County, particularly among unvaccinated individuals.
Taylor Lyons, a parent with two children at Westview Elementary, said she was initially excited about her kids returning to a "somewhat normal" school year, but that rising case numbers in Hamilton County have put a damper on that excitement.
"I am now facing the same anxiety that I faced last fall, wondering whether or not it's safe to send my kids to school, especially considering that they're both 12 and under, so they're not eligible for vaccination yet," Lyons said. "The decision to make masking optional is highly concerning to me. These kids are going to be in very close quarters, and I'm concerned on what seems to be a pretty lackluster mitigation response to surging COVID numbers at this point."
Hamilton County Schools' stance on masks, reinforced at a virtual town hall held Thursday by Superintendent Bryan Johnson and other district officials, is to recommend but not require them.
He told the Times Free Press on Friday that unknowns of COVID-19 and the delta variant are the biggest challenges the district faces going into the new year and will dictate what decisions the school system makes about masks.
"The hope would be that over the next few weeks, we're able to get to the other side of this. That may not be the case, and there may come a time where the health department or state level or even at a national level, there's an expectation of a mask mandate, and that's something that we obviously want to comply with," Johnson said.
A major change for school districts this year will be the inability to continue virtual at-home learning due to a decision from the state board of education earlier this year, Hamilton County Schools officials said. Chief of Schools Neelie Parker said that change puts the district in a different position than last year but that students now have increased access to technology that wasn't available previously.
"It makes it a little easier, but in some ways it presents a challenge because people become comfortable with what they know, and what's hard with COVID is it's always changing and evolving," Parker told the Times Free Press on Friday. "When you're bringing a community along with you, you want to build trust, and that's what we are always seeking to do."
Fourth grade teacher Giselle Palmer said she's excited for the new year but concerned about student safety. She said her priority is keeping her students safe and learning in the classroom.
"I kind of feel like we've been through so much last year, we learned how to cope and how to do things and how to just deal with the constant unknown," Palmer said. "It sort of feels like we're just gonna do that again. It's like some things are going to be the same as last year, and some things are going to be different, and we don't know how this virus is going to work. We know that there'll be probably a lot more kids getting sick, but we're just going to do the best that we can."
As the Chattanooga area prepares to begin the new academic year, here's what parents need to know:
Statewide Legislation
The Tennessee General Assembly passed several education laws over the summer that went into effect July 1, according to reporting from Chalkbeat Tennessee. Some of these laws include the banning of Common Core textbooks and the inclusion of details in all vaccine paperwork on how parents can exclude their children from getting required vaccines.
In particular, one law prevents the teaching of concepts related to critical race theory, which posits that racism is embedded in U.S. history, life and laws to oppress and exploit African Americans and other people of color. The law school theory was not taught in Tennessee schools but lawmakers banned some related concepts from being taught as a precaution. The law has created confusion for some Hamilton County educators on what they can and cannot discuss in class.
State education commissioner Penny Schwinn is expected to release updated guidance this week regarding what teachers can and cannot teach under the law.
Photo Gallery
Back to school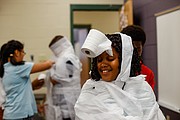 Nutrition
Students across districts in the Chattanooga area will continue to receive free breakfast and lunch through the extension of a United States Department of Agriculture program.
Beginning last year, schools altered meal distribution amid the pandemic through federal waivers. New options, like take-home meals and meal drop-offs, will not be offered in several districts next year as schools transition back to primarily face-to-face learning.
School districts in Bradley, Catoosa and Whitfield counties saw an increase in students eating meals at school or the total number of meals served last year compared to the 2019-20 school year and expect the numbers to stay the same or increase for next year.
Over the summer, organizations like the Chattanooga Area Food Bank received grants to distribute meals to students and families while school was out. Some of these groups also saw an uptick in meals delivered this year due to the pandemic.
New schools
Forest schools and forest kindergarten programs have cropped up steadily in the Chattanooga area for the past five years, with an increased uptick in interest amid the COVID-19 pandemic. Focused on student-led learning in entirely outdoor settings, the programs served as an alternative for families who did not want students learning in classrooms during the pandemic or learning virtually at home.
Two forest schools, Nature Kin Farm and Forest School and River Gorge Forest School, will open this fall for ages 9-11 and ages 2.5-6, respectively. They charge tuition and operate as homeschool tutorial programs for kindergarten and above.
Montessori schools in Chattanooga are expanding this year, too, with two new schools opening this month. Aspects of Montessori education include hands-on learning, multi-age classrooms and student-led learning.
Montessori Elementary at Highland Park, a pre-K-5 public charter school, will welcome students on Aug. 5 with a goal of better preparing them for middle school and providing a Montessori education to students who may not typically have the option. Montessori Elementary at Highland Park is the third charter school on the Highland Park campus, joining sibling schools Chattanooga Girls Leadership Academy and Chattanooga Preparatory School.
In Hixson, Scenic City Montessori, a private secondary school, will open on Aug. 16 and welcome students in grades 6-9. The school will focus on project-based learning and eventually building up to 12th grade.
The first day of school
Thursday, Aug. 5>Chattooga County Schools>Dade County SchoolsFriday, Aug. 6>Whitfield County Schools>Bradley County Schools (abbreviated day)>Cleveland City Schools (abbreviated day)Monday, Aug. 9>Catoosa County SchoolsTuesday, Aug. 10>Dalton Public SchoolsWednesday, Aug. 11>Walker County SchoolsThursday, Aug. 12>Hamilton County SchoolsMonday, Aug. 16>Grace Baptist AcademyTuesday, Aug. 17>McCallie School>Silverdale Baptist AcademyWednesday, Aug. 18>Baylor School>Chattanooga Christian School>Girls Preparatory SchoolTuesday, Sept. 7>Murray County SchoolsSources: School system websites
Facilities and Zoning
At its July board meeting, the Hamilton County Board of Education approved zoning changes to four elementary schools: Battle Academy, Brown Academy, Harrison Elementary and Normal Park Museum Magnet.
These changes include the separation of an overlapping area in the Battle and Brown Academy zones, the addition of the former Lakeside Academy zone to the zone for Harrison Elementary and extending the Normal Park zone to include eight houses on Meroney Street, a street already zoned to the school.
In the aftermath of April 2020's tornadoes and during the pandemic, Hamilton County Schools continued updating facilities last year, and several schools reopened or consolidated in the previous school year.
Renovations on East Brainerd Elementary, damaged by the tornado, were completed in January. Previously, East Brainerd Elementary students attended class at the new East Hamilton Middle School.
A few days later, the new Harrison Elementary School debuted. The new Harrison Elementary zone includes the zone of the previous Harrison Elementary with the addition of the Lakeside Academy and Hillcrest Elementary zones.
Chattanooga School for the Liberal Arts will welcome its first ninth-grade class this year on its current campus as construction continues on its new campus. The school's new location, opening in August 2022, will consist of the current Lakeside Academy building and a new building.
Hamilton County's online program, HCS at Home, will not be offered for the upcoming school year per a state board of education decision. Hamilton County Virtual School will remain a fully virtual option in the district, but most of the district's 44,000 students are expected to return to the classroom this year.
Enrollment in HCS at Home fluctuated throughout the school year. At the end of the fall semester, there were 14,189 students enrolled, and as of April 5, the total enrollment was 8,656, Hamilton County Schools spokesperson Cody Patterson told the Times Free Press in April.
Staffing
Hamilton County Schools will see several changes to school and district leadership this year, starting from the top.
Hamilton County Schools Superintendent Bryan Johnson announced his resignation in July with an end date of Aug. 17. The school board selected deputy superintendent Nakia Towns as interim superintendent on July 19.
Several Hamilton County schools will welcome new principals who previously served in other roles across the district. At the district level, the system hired a new literacy officer, and current chief of innovation and choice Jill Levine will return to a schoolwide role as principal of Chattanooga Center for Creative Arts.
2021-22 New Principals:
> Roxanne Anthony - Harrison Elementary School (formerly principal of Barger Academy)
> Haley Brown - Allen Elementary School (formerly principal of Red Bank Elementary School)
> Angie Cass - Soddy Daisy High School (formerly principal of Ooltewah High School)
> David Cory - East Ridge Elementary School (formerly assistant principal of Harrison Elementary School)
> Karyn Cox - Brown Middle School (formerly assistant principal of Soddy Daisy High School)
> Jasmine Farrow - East Lake Elementary School (formerly assistant principal of East Side Elementary School)
> Phillip Greeson - Ooltewah Middle School (formerly principle of Allen Elementary School)
> Lindsey Hagan - Red Bank Elementary School (formerly assistant principal of Barger Academy)
> Karen Hollis - Ooltewah High School (formerly principal of Ooltewah Elementary School)
> Andrea Johnson - Barger Academy (formerly principal of Lakeside Academy)
> Sarah Lane - Bess T. Shepherd Elementary School (formerly assistant principal at Loftis Middle School)
> Jill Levine - Chattanooga Center for Creative Arts (formerly chief of innovation and choice for district)
> Juan Moreno - East Ridge High School (formerly principal of East Ridge Elementary School
> Bethanie Reynolds - Ooltewah Elementary School (formerly assistant principal of Ooltewah Elementary School)
> Crystal Sorrells - Brainerd High School (formerly principal of East Ridge High School
Supplies
Tennessee is currently having a sales tax holiday weekend, which will end tonight at 11:59 p.m., so that families can stock up on back-to-school supplies duty-free.
Tax-free items include supplies with a purchase price under $100 like backpacks, binders, paper and pencils, as well as art supplies like glazes and paints.
School supply lists and classroom wishlists for schools across the district can be found on Teacher Lists, linked on the district's website, with some lists not yet updated. Some lists also include supplies for specific teachers or classes.
Leading up to the first day, several districts and community groups will host back-to-school supply drives on Aug. 7 following supply collections in the last weeks of July.
Hamilton County Schools will host its annual Back to School Bash on Saturday, Aug. 7, from 10 a.m.-1 p.m., the weekend after the tax holiday. The event will take place First Horizon Pavillion and include free backpacks and school supplies for families.
Contact Anika Chaturvedi at achaturvedi@timesfreepress.com or 423-757-6592.