The Reflection Riding Arboretum & Nature Center is in the process of preserving its 300-acre property with a historic conservation easement through the American Battlefield Trust, a nonprofit organization that preserves battlefield grounds from the American Civil War, the Revolutionary War and the War of 1812.
Executive Director Mark McKnight said the purchasing process and funding mechanism are similar to what was done last year with the Browns Ferry Tavern property, which the American Battlefield Trust acquired with donor funds and matching grants from the federal American Battlefield Protection Program and the Tennessee Historical Commission's Civil War Sites Preservation Fund.
As part of the funding process, Reflection Riding developed a broad vision for the future of the organization, which focuses on plant and wildlife conservation, including a breeding program for the endangered red wolf, habitat restoration and educational programming.
Drive-thru attraction
In 1925 Chattanooga attorney John Chambliss bought the first piece of property that later became Reflection Riding, a scenic drive-thru tourist attraction he opened in the 1950s, by which time he had assembled a little more than 300 acres.
The Chattanooga Nature Center opened in 1970 at the gate of Reflection Riding on its own separate property and was operated as a separate nonprofit with its own board of directors.
Reflection Riding and the Chattanooga Nature Center merged to create a single nonprofit organization in 2018, after McKnight was hired as director.
Future framework
Scape, a landscape architecture firm based in New York and New Orleans, was hired to help develop Reflection Riding's "Framework for the Future." The firm was selected partially because of its ability to engage a broad section of the public, McKnight said.
"We are a public place, and we want to be more public than we are and represent a broad range of Chattanoogans," he said. "Also, they're obsessed with 'where water and land and people meet,' and that really fits with some of the issues that we're dealing with."
To guide their plans, the firm looked at existing conditions, topographic maps and surveys of the property, which runs about a mile and a half south of the gate. Bordered by Lookout Creek on the west and running about halfway up Lookout Mountain on the east, the property is completely surrounded by Chickamauga and Chattanooga National Military Park and sits at the end of the Lookout Creek Watershed where it meets the Tennessee River.
"One of the things that makes this area so interesting is that our entire landscape is shaped by geology and by the water," McKnight said. "What happens when you end up with this kind of interesting confluence is you have all these different species, both terrestrial and avian species, that are all occurring in this one place."
The Appalachian Mountains run north to south, with somewhat different terrestrial species to the east and west. Reflection Riding sits on the edge of one of few gaps in the range that runs east to west, resulting in an amazing number of species on the property, McKnight said.
Avian species also abound in the area, which sits at the confluence of the Mississippi and Atlantic flyway. In addition, the property is home to a large amount of mixed mesophytic forest, one of the region's most endangered types of ecosystems.
The area also serves as a cultural crossroads for humans, including Native Americans, who in 1838 were forcibly removed from the area on the Trail of Tears. It served as a choke point for supplies in the Civil War, which enabled the historic conservation agreement that will preserve the land.
Part of what led to the property's visioning process are issues associated with being in the Lookout Creek Watershed. Reflection Riding's boardwalk and treehouse now sit underwater for one or two months of the year, McKnight said.
The property is constantly in use, by participants in its on-site forest kindergarten program and students visiting from local schools to learn about its ecosystems and wildlife conservation efforts. It's also used for recreation, such as hiking and paddling, and is home to a commercial nursery offering native plants.
Photo Gallery
Reflection Riding's future plans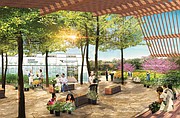 A love of nature
"If you read Mr. Chambliss' writing, he envisioned this place as 'a modified arboretum, demonstrating the need for conserving animal life, forests, water, soil, a love of nature and its beauty and acquainting the public with the history of the area where Reflection Riding is located,'" McKnight said, quoting the writing of John Chambliss. "Everything we're doing today is a piece of what came before it. It's kind of fun to read back on what he intended for this place and to see it all happening today."
Through public feedback, Reflection Riding defined its goals for the future as restoring and stewarding its habitats, promoting ecological literacy and cultivating an inclusive, welcoming environment.
To help accomplish those goals, the future plan incorporates increased wayfinding and signs.
Sustainability is also a focus, McKnight said. Visitation tripled at Reflection Riding during the pandemic as people sought ways to get out in nature, and it showed the limits to the facility's infrastructure, he said.
"We know that Chattanooga is growing, and we want to do things that anticipate that growth and that anticipate change in climate," McKnight said.
One of the main changes will be the construction of a new conservation center building that will serve as a central hub of activity.
The Wildlife Center, which now sits in a floodplain, will move to the area behind Humphreys House, the old log cabin above the pond on the property. The new center will be designed so wildlife can be viewed even when the center is closed, he said.
The boardwalk will be removed and replaced with a canopy walk perched higher in the trees that will be accessible year-round.
Reflection Riding plans to stop boarding horses, and the horse field that occupies Candy Flats will be converted to a restored prairie filled with native pollinating plants.
The former driving loop, which only people who are unable to walk are allowed to drive, will be resurfaced to become a multimodal, Americans with Disabilities Act-compliant accessible path.
A number of educational stations will be added throughout the property to teach visitors about the various ecosystems, connected by an accessible loop.
The native plant nursery, a key program and major revenue source, will be more of a focus with the new design layout. One side of the building will feature amphitheater-style seating for events, and the building will be surrounded by demonstration gardens.
The thematic ecosystems loop will likely be the first project to materialize, as it does not require permitting, surveying or other more time-intensive preparation, said McKnight, who hopes that project will begin within the year.
He anticipates the overall cost of all projects to be around $10 million, with funds coming from donors and local foundations. The work will be done in stages and complete by 2030.
New opportunities
Reflection Riding is in the midst of a generational gap that's common among the nation's nature centers, many of which were established in the 1960s and '70s at the start of the environmental movement in the United States.
"Over the last few years we've seen significant retirement in the leadership of these centers, and so bringing in a new generation of leaders - like Mark - there's always fresh eyes, new opportunities, and that's been exciting to see that happen," said Jen Levy, executive director of the Association of Nature Center Administrators.
As new leaders are coming in, they are looking at ways to stay relevant and important to their communities, so that people will visit and support them and fight for them when necessary, she said.
"With land becoming more scarce and valuable, you want to make sure that your community values what you provide," Levy said. "It's an opportunity for new programming, engaging with new stakeholders, new partnerships."
Email Emily Crisman at ecrisman@timesfreepress.com.