Getting Corky Coker, an outgoing person with a broad smile almost as big as his white mustache, to open up is as easy as saying "hello" most days, but mention his love for automobiles - especially the vintage variety - or his love for Chattanooga, and he really starts talking. Put the two topics together, and just sit back and listen.
Perhaps that's why organizers of the Chattanooga Motorcar Festival chose Coker as grand marshal for the 2021 event set to take place in downtown Chattanooga from Oct. 15-17. The inaugural event was held in 2019, but the COVID-19 pandemic forced the cancellation of the 2020 festival. Coker says the delay has only given organizers more time to "make it even better."
"I've been fortunate enough to have been in the collector car industry for 45 years and attended about every event around the world that there is, and some are better than others," he says. "Most have the Concours [d'Elegance] on golf courses, for instance, and they are nice, but, this is different. It's downtown. It's family-friendly. You can walk right out your hotel to most of the events, and we gave a lot of money to Dr. Tom Devlin and the [Erlanger Neuroscience Institute]."
The money for neuroscience research was donated by Fifty Plus Racing Foundation Inc., which has been raising funds since 2011 through a racing team called Highway to Help. The team was started by downtown Westin hotel co-owner and car enthusiast Byron DeFoor and Brian Johnson of rock band AC/DC. Both are longtime car enthusiasts and drivers, and Johnson was one of several celebrities to attend and drive in the Chattanooga Motorcar Festival in 2019.
In 2020, COVID-19 didn't just cause the delay of the second Chattanooga Motorcar Festival - it also took its first president, Jim Pace, who died in November after contracting the virus. Coker calls his death "a huge loss."
"He was so detailed-oriented," Coker says. "It will take two or three people to replace him, but we will. This event is bigger than him, or me, or anyone else."
Award-winning automotive journalist and author Ken Gross was chairman of the Concours d'Elegance for the inaugural event, and echoes Coker's sentiments about Pace. "He was such a unique guy," Gross says. "I didn't know him before, but we could finish each other's sentence shortly after meeting."
Both men say festival organizers are looking at several ways to honor Pace this year and in future events.
Coker is known around the world as a classic car collector, builder and restorer, and is still involved in Honest Charley Garage and Coker Museum in downtown Chattanooga. For much of the last four-and-half decades, he has built a business supplying new tires for vintage car owners around the world, and he said about 75% of his business has come from owners who live less than a day's drive from Chattanooga. That has allowed him to be an ambassador for the city, he says.
"They get to come and experience what we have here, and I've invited many of my friends here, and some have actually moved here after visiting," Coker says.
Photo Gallery
2021 Chattanooga Motorcar Festival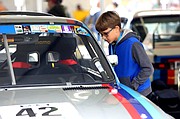 He says the 2019 festival was an opportunity to show off the city to even more drivers, owners and car lovers in general. Gross adds that showing off Chattanooga was a key reason DeFoor helped bring the event here.
"Byron probably has the Chattanooga seal tattooed somewhere on his body," says Gross, who was executive director of the Petersen Automotive Museum in Los Angeles for four years, and now lives in Virginia. "Most [auto festivals] are not held in the center of the city, but Byron wanted it to be a celebration of the city, as well."
Gross says participants and fans at the Chattanooga event enjoyed the fact that not only could they either walk or take a free shuttle to most of the events, but the city's high-speed internet allowed for live video and audio options throughout.
For many who attended the event in 2019, the world-class Concours d'Elegance, which presented the cars near the home base Westin Hotel in the West Village, was the highlight of a number of family-friendly events held the first year.
Gross says plans are to make it even better in 2021, adding that it is typically the big event with lots of pageantry as the winners are presented. In putting together a first-time event in 2019, organizers might have underplayed the Concours d'Elegance in their efforts to focus on some technical issues such as lighting and staging that had to be worked out, he says.
"We will likely move it to Sunday [instead of Saturday] when it is held for other event and make it more of an event," he adds.
Chattanooga Motorcar Festival
* When: Oct. 15-17, 2021* Online: chattanoogamotorcar.com* Say what? The Concours d'Elegance is an exhibition or contest, especially a parade of vintage or classic motor vehicles in which prizes are awarded for those in the best original condition.
Plans are to increase the number of classes in the Concours, in particular by adding more Jaguars and Porsches, Gross says. Coker, who drove his 1910 Nyburg roadsters, hopes to attract more owners and drivers of pre-1918 automobiles, he says.
"Those are the cars people think of when they think of vintage racing, when you are driving wheel-to-wheel with the wind in your hair," he says.
The festival also includes time trials on a specially built, 1.5-mile race course running alongside the Tennessee River, a High-Jinks Rallye through the Tennessee countryside, and other fun activities for car fans and families alike.
While the river location made the time trial track unusual, Gross says organizers are looking into creating one at another location in order to better control the racing and create a better driving experience. Two course workers were injured during the time trial portion of the inaugural Motorcar Festival when a car experienced a mechanical failure and hit a barrier.
READ MORE
* Gearing up: From high-tech manufacturing to getting under the hood, the auto industry drives workforce training in the Chattanooga area
* Charging ahead: The road to VW's electric future runs through Chattanooga
* Driven online: How local auto dealerships are adapting to e-commerce with web-based shopping options