Christi and Chris Perry looked for years for just the right house. Unable to find what they were looking for, they then switched their search to the perfect piece of property.
The Big Ridge residents ultimately settled on a 10-acre parcel in Soddy-Daisy - though even its condition was not yet the hospitable home site they'd imagined.
"It was a very convenient location, a great price and a lot of potential," Christi says.
The towers of Sequoyah Nuclear Plant where Chris works hover on the horizon out front. Christi, now a vacation planner specializing in Disney trips, spent nearly 20 years as a counselor at Loftis Middle just down the road, only recently retiring due to health issues.
The couple is not averse to taking on projects. Chris was an electrician and owned an interiors business before becoming a nuclear reactor operator. In fact, they'd purchased their home on Big Ridge to flip. "It was straight out of the '70s. We're talking furry wallpaper and furry, stained carpet everywhere," Christi says. But the neighborhood was nice and the house was close to her parents' in Hixson, making it a good fit for their first home together.
They stripped it down to the studs and the subfloor. By the time they were done building it back to their standards, the market had taken a hit.
"Fast forward 15 years and a couple of babies - we never moved," says Christi.
The couple is now ready to design their dream home, but first, they're taking on another remodel. If you can call it that.
"While we were clearing out the 10 acres - actually, the land itself was kind of a mess - in the process, we stumbled upon a concrete building. It looked like a haunted house," she says. The abandoned, rotting structure even came with a nesting pair of buzzards.
"I thought, we'll tear it down, because we can't use that. Then I started thinking it would make a great workshop, I hate to tear it down. The more I thought about it ."
Suffice it to say Chris is out a workshop. "We decided we would fix it up and turn it into a two-bedroom, one-bath home and live in it while selling our house," Christi says.
Photo Gallery
Soddy-Daisy couple's home remodel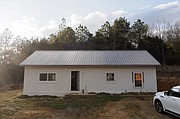 That meant now-years of work to turn the 1,100-square-foot structure into something remotely inhabitable. But redoing the cinder block building offers the family flexibility and the luxury of time when it comes to designing their forever home while selling their current one.
"One of the scariest things about building is, what if your [original] house doesn't sell when you build? Or what if it sells too quickly?" Christi says.
Once everything is said and done, their temporary house-to-be will ultimately serve as a place for visiting family and friends to stay. And in the meantime, it's offering even more lessons to help them hone their vision - including at least one that will make a good story to share with those visiting guests.
"We learned that back when Sequoyah Nuclear Plant was being built, this was a very popular house of ill repute," says Christi, recounting a visit from an older gentleman curious to see what the couple was doing to the place. He told tales of cars lined up to turn into the property. "There's a part of me that's like, yeah, we fixed this up and can say we live here now," she says with a laugh.
Chris has done 75-80% of the work, the couple estimates, only contracting out major professional projects that are not in his wheelhouse, like plumbing and stuccoing the exterior, or those that don't have a net-positive time-to-value ratio, like tilework. He raised and installed the new roof, placed and finished out the walls, laid the flooring, constructed built-ins, trimmed out the windows, doors and floors, installed the cabinets and countertops, and more. Christi, meanwhile, is the "design guru" and "picker-outer," though she's gotten her hands dirty as well, she says.
Do it yourself?
For those considering taking on their own major home projects, Christi Perry's biggest piece of advice is to have patience. "You're going to have contractors that frustrate you, you're going to frustrate one another, you're going to not be able to find what you want in a store and it's going to take six weeks to get it in. You're going to have to be patient if you want to pull it off," she says.
Their permit is only to remodel the structure, so they're sticking with the 1,100-square-foot footprint. With two daughters, ages 6 and 8, creative storage options and maximizing the space are central to their design. The small living area features an open concept buffered by tall ceilings to give the feeling of more space and to provide room in the attic to keep things tucked away. Those built-ins, already the envy of Christi's friends, serve a similar function.
"When you have kids, you can take a gigantic room and make it feel cluttered because of all the toys," says Christi, who is incorporating design elements from their current house that she loves, as well as those she's found herself wishing she had.
Ultimately, there's only one thing about the space that worries her: "The one bathroom will be what gets us," she says. "That will be the dealbreaker."
They've been taking their time to make sure they think through all the details and get everything just right. Having purchased the property in October 2016, the finish line is now in sight, and one can actually imagine calling the house a home.
"It was quite a mess, but here we are," says Christi, who's hoping they can wrap everything up in the next few months. "I remember when the walls went up and the Sheetrock went on, I almost cried."
One of the first things she plans to hang on those walls is a "before" picture, a testament to their vision, hard work and patience.
"It just blows my mind to look at what we were able to do," she says. "People looked at us like we were crazy when we said we were going to fix it up. I think it's a testament to his abilities and our ability to work together.
"We could never do a show like Chip and Joanna Gaines because it would not all be suitable for television. It's rough at times, but we love it. It's a thing we do together."