Sometimes, the stories behind the origin of a business can take a few twists and turns and Burlaep on E. 11th Street is one such enterprise.
Located a couple of blocks south of the Community Kitchen in an old Service Industrial Supply Co. building, 4,200-square-feet of the space is dedicated to a print shop and the other 3,200-square-feet of space is used for retail and a coffee shop and tap room.
Cleat Morris and his wife, Lauren, moved to Chattanooga from Starkville, Mississippi, after he realized he was spending most of his free time traveling to Tennessee to pursue their love for the outdoors. After managing a book store in East Brainerd for a few years, he opened Burlaep with fellow Mississippi State alum, Jacob Nelson about a month ago.
The road to Chattanooga started 11 years ago, however, and the story behind it has as much to do with the name, as anything else.
In between worrying about the normal things that college students fretted over like term papers and finals, Morris and three friends at Mississippi State came up with the idea of making a difference in other people's lives. In particular, less fortunate folks in a foreign country.
"We wanted to do something in a tangible way other than play 'Call of Duty,'" he said.
Photo Gallery
Burlaep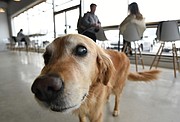 The four had friends who did mission work through their churches, so they conceived the idea of selling T-shirts to raise funds to buy supplies for people in Honduras. The shirts were simple designs with their logo on them that people bought mostly as a contribution to the cause, Morris said. He said the four "didn't simply cut checks," but rather bought specific items of need for the people of Honduras and that every penny went to the cause after expenses were covered for the shirts.
"We were students and didn't need the money or the part-time job," he said. "People bought the shirts to support the cause."
The four friends also bought bags of rice and beans, which came in giant burlap sacks and the image stuck with them, but discovered burlap.com was taken. A marketing major with a minor in cultural anthropology, and because the idea was to be a business with an international scope, Morris said Burlaep made sense.
During their college careers, the four raised nearly $15,000 which went entirely to buy everything from whiteboards for classrooms to shoes for kids. They discovered that not only was printing their own shirts cheaper, they had a talent for it, and Morris said the goal was not originally about it being a business, but after graduation, his three friends moved on and he thought he'd keep at it as a side hustle.
He shifted towards doing print work related to the outdoors and that's when he realized Chattanooga had more climbing opportunities than Starkville.
"We were making good designs and people were now buying the shirts because they liked the shirts," he said.
Nelson was not part of the original four, but Morris knew him and his passion for coffee because Nelson had a roasting business while in college. After moving here, Morris converted his basement into a print shop and started selling his stuff at Chattanooga Market every Sunday.
"I would not be here doing this if not for the market," he said. "It would still just be a side hustle. I found Chattanooga to be a much better place for this than I thought."
He quit his job to devote all of his time to Burlaep and soon after Nelson joined in full-time, as well and they opened the space on 11th Street.
In addition to selling printed materials, they sell coffee, craft beer and food items provided by Vibrant Meals, a local company that prepares healthy items such as wraps.
Morris said they are taking things slow to grow the business, but hope to one day offer live entertainment. He also said part of his mission is to continue to support causes that mean something to him such as land conservation and the outdoor industry.
"It has been going well so far," he said.
Contact Barry Courter at bcourter@timesfreepress.com or 423-757-6354.