Thousands of dollars could be added to the cost of a typical new Chattanooga home by proposed rules on the use of vegetation while building on steep slopes, an industry official says.
Others say a proposed ordinance slated to come before the City Council on March 30 doesn't go far enough, and there's a missed chance to do more to protect landowners and the environment. An online petition begun late last year calling for broad reform already has nearly 800 signatures.
But council members, nearly a year and a half after city planners offered an array of ideas to limit land erosion and damage when building on sloping terrain, appear ready to move ahead on the issue.
The proposed measure states it will:
* Identify a steep slope at anything above a 33% percent grade with a distance of at least 100 linear feet.
* Preserve existing established trees and offer property owners a menu of items allowing an array of vegetation types and encouraging native species.
* Allow for a vegetation program for covering more ground per square foot versus a number-of-trees methodology.
* Enable the city's Land Development Office to review a landscape plan prior to the issuance of a permit in order to oversee steep slope developments.
City Councilman Darrin Ledford said the ordinance is "a great first step forward."
Ledford said the ordinance encourages builders to stay away from steep slopes, but offers vegetative standards that now don't exist should they decide to move ahead with construction.
"Had this been in place, some things wouldn't have happened," he said, referring to complaints about building taking place on slopes and floodplains on lots in such neighborhoods as North Chattanooga and St. Elmo. "Is it perfect? No. It's not a magic pill."
Doug Fisher, the Home Builders Association of Greater Chattanooga's executive officer, said industry members aren't totally satisfied with the proposed ordinance, but he believes people "on the other side" aren't either.
"Typically that means you've come up with something that works for everybody," he said.
Fisher said the association wanted the grade to start at 35% rather than 33%, but the figure in the measure is "acceptable."
At the same time, he said, more regulation is expected to increase home prices.
"It could be in the thousands of dollars easily," Fisher said. "Engineering is not inexpensive. Then the requirement for various types of vegetation could get very expensive."
Jim Johnson, founder of Chattanoogans for Responsible Development, said the measure as outlined "seems to be moving in the right direction" as long as there's input from planners and outside consultants and their views are reflected in the final product.
But, he said, setting 33% as the grade threshold means that most of the city's slopes aren't covered by the proposed ordinance, and the measure will actually apply to "very little future construction."
"Potentially, [the ordinance] doesn't apply to 90%" of vacant parcels in the city," he said.
Photo Gallery
Steep slopes in Chattanooga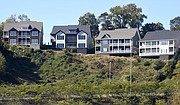 Johnson said Chattanooga-Hamilton County Regional Planning Agency (RPA) figures show that if the threshold were set at 25%, which is more typical in other cities, the ordinance would impact 16,069 parcels and 23,465 acres in the city, or roughly 60% more parcels and 32% more acreage.
If the threshold were set at 20%, the ordinance would impact 23,023 parcels and 32,781 acres - roughly 128% more parcels and 85% more acres, he said.
"So the 33% threshold makes the proposed ordinance a token approach to a serious problem, leaving most steep slopes unprotected," he said.
Johnson also said the City Council failed to take a holistic approach that would address pre-construction design and review and on-site construction management.
"I don't understand why they didn't do the two earlier phases," he said. "They're starting at phase three."
The online petition at change.org begun by Chattanoogans for Responsible Development called for taking a 2019 steep slopes assessment done by the planning agency, reconvening advisory and technical committees, and then providing recommendations to the council.
Heather Degaetano lives in North Chattanooga and is seeing steep-slopes problems firsthand in the neighborhood.
She said a nearby lot has experienced "enormous quantities of runoff with trees falling into the street."
Degaetano said she's concerned the ordinance is too watered down, and she hoped the council would do more.
"I don't know why we can't do reasonable regulations to protect what makes Chattanooga beautiful," she said. "I'm not opposed to development at all."
But Fisher termed the 2019 assessment by the planning agency "a significant overreach of government authority."
He said it appears the council now has "got to a place that addresses concerns and issues."
Fisher said the home builders association from the beginning noted that its members understand there are fixes that need to take place.
"Work with us, we'll make it happen," he said.
Council members have recommended an automatic trigger to review the proposed ordinance in a year. Such a review could show where it's working and its impact, they said.
Also, council Chairman Chip Henderson said there ought to be education sessions before the measure takes effect for stormwater board members - who would hear appeals from violators - as well as home builders, Realtors and those who have to enforce the new rules.
"Let's get everybody in the same room at the same time so we're all on the same page," he said.
But Johnson suggested an approach that would apply an ordinance to two overlay districts, such as in St. Elmo and North Chattanooga, and compare results after a year.
He said there could be a tiered range of steep slopes in one district, with different restrictions applying to each tier, and the current proposed ordinance in the other district.
"Then let's see which one is more effective," Johnson said.
Contact Mike Pare at mpare@timesfreepress.com. Follow him on Twitter @MikePareTFP.