Hamilton County Schools is expanding the number of eLabs in the district through an anonymous $1 million donation given to its partnering organization, the Public Education Foundation.
Fifteen eLabs will open over the next three years, with seven opening in August. All seven eLabs opening this year will be at elementary schools - Battle Academy, Brown Academy, East Ridge Elementary, Lookout Valley Elementary, Red Bank Elementary, Soddy Elementary and Thrasher Elementary.
The donation was designated to expand the presence of eLabs across the school district, said Dan Challener, president of the foundation. After receiving the donation, the foundation and the school district sought proposals from schools interested in getting a lab.
While most eLabs now are in middle or high schools in the district, the goal for elementary school eLabs is to provide every student access to an eLab each year so they can have early exposure to the concepts, said Jill Levine, the district's chief of innovation and school choice.
Photo Gallery
eLabs in Hamilton County Schools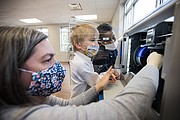 "So for us, at the elementary level, it's really about sparking curiosity, sparking interest and letting kids figure out like, 'Oh, I'm actually really good at this. I know how to program something to 3D print, or I know how to design a problem to a solution and then create a digital example of it in the eLab and fabricate in here," Levine said. "So there's real importance to reading and math and teaching those basic skills, but I think now more than ever, we know that kids also have to be problem solvers, and we can promote that curiosity and help kids to learn to collaborate and problem solve and design solutions to these problems that we don't even know exist yet."
There are currently 23 eLabs, also known as digital fabrication labs, across Hamilton County Schools. The first eLab opened at STEM School Chattanooga in 2014. All the existing eLabs in the district are certified Fab Labs by the Fab Foundation from the Massachusetts Institute of Technology, meeting criteria that include access to five digital fabrication tools, equitable access and community partnership.
Like the district's Future Ready Institutes - high schools where students specialize in certain fields such as aviation, teaching and engineering - working in eLabs can help students identify their interests early on and carry them into the upper grade levels.
"There's this connected through-line that says everything we do is preparing you to be an agile problem solver, is preparing you to discover what you'd like to do and what you're good at so you can make informed decisions about your future, whether that's in welding or in computer science or in biomechanics or health care," said Michael Stone, vice president of innovative learning at the foundation.
Beyond installing equipment, professional development plays a large role in the expansion of the labs, Stone said. Teachers will receive training on operating equipment and how to integrate tools in the eLab into project-based learning and tie it to curriculum standards.
"What you will start to see are those core-areas subjects - the math, English, science and social studies teachers - that the light bulb will go off as they're covering a unique or specific topic," Superintendent Bryan Johnson said. "They say our culminating activity or how we want to apply that particular standard is going to be through that eLab."
Contact Anika Chaturvedi at achaturvedi@timesfreepress.com or 423-757-6592.