East Ridge representatives were surprised to learn that the city of Chattanooga plans to rent up to 100 hotel rooms in East Ridge to provide shelter for Chattanooga's growing homeless population.
Chattanooga City Council members voted unanimously Tuesday to move forward with the plan, which will help the city's Homeless Services Division provide non-group shelter to prevent the spread of COVID-19 among people experiencing homelessness, city of Chattanooga Special Projects Director Tyler Yount told the council during a presentation Tuesday.
East Ridge Mayor Brian Williams said he found out about Chattanooga's plan from a news article.
"The city of Chattanooga did not contact anyone in East Ridge prior to their decision," said Williams, who reached out to Chattanooga Mayor Andy Berke and his administration to schedule a meeting for Thursday. "After we engage in these discussions, we as the city of East Ridge will determine how we will proceed."
Hamilton County Commissioner Tim Boyd, whose district includes East Ridge, said Chattanooga's plan to house homeless individuals in East Ridge is illegal without the two municipalities' governing bodies entering into an interlocal agreement.
Photo Gallery
Homeless shelter plan questions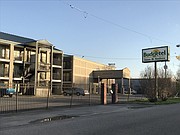 "The city of Chattanooga has no authority to provide services using resources in another municipality," Boyd said. "They didn't ask about any impacts to the citizens of East Ridge. They didn't ask about any impact to the services the city of East Ridge is going to have to provide to allow them to do this. East Ridge is not going to get compensated in any way. All that's just wrong."
When asked why the city of Chattanooga chose to rent rooms in an East Ridge hotel rather than a Chattanooga hotel, Communications Director Richel Albright said that of the two bids the city received, Budgetel in East Ridge offered the best rate and had more capacity to meet the city's needs.
"Multiple homeless services providers, in addition to the city's Homeless Services Division, have been working with the Budgetel to provide temporary shelter for their clients; this is not a new relationship," Albright said.
In a written statement, Yount said Chattanooga's Homeless Services officials have worked with Budgetel and other area hotels to provide non-group shelter for homeless individuals since April 2020. Chattanooga was already renting 25 rooms from Budgetel to house medically vulnerable individuals experiencing homelessness.
"Thanks to the quick approval by Chattanooga City Council we are able to award a 90-day contract to Budgetel Inn & Suites that will expand capacity from 25 rooms to up to 100 rooms," he said. "When an individual or family is moved to the Budgetel, Homeless Services staff, along with other service providers, meet with guests in the shelter daily to work with them to find permanent housing and exit shelter as quickly as possible."
Chattanooga plans to spend around $400,000, which includes the cost of renting the rooms for 90 days and unarmed security provided at the hotel by Lodge Chattanooga. The city expects those funds to be reimbursed by the Federal Emergency Management Agency.
Contact Emily Crisman at ecrisman@timesfreepress.com or 423-757-6508.