UPDATE: The National Weather Service has allowed a tornado watch to expire early for Hamilton, Bledsoe, Bradley, Marion, McMinn, Meigs, Rhea and Sequatchie counties. It had been issued for 10:25 p.m. Thursday through 2 a.m. Friday.
A tornado watch was also in effect across portions of north Georgia and west central Georgia through 2 a.m. EDT and for all of north Alabama until 1 a.m. CDT.
Tornado watches are issued for broad areas where conditions exist for the development of twisters, while tornado warnings are issued for highly localized areas where a tornado is imminent or has been detected on radar.
___
Original story:
The Chattanooga area is still facing the threat of severe thunderstorms and tornadoes late Thursday, after a slow-moving warm front sidetracked earlier predictions.
According to the National Weather Service in Morristown, much of Southeast Tennessee and Northwest Georgia is still at risk for serious storms late on Thursday, later than meteorologists originally predicted.
"We're still looking at strong to severe thunderstorms with the possibility of tornadoes across the Chattanooga area," meteorologist Derek Eisentrout said just before 7 p.m. "The primary timeframe for threat is from 8 p.m. until midnight. Timing's changed a little bit from the initial onset of the storms, as we're waiting for the warm front to move north into the area."
The weather service labeled Chattanooga and most of Southeast Tennessee a level four out of five, or "moderate," risk of severe weather on Thursday afternoon, with that warning in place until early Friday.
Eisentrout added that "pretty much the entire area" was still at risk.
At about 9:30 p.m. Thursday, WRCB meteorologist Alison Pryor tweeted: "Lack of widespread development of severe storms tonight both to our W & SW. We're not out of the woods yet, but the Storm Prediction Center has dropped us down to a Level 3 Enhanced risk. We'll still be watching a line to arrive in our area around 12am/11pm CT."
"Overall the severe weather threat continues to diminish but there is a line of thunderstorms coming out of Middle Tennessee that we continue to watch," Meteorologist Danny Gant said around 10 p.m.
The storms from Middle Tennessee are on track to hit the Southern Plateau and Southern Valley, including Hamilton County and its surrounding counties after 11 p.m.
"We are expecting it to be strong but the question is will it be severe when it gets here," Gant said. "The threat of widespread tornadoes is mostly gone, but we haven't ruled out an isolated tornado."
Gant said areas of Southeast Tennessee closest to the Georgia and Alabama borders are at the highest risk.
Meanwhile, a flash flood warning remains in effect for most of the area - including Orne, Jasper, Whitwell, Chattanooga, Signal Mountain, Soddy Daisy, Collegedale, Cleveland and Hopewell - until 10:30 p.m. Eastern time, per the NWS, with between 2-4 inches of rain expected in most of the area.
[Click here for a list of area storm shelters and alert options from our news partners at WRCB-TV]
"This is one of the highest risk days I have seen in my 13 years in Chattanooga," WRCB-TV Channel 3 meteorologist David Karnes said on his weather blog Thursday as the incoming storm system took shape.
"There is a high risk of scattered strong tornadoes, damaging winds and hail developing anywhere in our area this afternoon until about 3 a.m. Friday," Karnes said.
After the initial onslaught of storms passed Thursday afternoon, chief meteorologist Paul Barys reiterated the presence of a tornado threat for the Chattanooga region.
"Severe thunderstorms and a few strong tornadoes will develop tonight all across the Tennessee Valley," Barys said in his blog on Thursday. "By midnight the threat will weaken quickly."
The weather service office in Morristown, Tennessee, said damaging winds in excess of 70 to 80 mph and tornadoes are possible with the greatest threat area for tornadoes forecast across the southern Tennessee Valley and Cumberland Plateau late this afternoon into the evening hours, including the Chattanooga Metro area.
Forecasters said a secondary tornado threat will exist in the late evening to early overnight hours, generally along and west of Interstate 75.
Morristown's forecasters said there is a possibility that some of these tornadoes could be strong and long-lived. In addition to the severe weather threats, moderate to heavy rainfall is expected into Friday morning which could lead to isolated flash flooding.
The weather service's Storm Prediction Center has issued a forecast map showing the highest risk for severe weather over the Alabama-Mississippi-Tennessee state lines, southward into eastern Mississippi.
By Thursday evening, power outages were reported across the region. According to WRCB, just before 6 p.m. utilities had reported 14,000 customers had lost power in Walker County, Georgia, 284 next door in Whitfield County, 12 in Chattanooga, 53 in Bradley County and 29 customers without power in Cleveland, Tennessee.
FIVE-DAY FORECAST
ThursdayChance of rain 100%High 72 | Low 55FridayPartly cloudy, chance of rain 30%High 75 | Low 55SaturdayMostly cloudy with 70% chance of rain and stormsHigh 75 | Low 52SundayMostly cloudy with a 60% chances of rain and stormsHigh 68 | Low 66MondayPartly cloudyHigh 67 | Low 44Source: WRCB-TV Channel 3 forecast as of 8 a.m. March 25, 2021
Photo Gallery
Designing Women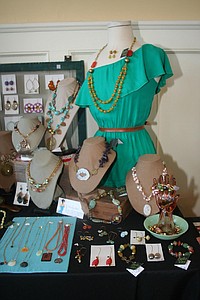 Designing Women, a fund-raiser for the Women's Foundation of Arkansas, was held April 28 at the Junior League of Little Rock Building.
The weather has also postponed COVID-19 vaccine appointments through Hamilton County scheduled for 2 p.m. to 3:30 p.m. Thursday, and the vaccination station for Catoosa, Dade and Walker counties in Georgia will close at 3 p.m. Those whose appointments are after 3 p.m. and have been canceled should reschedule online for next week or call the Catoosa County COVID-19 Hotline at 423-800-8004, Catoosa County officials said.
Chattanoogans seeking to cast their ballots in the city's mayoral election won't be able to vote after 2 p.m., according to the Hamilton County Election Commission. Regular hours will resume on Friday, officials said.
The Walker County Community Emergency Response Team is opening four public shelters at 3 p.m. for those in need of a safe location today.
The four locations are:
> Walker County Civic Center and Ag Center, 10052 N Highway 27, Rock Spring (the Ag Center will be equipped to handle crated pets).
> Cedar Grove Community Center, 5423 W. Cove Road in Chickamauga.
> Armuchee Valley Community Center, 11471 Highway 136 in LaFayette.
> Chattanooga Valley Church of the Nazarene, 2853 Chattanooga Valley Road in Flintstone.
Residents in all surrounding counties are encouraged to bring their own bed linens, pillows and toiletries to make their stay more comfortable. Social distancing and CDC guidelines for COVID-19 will be advised.
For more information on how to use one of the shelters, call 706-375-7810. This number should also be used to report non-life threatening events, such as downed trees or blocked roads.
Officials urge residents across the Southeast to keep a weather radio nearby and stay tuned to weather.gov and local media through the day and into the evening for updates, watches and warnings.
If a tornado warning is issued for your area, move to a place of safety, ideally in a basement or interior room on the lowest floor of a sturdy building, weather service officials said.
Staff writer Patrick Filbin contributed to this report
Contact Sarah Grace Taylor at staylor@timesfreepress.com or 423-757-6416. Follow her on Twitter @_sarahgtaylor.
Contact Ben Benton at bbenton@timesfreepress.com or 423-757-6569. Follow him on Twitter @BenBenton or at www.facebook.com/benbenton1.