Brett Rogers missed out on his first high school baseball season last year, but the start to this season has been remarkable for the Silverdale Baptist sophomore.
After losing out on last season due to COVID 19 Lance Rorex's Seahawks are off to a 9-0 start this spring, his first as the program's coach. The hard-hitting Rogers has created a spark from the left side of the plate where he has brought an advanced approach to the two-hole batting spot. He went 2-for-3 and scored a pair of runs to help his team shake off a five run deficit to defeat Boyd Buchanan, 7-5, on the road Tuesday.
"Coach always reminds us when we are in the cage to have an approach. Instead of going in there and just taking hacks we focus on situations and making the most of every swing," said Rogers, who is batting .621 (18-for-29) with 15 runs scored, 11 RBIs and 10 stolen bases in nine games. "When we are in a tight situation, we stay calm and believe in what we have practiced whether we are down to a final strike or fighting back to get back in the game."
Silverdale has certainly had the ability to come through in the clutch as they have landed quality wins over South Pittsburg, Signal Mountain and now Boyd Buchanan when down to their final at-bat.
Photo Gallery
Seahawks vs. Boyd Buchanan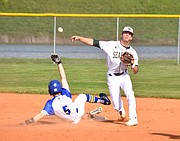 Ian Reagan's single down the third base line started the visitors' seventh-inning rally in which Sebastian Hanks drove in the tying run with a walk before Turner Junkins and Rogers each showed impressive base running by scoring on a wild pitch.
Hanks teammed up with Bryson Cline for 5 2/3 scoreless innings of relief in which the two allowed just one walk while striking out six.
"Boyd came out and punched us in the mouth early, but our guys didn't back down," Rorex said. "We got back to playing within ourselves and good things happened. Bryson and Sebastian were unbelievable in relief. They were both around the plate and were a huge reason why we won this game."
Hanks drove in two runs in the victory, while Cameron Mullins and Ian Reagan each went 2-for-3 with RBI singles.
"We practice being down and finding a way back in practice," said Hanks who struck out four in 1 2/3 innings of perfect relief. "This season I knew would be special especially with our culture change and with our new head coach. We have been working hard and the results are showing."
Boyd Buchanan's Cody Johnston sparked a three-run first with a leadoff double. Perry Griffin, Jacob Hutcheson and Johnston all had two hits apiece for the Bucs who were also led by Jacob Pickett (two RBIs) who struck out nine over 6 2/3 innings.
"There's a lot of baseball left. Yes, we enjoy being 9-0, but we have to make sure we are getting better every day and ready when May rolls around," Rorex said.
Contact Patrick MacCoon at [email protected]. Follow him on Twitter @PMacCoon.