A lot had to change in a hurry in the early days of the pandemic, but Jon Paul Davis, a partner at HHM CPAs, says change is nothing new for the 40-year-old Chattanooga accounting and financial firm.
"Anyone can ask any question, and our answer to our clients is always, yes, we will find the way," he says. "We have the same mentality with our own staff. We didn't have to reinvent ourselves to do this. It was in our DNA."
Chief Operating Officer Beverly Edge had joined the firm in January 2020, and a few months later found herself at Sam's Club buying every printer they had so employees could all go home to work.
"It literally was day-by-day," she says. "We made decisions as things progressed."
That agility put the firm in a good position to help its clients weather the pandemic, and to become a resource for the complex financial legislation that began rolling out within days.
HHM CPAs
* Founded: 1981* Employees: 200, with 150 in Chattanooga* Why this is a Best Place to Work: HHM doesn't just provide employees with paychecks – HHM provides them with opportunities for growth, advancement, and fulfillment while helping them strike the delicate but important balance of a successful career with a satisfying quality of life.* Online: hhmcpas.com
"It was tax season, but we went from it's tax season to we have to understand what this means for our clients to help them move forward," says partner Will Clegg. "We transitioned from tax season to business preservation. Our phones rang nonstop for weeks."
Communication with employees began immediately, first to reassure them their jobs were safe, then to keep them connected while they sorted out the details of working from home at such a demanding time.
"Communication within the firm was already strong," says Brittany Carman, senior audit manager. "We already had the tools in place. That was how we had worked."
The firm had also moved to the cloud in November 2018, and could move quickly to access files and client information from anywhere.
"We were ready for this," Davis says.
Photo Gallery
HHM CPAs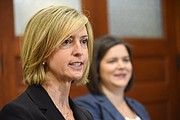 Demand for the firm's work grew rapidly, and their experts hosted webinars and learning sessions for virtual audiences from clients to bankers, he adds. The firm reopened after about six weeks for people who wanted to return, and plans are to get back to the office and keep the team together.
"The ability to walk into an office and brainstorm is hard to replicate in a Zoom environment," Davis says. "There's a lot of opportunity for flexibility, and it's a great tool, but we see the benefit of being in the office."
The camaraderie of the firm is an important element of their work, including involvement in the philanthropic organizations that employees support, Davis adds.
"The partner group has always supported what our staff is involved in," he says. "The firm wants to give back to Chattanooga."
Best Places to Work 2021
* What does it mean to be a Best Place to Work in a post-pandemic world? * Despite pandemic, 3H Group Hotel team pushes ahead together * Mauldin and Jenkins accounting firm offers workers chances for learning, growth and fun * Pinnacle Bank puts associates first * Reliance Partners moved quickly to respond to coronavirus * Steam Logistics doubles down on culture as it doubles in size * Tennessee Valley Federal Credit Union mission, culture draws and keeps employees * Text Request brings its team back together in new downtown space * Unum says it's better connected than ever before * Technology was key for Warren & Griffin amid pandemic