Emerson Russell, a former police officer turned entrepreneur, has started more than 40 businesses during his career ranging from janitorial and security services to hotels and restaurants to racing speedways.
As an aging baby boomer, Russell says his latest business venture reflects his age. Russell has built a $17 million senior living facility in East Brainerd that he jokes about moving into soon.
"I even had a unit all picked out and then someone else rented it first," Russell quipped during an open house last week at the new facility known as Red Stone Estates.
The 92-unit senior housing complex offers tenants two chef-prepared meals a day in a facility with a spa, beauty salon, billiards area, outdoor gazebo and other amenities, including a display of dozens of model cars similar to the vehicles Russell has raced in through his career.
Red Stone Estates opened last month and is being marketed as offering "upscale senior living without the upscale cost." The four-level apartment complex includes efficiency apartments and one- and two-bedroom apartments, each with its own washer and dryer, dishwasher, stove and ceiling fan. The facility will offer social events and activities, transportation to medical facilities and grocery stores, weekly housekeeping services and a wellness and fitness center.
Photo Gallery
Senior center opens in East Brainerd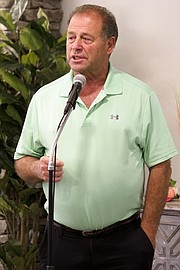 Each of the units has its own balcony and an outdoor patio features a gazebo just off the main dining area.
Carole Fincher, the executive director for Red Stone Estates, said the initial monthly rental rates for the apartments from $1,995 up to $3,495, which includes two meals a day prepared by a private chef along with a continental breakfast. The executive chef at Red Stone Estate, Joseph Black, was the original owner of Farm to Fork in Ringgold, Georgia, and previously worked as a chef at the Walden Club.
Russell built the senior apartments on the site near the Palms at Concord, condominium complex that was foreclosed on by Northwest Georgia Bank in 2009. Russell bought the property in 2010 for $2.3 million, finished some of the condos and built an apartment complex along Concord Road.
Chattanooga is already home to more than 40 independent senior apartments or assisted living centers, according to the online housing service SeniorLivingNet.com. But Russell said the aging population is causing more demand for different types of senior housing and Red Stone Estates is well located just off of Concord Road in East Brainerd.
"We saw a need to add more senior housing as more baby boomers get older and this is a great location close to Hamilton Place, Erlanger East and other medical facilities and a variety of stores and restaurants," Russell said.
Adjacent to the new Red Stone Estates apartments for seniors, an assisted living and memory care complex is being built by Rockbridge Oaks. That facility, which Russell said will complement Red Stone Estates, is scheduled to open in the spring of 2022.
Contact Dave Flessner at dflessner@timesfreepress.com or 423-757-6340.