Some Chattanooga area fuel stations are running out of gasoline amid the Colonial Pipeline crisis with operators and motorists hopeful the outages are short-lived.
Prices at some stores that do have gas are going up.
In Georgia, Gov. Brian Kemp declared a state of emergency through Saturday to temper price increases, and he temporarily suspended the state's gas tax.
In Tennessee, on Signal Mountain, the price for the lowest unleaded product at the Hill Stop Mart was $3.19 per gallon on Tuesday afternoon.
"It has gone up," said Aaqib Mazir, who works at the Taft Highway store. He said he believed the location will have fuel at least for a day or two.
In Sale Creek, Sanbip Patel, owner of PJs Foodmart on Dayton Pike, said that store ran out of gas on Tuesday morning.
"Maybe tomorrow," he said when asked when he expected to see more fuel delivered.
Patel said he wouldn't be surprised to see widespread $3-a-gallon gasoline before the situation returns to normal.
The pipeline, which delivers about 45% of the fuel consumed on the East Coast, runs from Texas to New Jersey. A spur from Atlanta to Nashville passes through Chattanooga. The pipeline was hit by a cyberattack on Friday. Such ransomware attacks are typically carried out by criminal hackers who scramble data to paralyze their target's networks. Large payments are demanded to decrypt it.
Photo Gallery
Gas shortage in Chattanooga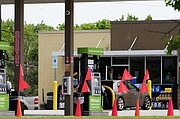 U.S. Secretary of Energy Jennifer Granholm told reporters Tuesday that a large part of the Colonial pipeline resumed operations manually late Monday, and Colonial will be able to restart most of its operations by the end of the week. Motorists may still feel a crunch because it takes a few days to ramp up operations, she said.
In Chattanooga, Maleeke Chatman was pumping 150 gallons of unleaded into his RV on Tuesday afternoon at a Citgo on Third Street. His cousin in Atlanta called him Monday night and said they were having trouble finding gas there, Chatman said.
"They said to hurry up and get gas because they were running around looking for it," said Chatman, who lives in California but drove the RV to Chattanooga for a long-term work assignment.
As he filled the RV's tank, cars lined up behind Chatman, waiting for a shot at the pump. Meanwhile, the Speedway across the street was deserted. All the pumps at that station were empty.
"My girlfriend called me and told me to come to this station," Chatman said. "They aren't limiting how much you can buy, at least not yet."
Richard Wilson, assistant manager at the Food City at 10161 Dayton Pike in Soddy-Daisy, said Tuesday that store had "enough gas for now."
But, he said, he traveled to four stations Monday night that were out.
"It seems to be worse in Sale Creek," Wilson said.
Diane Burkes, manager at the Circle K in Bakewell, said the store had gas though it was busy all day long.
"People are buying like crazy," Burkes said. She said the price was $2.55 per gallon on Tuesday afternoon.
Steve Ray of Steve Ray's Midnight Oil Service and Tire in Ooltewah said he had stopped selling gas to people who were just filling up containers and not fueling vehicles or lawn-mowing equipment.
"If we'd kept that up we'd been out by now," Ray said about the containers.
He said one of the bigger stations in the area ran out of fuel, and that put more pressure on the remaining stores.
"Business has been heavier than usual," Ray said. "It's not the end of the world if everybody postponed buying gas a day."
Emily LeRoy, executive director of the Tennessee Fuel and Convenience Store Association, said refineries are still producing gas, and the shortage is a logistical issue due to the pipeline. She urged people to stay on their normal gas purchasing pattern and buy only what they need.
"This is an evolving situation," LeRoy said. "Fuel wholesalers and retailers in Tennessee have significant experience with managing fuel disruptions. We are working around the clock to bring fuel into our state."
In Georgia, with the state of emergency, the state's price gouging statutes were activated. Businesses may not charge more for products such as motor and diesel fuel unless the higher prices accurately reflect an increase in the cost of new stock plus the retailer's average markup.
"While we believe this to be a short-term event, we do not want consumers to be taken advantage of," said Georgia Attorney General Carr. "Our office will review all price gouging complaints received to ensure the law is followed."
Georgia collects a gasoline tax of 28.7 cents per gallon and a diesel tax of 32.2 cents per gallon.
In Virginia, 7.5% of the state's 3,880 gas stations reported running out of fuel, according to Gasbuddy.com. In North Carolina, 5.4% of 5,372 stations were out, the company said.
By Tuesday, more than 1,000 gas stations had run out of gasoline, shortages primarily driven by panic buying.
"A lot of that is because they're selling three or four times as much gasoline that they normally sell in a given day, because people do panic," said Tom Kloza, a veteran analyst with S&P's Oil Price Information Service. "It becomes a self-fulfilling prophecy."
The states most dependent on the pipeline include Alabama, Georgia, Tennessee and the Carolinas, he said.
The Associated Press contributed to this story.
Contact Mike Pare at mpare@timesfreepress.com. Follow him on Twitter @MikePareTFP.