There will be dozens of weddings around the tri-state area on Saturday. It's a postcard-worthy day in May, after all.
But there was one magical wedding ceremony on Wednesday - at an unexpected venue - that one could argue would outshine any other this week.
In Room 10 of the neurointensive care unit at Erlanger, Rick and Lisa Dougherty were married before two groomsmen, the groom's mother and stepfather (who also officiated), a few Erlanger staff members and one very special guest of honor.
Debora Webb, beaming from ear to ear in her fancy pajamas, watched, fulfilling her lifetime wish of seeing her daughter get married.
"My dad died two months ago, and my mom's mother died two days before that," Lisa said, "and there was no way we wanted to take a chance.
"The person that it meant the most to get to see it, and for that I will be forever thankful."
Rick and Lisa - two devoted hockey lovers who play on a coed team together out of Knoxville - first met when Rick commented on Lisa's Minnesota Wild sweatshirt. Their first date was over chicken wings - the preferred food for each; Lisa has a tattoo of a chicken wing - and from there it was set in stone.
"I was shocked, it was like he liked wings more than me," she said. "We are like the same person."
The soulmates were engaged last March and were planning to make it official this October.
Last October, however, Webb was diagnosed with short-cell lung cancer that has spread to her brain. The prognosis was for up to two years, but last Sunday Lisa found her mother unresponsive on the floor of her Jasper home.
Photo Gallery
Lifetime wedding memories at Erlanger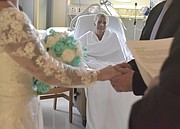 Fear gripped her. And the decision to move her October wedding to a May Wednesday night off Third Street was as clear as her love for Rick, hockey and chicken wings.
"We knew we had to move it to as soon as we could," Lisa said. "She's had so much pain, to be able to make sure she was part of this means everything to me."
The moment was not lost on anyone in the room, where dry eyes were scarce.
The Erlanger staff, led by veteran nurse Jena Ellison, went to work on Room 10. There were streamers and signs on the wall, along with the ever-present Erlanger whiteboard that had been scrubbed from the last doctor visit and nurse names to well wishes and congratulations for the newlyweds.
There were lights on the wall. The hospital's cafeteria pros made a large carrot cake, too.
It was, in a word, perfect, born from the most imperfect of situations.
"We've done some other things - like make a garden for patients or have birthday celebrations before COVID because we know there are special needs for our patients," Ellison said. "Being in the hospital is scary, and there's nothing to do - for the patients or their families."
"But just talking about [the wedding] is going to make me tear up. It was very special to give them that experience. I've seen a lot in 15 years [as a nurse], but that was the sweetest thing I've ever seen."
They say you never forget your wedding day, and that may be true for most of us.
It's undoubtedly true for everyone in Room 10 Wednesday night, and Debora Webb most of all.
Contact Jay Greeson at [email protected].