A decade after opening its Main Street location, the Mean Mug Coffeehouse is looking to expand its operation with two new locations, a roasting facility in a warehouse in the Highland Park area, and it has plans to begin franchising in the next six months to a year.
It opened a location on Manufacturers Road in 2017 in the old Knitting Mill and opened a new location on Battlefield Parkway in Fort Oglethorpe two weeks ago. Mean Mug has plans to open a fourth location in East Brainerd in the Loft by Marriott Hotel by Hamilton Place in the next two months.
Co-owner Monica Smith said the menu, and the coffee, which is roasted currently at the Northshore location, is the same at each place, but each is designed to be representative of the area where it is located.
"They are like children," she said. "You can tell they came from the same parents, but each has its own characteristics."
The menu offers a "variety of options for people no matter what diet they are on, or not on," Smith said.
Photo Gallery
Mean Mug Coffeehouse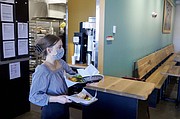 "We have traditional things like buttermilk biscuits, grits and tomato pie, but also Paleo or Keto diets. Our cinnamon rolls, which we make, are also very popular."
The one in Hamilton Place, for example, will match the decor of the hotel, while the Battlefield Parkway location in the old Holcomb's Garden Center, is a blend between the more casual Main Street location and the slightly fancier Northshore one.
Smith, who has 24 years of experience working in the restaurant business, is partners in the business with Matt Lewis, who is also part owner of The Terminal, Hair of the Dog and The Honest Pint, all places that also serve Mean Mug coffee. She said they recently bought a warehouse at Hickory and 28th streets and plan to begin roasting operations there.
The majority of Mean Mug coffee currently goes to restaurants within the "family" of eateries owned by Lewis, but Smith said she believes there is opportunity to expand "once we can roast all day."
She said the paperwork is almost done regarding plans to begin offering franchising opportunities, and she and Lewis hope to begin that phase of their operation in the next six to 12 months.
"We will consult and help train during startup and will be available for consultation after they are open," she said.
Contact Barry Courter at bcourter@timesfreepress.com or 423-757-6354.