Wildlife rehabilitator Kate Kinnear believes squirrels are the keepers of all the world's secrets. If she's right, her 11-acre property on Signal Mountain - where she estimates she's released about 300-400 squirrels back into the wild over the past year - is a treasure trove of wisdom.
Kinnear, an associate lecturer in environmental science at the University of Tennessee at Chattanooga, started rehabbing wildlife in 2012 at her home, where she runs Marshall Creek Wildlife Rehabilitation and Conservancy. In 2016, she was certified as a wildlife rehabilitation expert by the Tennessee Wildlife Resources Agency.
Although squirrels are her main focus, Kinnear also works with rabbits and occasionally flying squirrels and chipmunks. Last year she released around 100 rabbits into the wild, she said.
Sadly, rabbits have only a 60% chance of surviving when released, compared to about 85% of rehabilitated squirrels. The way the two species typically end up at the facility is part of the reason for the difference in their survival rates, Kinnear said.
Most of her squirrels are orphans, which are likely to approach humans who then bring them in. Bunnies are more likely to be found after being injured by lawn mowers or house cats.
For Kinnear, cat attacks are the most heartbreaking injuries to wildlife.
"If I was ever to quit rehabbing that would be why, because it's so frustrating and so avoidable," she said. "There's poor little bunnies that weren't hurting anybody and were just starting their lives [that] are totally just torn to pieces by cats, and they suffer for hours and then they don't make it."
Squirrels do most of their breeding in the summer, so fall is always a busy time of year for Kinnear. Orphaned squirrels are often brought in as a group when humans find them, and it's assumed something happened to the mother that made her unable to return to her babies.
When that happens, Kinnear essentially becomes their mother, feeding them through syringes and keeping them warm on a heating pad. After the squirrels are weaned, she keeps them inside for a while to keep an eye on them, making sure they are eating solid food and getting the proper nutrients.
It's ideal to get squirrels rehabilitated when they are as young as possible, particularly if they come in alone, she said. Squirrels live in groups, and once they hit a certain age - the equivalent of about 13 or 14 human years - they stop making friends.
"When they're babies, they'll accept anybody," Kinnear said. "Sometimes when it gets really busy and there's baby bunnies coming in too, I'll just stick a baby bunny in with the squirrel kids because they're all so little that no one cares."
It's important that squirrels are part of a group when they get released, as it helps to keep them safe and prevents them from being picked on by other squirrels, she said. Squirrels are also cuddlers, and they sleep in piles to keep warm.
Photo Gallery
Marshall Creek Wildlife Rehabilitation and Conservancy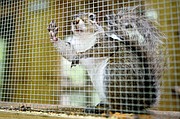 The squirrels that most recently came to the facility are kept in a barn in group pens of five to seven. Then each group is moved to one of the facility's outdoor wood-and-wire release pens once space becomes available, and after a few weeks they are released into the wild.
Nest boxes have been installed on trees throughout the property, and squirrels released together as a group share a box where they go to get food and to sleep.
The squirrels remain on the property and the immediate area. Some wildlife rehabilitators might say that Kinnear's creatures aren't truly wild, as they're dependent on her for food. But she's OK with that.
If Kinnear leaves town, she has an army of volunteers to care for them. Since they come to her for food, it's easier to treat them when they're sick because she can just put medicine on a walnut and feed it to them, she said.
If one of her animals has a serious issue, she calls Shannon Dawkins. The Paws and Claws mobile vet clinic owner is the go-to vet for rehabilitators of all types of wildlife, from opossums and songbirds to hawks and snakes.
"The diversity of species has always interested me, and I've also always felt for all the little ones that no one was really advocating for," said Dawkins, as to what got her interested in treating wildlife.
Both Dawkins and Kinnear said one of the most important things for people to know about wildlife is how to determine if an animal is orphaned.
With many species, including squirrels, mothers who leave their children typically intend to return. Since their mothers will provide them with the best possible care, it's often best to leave babies where you find them.
If you come upon wildlife that you believe is orphaned, it's best to contact a wildlife rehabilitator who specializes in that species. They should be able to tell you the signs specific to the species to help you make a determination, Dawkins said.
Once you know the mother isn't returning, it's important to get the animal or animals to a rehabilitator as soon as possible. Kinnear said she recently had a squirrel brought in by a couple who found it as a baby, but as it got older it began to bite.
"The squirrel's hormones kick in, and they get really aggressive and they will bite down to the bone," Kinnear said, adding that the calm pet squirrels people see on Instagram are outside of the norm. She said that "99.9% of them aren't going to be that way, because they just have instincts that override any sort of training or habituation."
Contact Emily Crisman at ecrisman@timesfreepress.com or 423-757-6508.