The pandemic and a related shortage of building materials caused delays for Matt and Tiffany Lake and their Real Roots Cafe on North Market, but it might have worked in their favor because it helped build interest in what they were doing. So much so that customers were lined up out the door on opening day on March 11.
"It was crazy," he said. "We did some social media announcments, but mostly it was just because people from the neighborhood kept stopping by and asking when we were going to open."
The crowds have continued to come, according to Tiffany, the chef behind all of the recipes on the vegan menu.
"We've been slammed," she said.
Photo Gallery
Real Roots Cafe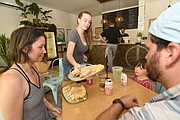 Matt said it's been so busy, he hasn't been able to ease up on scheduling his staff.
"We keep waiting for the slow day or time period and we haven't had one. It's a good problem to have, but we could use a few more employees."
Both say most of their customers are neighbors who walk to the restaurant, often with their kids or dogs, and that they plan to add a Tail Wagger portion to the menu and things for younger kids. At the request of numerous customers, they will also be adding locally crafted beers to the menu as soon as they can get themselves and staff certified.
"People want to come and hang out a little while longer and they've told us they want to have a beer," Matt said.
A grand opening is planned for late June or early July and Tiffany said the plan is to open on Sundays and offer brunch and maybe even some kombucha-based cocktails. They also plan to extend their Friday and Saturday hours. Real Roots is currently open from 9 a.m. to 5 p.m. Monday-Saturday.
QUICK BITE
HOURS: 9 a.m. to 5 p.m., Monday through Saturday.PRICE: $6 to $12 range.LOCATION: 607 N. Market St.NOTABLE MENU ITEMS: The plant-based menu includes smothies,nachos, burritos, paninis and fruit and granola bowls. All made in house.
The foods at Real Roots Cafe are plant based and sourced locally when possible, Tiffany said. They get their granola from Nokes and coffee from Mad Priest, for example. Their most popular dishes at the Reuben and Hawaiian paninis, Buddha Bowls, Epic Nachos and Smothered Burritos. They also offer fruit and granola bowls and smoothies and juices.
"We make everything in house, including six different cheeses and nine sauces. Matt is big on sauces."
Both are certified nutritionists and often counsel customers on the benefits of a plant-based diet, something they've been eating for seven years. Before that, they ate a vegetarian diet for three years.
"Cheese was the last thing to go," Matt said. "We love cheese."
The two got into the restaurant business almost by accident. He was working at Unum and she was at SunTrust when they were asked to help out making smoothies at Local Juice on Main Street. They learned a lot about creating a menu and the business there and when the opportunity to open their own place in Fort Oglethorpe arose, they took it two year ago.
The pandemic forced them to close and they started building the new place.
"We love it here," Tiffany said. "Everyone is so nice and welcoming."
Contact Barry Courter at bcourter@timesfreepress.com or 423-757-6354.