KNOXVILLE - The Georgia Bulldogs set a program standard Saturday at Neyland Stadium by completing their first 8-0 run through Southeastern Conference football opposition.
At least Tennessee provided the need for a turning point.
Facing the largest deficit and allowing the most yards and points of their very special season, the No. 1 Bulldogs turned a rare Hendon Hooker interception into a springboard for a 41-17 thumping of the Volunteers before an announced crowd of 100,074. Georgia improved to 10-0 overall with expected lambastings of Charleston Southern and Georgia Tech next in line, while the Vols dropped to 5-5 overall and 3-4 in the SEC with the unheralded duo of South Alabama and Vanderbilt remaining.
Georgia's last undefeated stroll through league play occurred in 1982, when the Bulldogs went 6-0 behind the power running of Heisman Trophy winner Herschel Walker.
"I mean, 39 years - it's special," Bulldogs fifth-year senior quarterback Stetson Bennett said. "We're a real talented team, but we respect everybody we play. We don't go in thinking we're God's favorite team.
"Nobody is going to give us anything, so we've got to earn it."
The Bulldogs entered Saturday yielding just 6.6 points and 230.2 yards per game, but Tennessee wound up racking up 387 total yards, including 332 through the air behind a 13-catch, 200-yard performance by redshirt junior Cedric Tillman. Georgia had not allowed more than 13 points in any game this season, but the Vols reached 17 on a 12-yard touchdown pass from backup quarterback Joe Milton to Tillman with 3:38 remaining.
"I think we played with heart, but I'm a little disappointed, because we could have done better," Tillman said. "There were a lot of things, including myself, that we messed up on. We may have scored more on them than people average, but we like to think that we're one of the best offenses in the country. We had our moments, but overall we have to get better."
Said Georgia junior linebacker Nakobi Dean of Tennessee's late score: "This is the most points we've given up this season. I'm not happy about that touchdown."
Photo Gallery
Georgia at Tennessee football on Nov. 13, 2021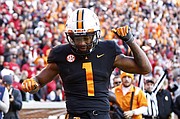 Saturday's turning point occurred at the 8:54 mark of the second quarter in a 10-10 deadlock, when Hooker sailed a pass intended for Tillman that was intercepted by Derion Kendrick. The Vols briefly stiffened to force third-and-8, but Bennett found former North Murray High School standout Ladd McConkey over the middle for 14 yards to the Tennessee 24.
James Cook followed with a 15-yard run to the 9, and then a Bennett scramble into the end zone gave the Bulldogs their first lead. With 37 seconds remaining in a second quarter in which Georgia held Tennessee to 25 yards, Bennett found Cook for a 23-yard scoring strike that capped an 11-play, 90-yard drive to make it 24-10 at intermission.
The Bulldogs added a 27-yard Jack Podlesny field at the 4:41 mark of the third quarter to seal this CBS-televised affair at 27-10 with the final third of the contest still to play.
Hooker, who entered the game ranked fourth nationally in passing efficiency, was 24-of-37 for 244 yards with one touchdown and the interception. He had several passes that were uncharacteristically high, and he was sacked five times.
"I don't know whether he was juiced up or his body not being in the right position or the pressure they were getting on him at times, whether that rush was real or that he was feeling it from previous plays," Tennessee coach Josh Heupel said. "He had the interception and a couple other throws that sailed on him."
Tennessee opened the game with a nine-play, 77-yard touchdown drive that was extended early by a Hooker 14-yard scramble on third-and-5 and culminated on a 9-yard pass from Hooker to Velus Jones Jr. Jones got behind Georgia's secondary on the second play from scrimmage, but Hooker overthrew him.
Georgia responded with a six-play, 78-yard touchdown drive, with Bennett connecting with Kearis Jackson for 19 yards on the possession's first play and Cook breaking free for a 39-yard touchdown run.
"The way the game started - they start that way on a lot of people," Georgia coach Kirby Smart said, "and we talked to our guys about taking their best shot. We didn't come up here to take shots. We came up here to throw them, and our offense came back with a huge drive that was huge for us."
Tennessee's 7-0 advantage marked the largest against Georgia this season, and the Vols regained the lead at 10-7 on Chase McGrath's 24-yard field goal at the 1:38 mark of the opening quarter, with a 29-pass from Hooker to Tillman setting up that score. The Vols ended the first quarter up 10-7 to increase their scoring advantage to 148-44 this season in the opening 15 minutes.
It was all Georgia from that point forward, with Bennett winding up with 17 completions out of a season-high 29 attempts for 213 yards and a touchdown. The former walk-on, who made his sixth consecutive start, also rushed eight times for 40 yards and his score.
"Stetson's feet were a big difference in this game," Smart said. "The play he made on that touchdown run was special. The great thing is that he can still play better."
Contact David Paschall at dpaschall@timesfreepress.com or 423-757-6524. Follow him on Twitter @DavidSPaschall.