For 42 minutes Friday night, the McCallie Blue Tornado looked every bit the part of the two-time reigning state champions they are during their TSSAA Division II-AAA playoff game against visiting Father Ryan.
They led 42-14, were outgaining the Fighting Irish on the ground by 281 yards to 6 and seemed all but certain to reach the semifinals in their bid for a third straight title.
Then, in less than five minutes, three Father Ryan touchdowns and two successful onside kicks had the Irish inside the McCallie 15-yard line with a chance to tie - or win on a 2-point conversion.
"Everyone in this stadium knew what we were going to do if we scored," Father Ryan coach Brian Rector said. "We were going for two and the win."
It never came to that, however. McCallie held on downs to win 42-35 and set up next week's semifinal at its own Spears Stadium against Pope John Paul II (8-4), which nipped Brentwood Academy 24-21 in another quarterfinal. The Blue Tornado won 52-27 at Pope John Paul II on Oct. 29.
(READ MORE: Final scores and photos from Friday night's Chattanooga-area high school playoffs)
Photo Gallery
McCallie football vs. Father Ryan on Nov. 12, 2021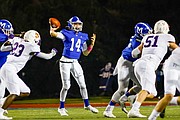 "The good news is we just won a game with six turnovers," frustrated McCallie coach Ralph Potter said after his team lost four fumbles and two interceptions. "I don't know that I've ever won a game with that many turnovers."
The bad news for the champs, who had a bye in the opening round, is that they committed those six turnovers, as well as giving up a whopping 433 yards through the air to the Irish and quarterback Matthew Derrick, who accounted for 361 yards and four touchdown passes, including two to Morgan Bishop. Father Ryan's Jaxon Anton threw for a fifth score on a fake punt, with that pass covering 72 yards to Bryshon Jackson.
It was all enough for McCallie senior linebacker Aaron Crowder to emphatically tell his teammates as they huddled after the game: "That is not good enough. That can't happen anymore."
It had seemed plenty good enough for the Blue Tornado (11-0) against Father Ryan (7-5) until those final six minutes.
McCallie junior Tario Price rushed for 261 yards and scored two touchdowns. Kenzy Paul caught four passes for 80 yards and two scores. Quarterback William Riddle had thrown three touchdown passes, and Weston Hammond and Andrei Delinois also scored for the Blues.
But much like earlier victories against Baylor and Pope John Paul II this season, a big McCallie lead grew uncomfortably close late.
"We should have been up 28-0 at halftime," Potter said. "But give them credit. That's a good team and they're really well coached."
Added Crowder: "The last couple of years we've lost games in October. Those losses humbled us. They made us tougher. We've got guys on this year's team that don't know what it's like to lose."
As Father Ryan was driving late after recovering its second onside kick in a span of 40 seconds, trying to complete the improbable comeback, Crowder said his stellar McCallie football career passed before his eyes.
"We could either make a play," he said, "or I could turn in my pads for the last time."
Their season on the brink, the Blue Tornado made the plays they needed to make to advance to the state semifinals.
Said Potter, his voice a mixture of relief and exasperation: "It's a win."
Contact Mark Wiedmer at mwiedmer@timesfreepress.com. Follow him on Twitter @TFPWeeds.